You've probably seen photos of aspiring actors standing on streets in endless lines, waiting for a chance to audition for a role, no matter how small. Oh, to be seen on the stage! In the theater world, it's known as a 'cattle call.' Now, suppose that a producer with a heart of gold decides to say 'yes' to each and every one of these hopefuls. Imagine Chekhov's Three Sisters performed by a cast of three hundred... the rest I'll leave to your imagination.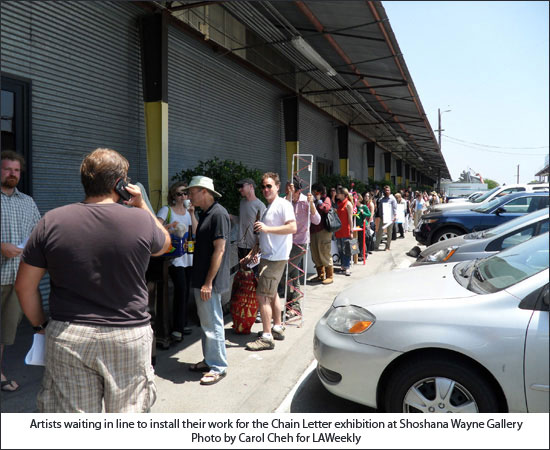 But wait a moment: right now - here in LA -- you can see a bizarre art exhibition with a similarly all-inclusive, nonjudgmental, pseudo-democratic approach. At Shoshana Wayne Gallery in Bergamot Station, visitors are asked to make sense of the heaping piles of art left there by 1600 artists, each one invited by another artist who likes their work. Each artist was asked to send invitations to ten more artists, and so on...and so on...and that is the reason for the exhibition's title -- Chain Letter.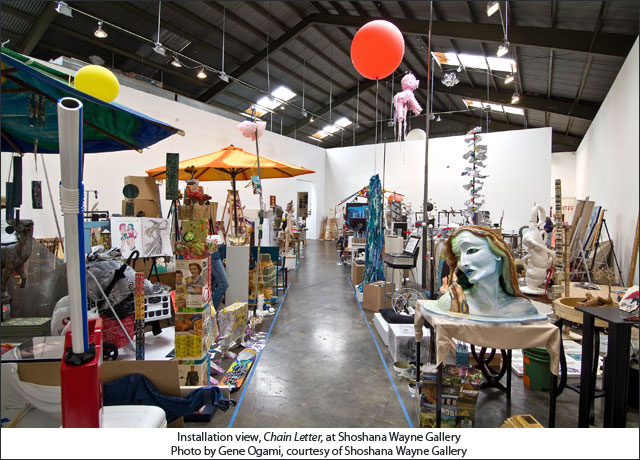 I think a more appropriate title for this artistic endeavor would be 'Mutual Admiration Society.' Of course there are a few really good works, but they are obscured by a multitude of middle-of-the-road art pieces, and in the end, all good intentions are buried under a pile of things which, in my humble opinion, should never be seen under any circumstances.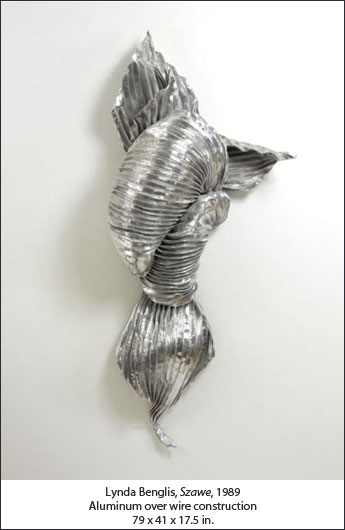 On that kind note, let's switch gears and check out MOCA's new exhibition of one of the better-known multi-talented American artists, Lynda Benglis. Since the early 70's, she's been defying expectations of what a good female artist should produce. She consistently mocked the macho attitudes and artistic practices of her male counterparts and not only held her own against them, but often left these big boys in the dust. (View these images here.)
Even Jackson Pollock needed a canvas to drip his paint all over; Lynda Benglis dispensed altogether with the idea of canvas and instead, poured and dripped paint directly onto the floor. Richard Serra, in the late 60's, famously splashed molten lead at the corner of the gallery. A few years later, Lynda Benglis mimicked this practice by pouring metal or color-saturated polyurethane into gallery corners, on the floor, or against the wall, creating purposefully lumpy, gooey shapes which nevertheless command attention and exude a sense of authority. It's been more than twenty-five years since I encountered her works for the first time, marveling at the large wall-mounted metal sculptures reminiscent of pleated pieces of fabric tied in shimmering bows. I still think that these sculptures are the most compelling of her extensive body of work. But nothing can compete with the deliciously scandalous image of the young Lynda photographed in the nude holding...hmmmmm...there is no other way to say it -- a large dildo. There are plenty of rebels without a cause but then, there are always a few who do have a real cause, and in the art world, Lynda Benglis is definitely one of them.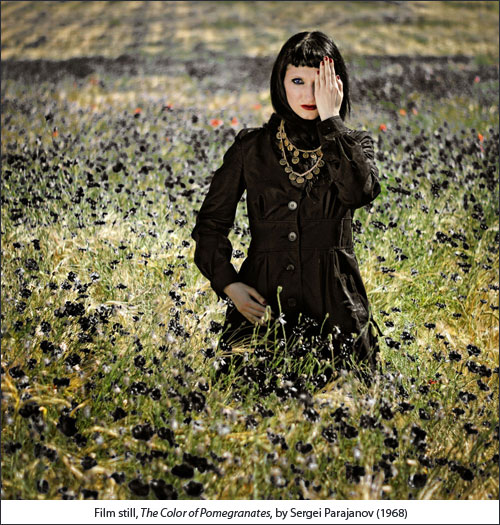 The name of Sergei Parajanov, a Soviet Armenian director, may not ring a bell, but he was one of the true rebels who paid for his art with five years of imprisonment. This Friday, August 5 at 7:30 pm, LACMA will have an extremely rare screening of The Color of Pomegranates, his famous 1968 movie for which he received numerous international awards. The cinematography, inspired by medieval manuscripts, is absolutely breathtaking. Accompanied by American friends I've seen this movie several times, and each time, for all of us, it was a revelation. Never mind your busy schedule; you simply must taste with your eyes these delicious Pomegranates.
Chain Letter
On view at Shoshana Wayne Gallery through August 25
Lynda Benglis
On view at MOCA Grand Avenue through October 10
The Color of Pomegranates
Screening at LACMA's Bing Theater, Friday August 5th at 7:30pm
Banner image: (L) Lynda Benglis, Fling, Dribble, and Drip, 1970; (R) Lynda Benglis, Wing, 1970

Edward Goldman is an art critic and the host of "Art Talk," a program on art and culture for KCRW 89.9 FM.
To listen to the show and hear Edward's charming Russian accent, visit Art Talk on KCRW.
SUBSCRIBE TO & FOLLOW CULTURE SHIFT
Every Friday, HuffPost's Culture Shift newsletter helps you figure out which books you should read, art you should check out, movies you should watch and music should listen to. Learn more