By nature I'm not an envious person, but this morning, going through the Los Angeles and New York Times, I felt a pang of jealousy. There, on the front page of the New York Times, was a glowing report about the major Claude Monet exhibition that just opened at the Grand Palais in Paris. And if that wasn't enough, this front-page article was illustrated by an attractive photograph, with the report continuing on the inside with a generous half-page of text accompanied by an even larger color photograph. I can't remember the last time our beloved LA Times bothered to feature on its front page an art review -- unless of course it was covering some sort of scandal or star-studded art opening. Oh well, let's hope that things will change.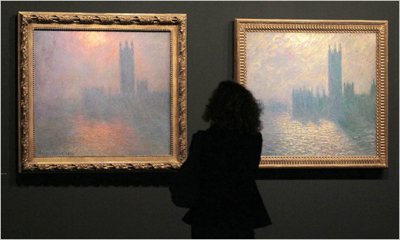 During the last weekend, in a generous, friendly gesture, LACMA dropped the usual admission fee and treated the public to a free visit to its new Resnick Pavilion to see all three inaugural exhibitions. That was my second visit. I wanted to see the Pavilion at night, in artificial light, to compare it with the first visit, during a daytime press opening. It still looked impressive, but the central aisle, with its exhibition of ancient Olmec sculpture, had the air of a glamorous, soaring main concourse of a train station. The remote, almost clinical atmosphere of this exhibition presentation was further reinforced by the coldness of the vast expanse of white walls. There is something strangely mechanical in the way the gigantic Resnick Pavilion has been sliced into three long, narrow sections -- none of them retaining the graceful proportions of Renzo Piano's building as a whole, when it was unveiled a few months ago, before the temporary dividing walls went up.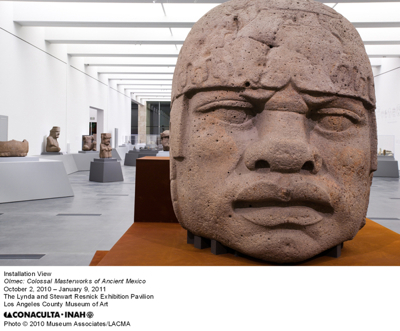 For years, LACMA toyed with the noble idea of reinventing the ways encyclopedic museums usually present their collection. Instead of the traditional hierarchy of some cultures above others, why not have a horizontal spread of exhibitions on one level, where ancient Mexican or Oceanic art could be presented on equal footing with let's say, European Renaissance or Modern and Contemporary art? For me it always sounded a little bit too politically correct, but I was willing to reserve judgment until the museum put the idea into practice.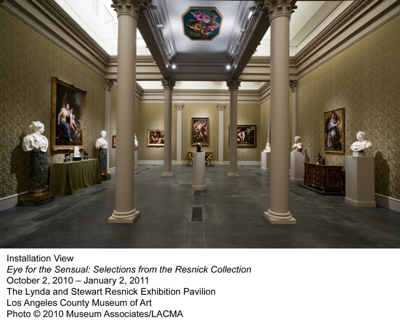 At the press conference for the opening of the Resnick Pavilion, Michael Govan, the director of LACMA, spoke eloquently about the wonderful variety of art in these three exhibitions and emphasized the symbolic importance of showing ancient Olmec art -- the earliest art in America -- alongside exhibitions of European culture. However, upon entering the Pavilion, one becomes aware that the three exhibitions, though installed side-by-side, hardly acknowledge each other, totally ignoring the fact that they're sharing the same space at the same time. It's as if important guests were seated at a formal dinner table giving each other the cold shoulder, because the host failed to break the ice by introducing them.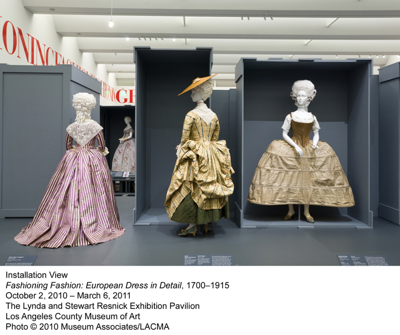 I'm definitely not suggesting that it would be a good idea to mix ancient Mexican sculpture with deliciously frou-frou 18th and 19th century European Costumes. But, at the same time, going through the elegant galleries displaying Lynda and Stewart Resnick's private collection, I thought about how wonderfully appropriate and entertaining it would be to bring from the nearby exhibition a few mannequins wearing beautiful garments similar to those seen in numerous paintings hanging on the walls.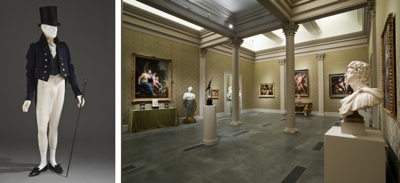 I think it was a missed opportunity for the curators to collaborate on a multifaceted presentation of European culture by literally mixing painting, sculpture, and decorative art with examples of fashion from roughly the same period. Maybe in the future, LACMA will show more flair for experimentation. After all, even such a stodgy institution as the Palace of Versailles recently and purposefully ruffled some feathers, installing kitschy sculptures by Jeff Koons and Takashi Murakami amidst its opulent interiors. Yeah... Vive la France!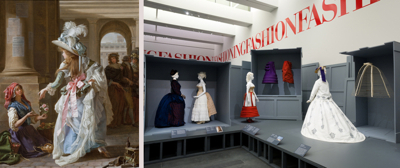 Olmec: Colossal Masterworks of Ancient Mexico
On view at LACMA's Resnick Pavilion through January 9, 2011
Eye for the Sensual: Selections from the Resnick Collection
On view at LACMA's Resnick Pavilion through January 9, 2011
Fashioning Fashion: European Dress in Detail, 1700-1915
On view at LACMA's Resnick Pavilion through March 6, 2011
Edward Goldman is an art critic and the host of Art Talk, a program on art and culture for NPR affiliate KCRW 89.9 FM.

To listen to the complete show and hear Edward's charming Russian accent, visit Art Talk on KCRW.
SUBSCRIBE TO & FOLLOW CULTURE SHIFT
Every Friday, HuffPost's Culture Shift newsletter helps you figure out which books you should read, art you should check out, movies you should watch and music should listen to. Learn more