Yes Sir, I hear you're coming home! President's Day, eh? So we have a couple of weeks to prepare. Here's what I'd like to do for you: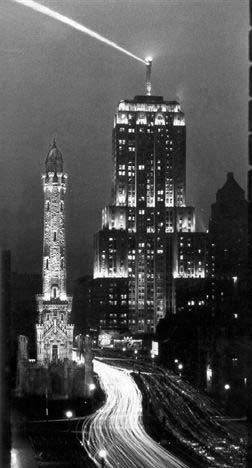 You know the Charles Lindbergh Beacon atop the Palmolive Building near the Oak Street beach? It's been dark since about 1981. We ought to shine it out over Lake Michigan for you. And change its name to the Obama Light. There were always aspects of Lindbergh I didn't like anyway.
The owners talk about turning the beacon on again. They ran a test on July 4th, 2007. I say we should get it going for this occasion. Especially since we're still in "first 100 days" mode. You know, honeymoon period and all. And you're the best thing to happen to Chicago since Michael Jordan made people forget Al Capone.
In olden days when the leader would visit the town, gates would be erected, bunting, etc. I'm not saying we have to do all that. But let's rename it The Obama Light or The Obama Beam - The Beacon of Hope - and let it shine.
Welcome home, Sir. We'll leave the light on for you.
How would you welcome Obama back to Chicago?
SUBSCRIBE AND FOLLOW
Get top stories and blog posts emailed to me each day. Newsletters may offer personalized content or advertisements.
Learn more