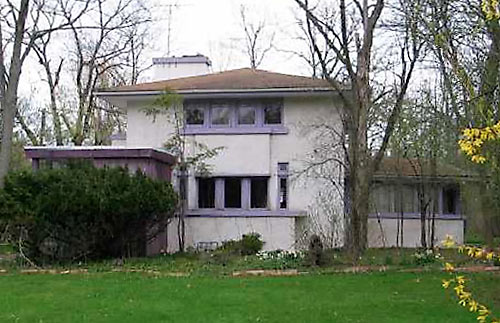 When I was a kid, following the assassinations of John Kennedy, Martin Luther King, Jr. and Bobby Kennedy, and in the tumult that followed, I felt unsettled.
I used to go up to see the half dozen or so houses designed by Frank Lloyd Wright in the "Ravine Bluffs" development in Glencoe. The houses seemed so comfortable on the land, they seemed to belong where they were.
I used to just stand there and look at them and find peace.
Now, one of Wright's Ravine Bluffs houses is in danger. Landmarks Illinois, the preservation group, has just released its "Chicagoland Watch List 2008 - 2009."

On it are many important buildings we ought to keep around to show our children, because they're good to look at and to tell stories of other ways that people lived around here.
Here's what Landmarks Illinois says about the Frank Lloyd Wright house:
Current Condition and/or Status: The house has been vacant for two years and has fallen into disrepair. Last winter, the heating pipes burst which has caused further damage.
Potential Threat: The property is for sale and is being marketed for the house "as is" or the land, which is less than a quarter-acre site. If torn down, it would be the first intact Wright house to be demolished in the United States in over 30 years.
What You Can Do: Click here.
Someone would tear this beauty down? We've got to find a way to save it.
Frank Lloyd Wright is perhaps the greatest artist America has ever produced, in any medium.
Up there with Louis Armstrong and Walt Whitman and Martha Graham.
A creator of beautiful worlds.
We are the stewards of his work. We are lucky to have it around us. Preserve it so when we need it, it's there. Treat the givers of beauty with good grace. They will reward you.
FOLLOW HUFFPOST