It's time for me to come clean and admit my role as a selfish manipulator of the most complex network of information dissemination the human race has ever seen. Yes, I admit it: I'm the Liberal Media.
Ever since the dawn of the history of news, I've been hogging half of the media in the United States of America all to myself, and for that, I'm sorry.
Now, I've always been aware of how important and far-reaching my social influence as an unpaid blogger has been; I'm no idiot. However, now I see that I've grossly underestimated just how much of the media I was truly responsible for... All this time I thought I was just writing stuff to make my friends laugh when they were drunk.
Some people think I'm flattering myself by apologizing for my cultural relevance. To those people, I say that if you need proof of how dominant I have been as a media presence, just take a look at this pie chart I made.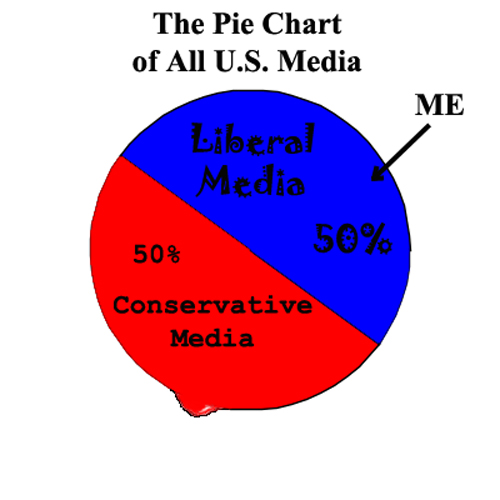 (The Conservative Media really should get that lump checked out.)
As much as I don't like to admit it, I owe a debt of gratitude to the Conservative Media for exposing my delusional aspirations of blending into society like your average, everyday, media juggernaut. In spite of being half of our country's media, I thought I could quietly mingle at cocktail parties and even indulge in the occasional karaoke dalliance with Neil Diamond's "Forever in Blue Jeans", forever unnoticed.

I wasn't fooling anyone, Conservative Media, and I thank you for calling me out. I understand now that you must really love me after all.
As I hang up my consent-manufacturing cleats, I must say with finger-twiddling glee that getting Barack Obama elected as the President of the United States was my most masterful accomplishment. (That little sac-tweaker to the nation came to me while I was nursing Al Franken back in '06.)
Finally, I would like to address this myth perpetrated by the Liberal Media that the Liberal Media doesn't exist. This is clearly nonsense because how could I put forth the argument that I didn't exist if I didn't exist?! Assclowns...
If someone ever tells you that there is no Liberal Media, you tell them to go to hell. Then hug that person, apologize softly, and educate that sorry individual with a hyperlink to this confession. Remember that you are the better, more enlightened person. After all, you've known about the power of the Liberal Media (i.e. me) for a long time, and now you finally have the pie chart to prove it.

FOLLOW HUFFPOST