By: Kristin Caddick, Valli Chidambaram and Alexandra Molina, EF Global Citizens
Located in the forests of Guanacaste, Costa Rica, Earth University is an institution of education, innovation, and exploration. On April 16th, we and our fellow EF Education First Global Citizens traveled here and participated in several workshops pertaining to agricultural development. Earth University is an international non-profit organization founded in 1987 with the first classes taking place in 1990. A small, but prestigious school, Earth University hand picks its 418 students in order to identify the most focused and determined leaders for a sustainable future. As American-born Kristine Jimenez, Director of Communications for Earth University told us, "Change from within is the most effective" which is why Costa Rica took the lead in creating the region's first environmentally-centered institution of this kind.
The university is further unique in that it focuses on a balance between student-centered learning and field experience. With a focus on Agronomics, the university encourages students to work with locals and educates them to expand their productivity and maintain environmentally-friendly farming practices. Most of their projects involve self sustainable farming such as free range pastured poultry, using recycled materials to grow plants, and a massive recycling initiative. The plants grown on the 8,154 acre campus supply the majority of the university's own food. Also, the institution exports crops to North America, including bananas to Whole Foods grocery stores with great success. Earth University is a model university which strives to combat poverty, promote peace and foster a better value of life.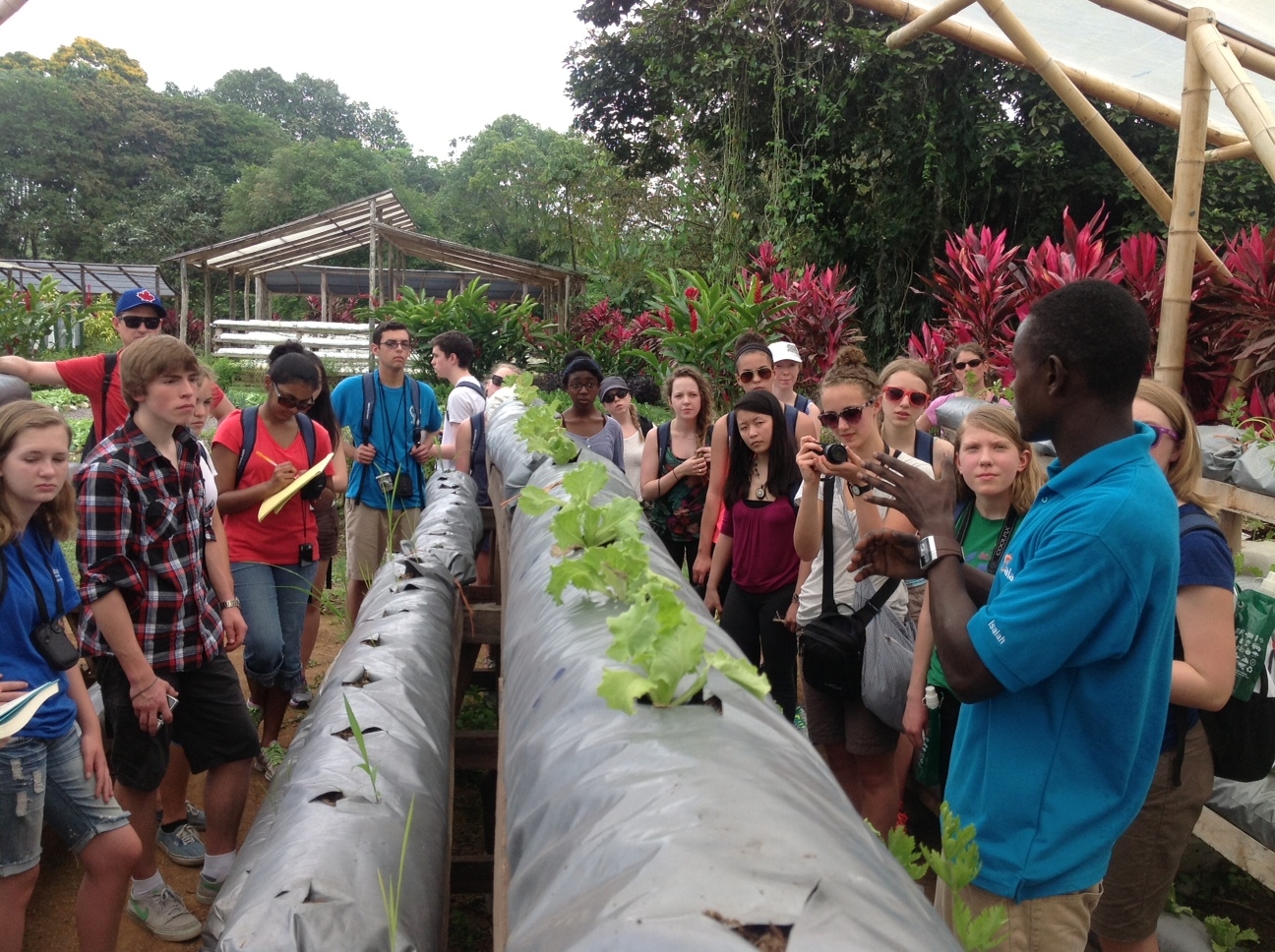 A prominent aspect of this university is its urban farming initiative. During one of our workshops, we were introduced to the concept of peri-urban farming. This method utilizes minimal space to achieve maximum productivity. The plants grown can support a variety of populations ranging from single households to whole communities. The purpose of peri-urban farming on a modern scale is to compensate for the lack of space. Many unique methods are implemented to achieve a high level of efficiency. For example, plants are placed in structures so that they grow vertically. One could use a pyramidal structure to maximize the limited amount of space so that productivity increases by seven times. We saw students shelving tubes made of different materials, including items available at home!
For example, an old pair of jeans can be stuffed with dirt and tied at the edges. With slits in the jeans, the plants can grow through the surface of the jeans while retaining its nutrients. At Earth University, the pyramidal structures supporting these makeshift tube-shaped planters are under a plastic roof, which omits 50% of the suns radiation and is designed to promote air circulation. We actually simulated this on a smaller scale with a trash bag banded on top of a plastic bin. This would be an easy and size appropriate task for anyone to complete.
Another method involves an urban-friendly approach to growing food at one's own home. At the university, the students maintain raised plant beds made of wood and covered with plastic, while underneath wool is placed to help retain moisture. Instead of using regular soil, the plants are supported by coconut fibers, which further aids water retention, rice husks, which help with the distribution of oxygen, and charcoal, which is a steady support for the plants. This artificial soil is suitable for all kinds of plants, depending on the root length. Due to the bed's elevation this project is an ideal option for the elderly, children, people in wheelchairs, or those who want to minimize the mess that accompanies gardening.
A particularly innovative method that amazed us involved beds containing plastic bottles inside the soil. These bottles increase the volume of the substrate, so that people are able to reduce the amount of soil they depend on. Lastly, we discussed making plant beds surrounded by reusable materials, including any waste that would have been thrown away. These beds are bordered by plastic bottles, tires, bicycle wheels, and other recycled materials.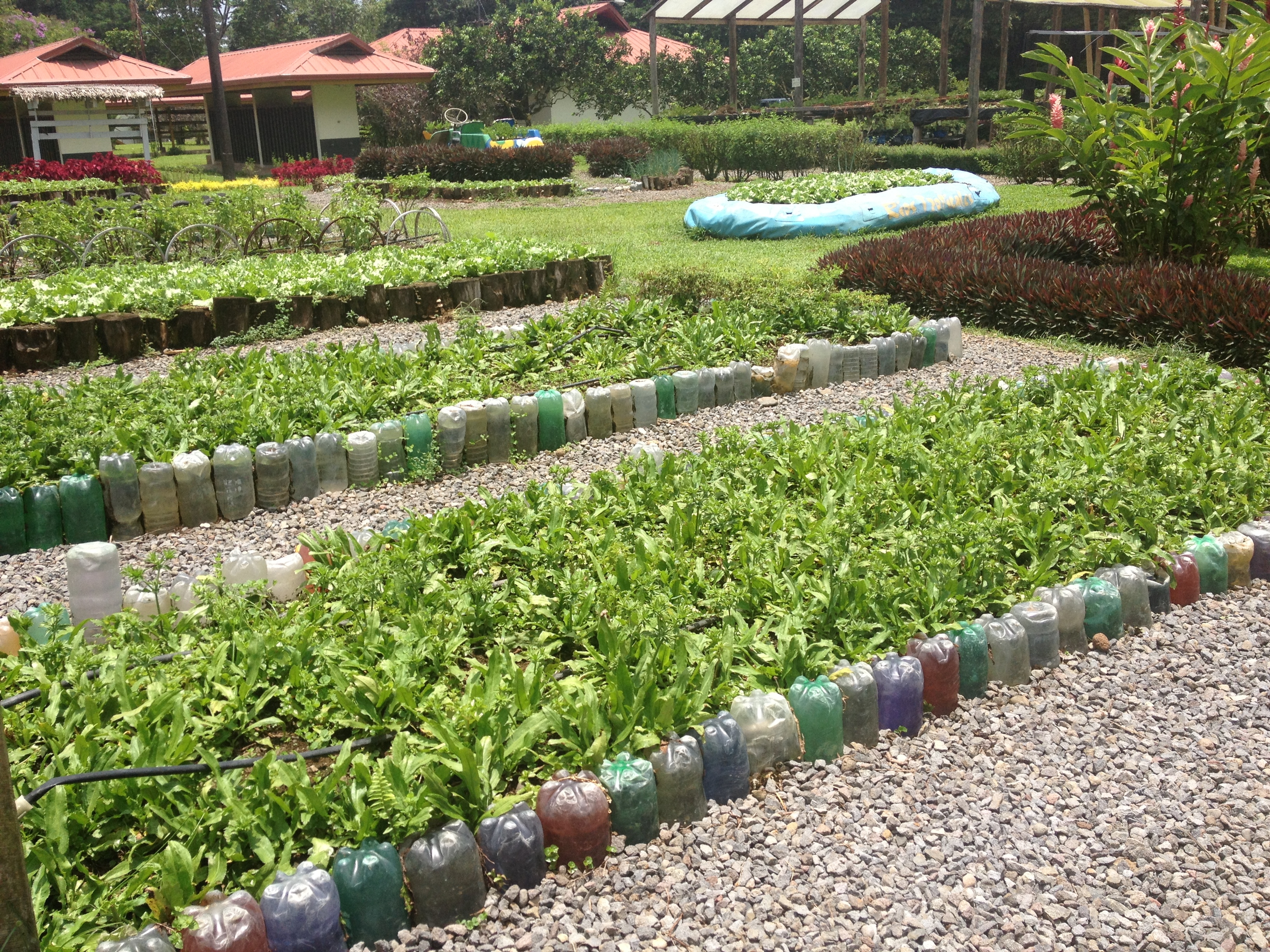 At Earth University, they even use old white water rafts and golf carts to grow crops! Through these projects and our tour, we were inspired to bring change to our own communities. The workshops showed us that even the average citizen, whether rural or urban, can make something out of a space that is not traditionally intended for agricultural use. Peri-urban agriculture is applicable to everyone and can be implemented by people of all ages. As Kristine Jimenez said, "Agriculture is a vehicle through which students can create change." It is an effective way to save money, and also a way to reduce, reuse, and recycle. We encourage you to pursue and experiment in your own homes and contribute to the rapidly growing movement of environmental consciousness and sustainability.
All of us traveling to Costa Rica are excited to experience a new culture and share our ideas with students from around the world through EF's Summit! Follow us on Twitter at #EFSummit or on Facebook at www.Facebook.com/EFSummit.
About the Global Student Leaders Summit Series
This post is part of a series produced by The Huffington Post and EF Education First, in recognition of the 2013 EF Global Student Leaders Summit in Costa Rica (April 20 and 21). Each year, the EF Global Student Leaders Summit brings together hundreds of high school students and teachers from around the world for experiential learning tours and a leadership and innovation conference to help the next generation of leaders understand and solve critical global issues. For more information on EF Education First, click here.
SUBSCRIBE AND FOLLOW
Get top stories and blog posts emailed to me each day. Newsletters may offer personalized content or advertisements.
Learn more