I'm not a very pretty Neanderthal lady.
It's the most visited of the 19 Smithsonian museums with 7.4 million visitors last year and the most visited museum in the country. It's easy to see why. Even kids who profess to "hate science" can't help but love this 21st-century museum.
Where else can you hold a hissing cockroach, hang on to a "shooting star" (actually a 4.5 billion year old meteorite), use real bones to solve a mystery CSI-style or, as I did, see what you'd look like as an early human and then email the picture to yourself? There's even a new phone app for this aspect of the exhibit called MEanderthal.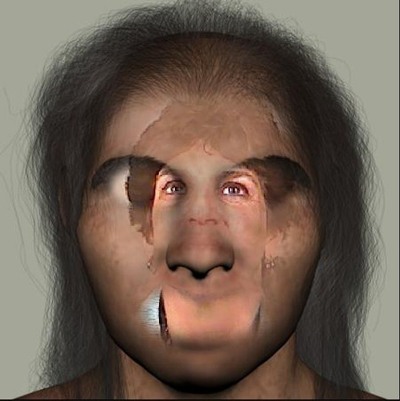 The National Museum of Natural History boasts more than 126 million objects in its collection, though less than 1 percent is on display at any one time. There's everything from an ancient Neanderthal bone that you can touch to a fossil shark jaw, as well as the famous T-Rex and the glittering Hope Diamond.
Kids fingered the "evidence" in the Forensic Anthropology Lab, got up close to the bugs in the Insect Zoo and met their tallest relatives -- the giraffe -- in the Family Hall of Mammals. They also posed for pictures in the Rotunda next to the famous and enormous African elephant, which incidentally is the earth's largest living land animal.
A fall weekend is a great time to visit D.C . Consider taking the train -- we opted for Amtrak's Acela from Stamford, CT. You won't need or want your car, and kids travel for half price on Amtrak. We chose the centrally located Fairmont Washington, D.C. Kids will love the indoor pool and the pool toys.
A visit to a Smithsonian museum, including the National Museum of the American Indian, the National Museum of African-American History and Culture, the National Postal Museum and the National Portrait Gallery, along with the National Zoo, the National Air and Space Museum and the National Museum of American History are on every family's to-do list when they visit Washington. The museums are free.
As many as 25,000 people visit just the National Museum of Natural History every day, reports Margery Gordon, an educational specialist. She says kids especially love the Discovery Room with its hands-on activities, the Forensic Anthropology Lab where they can work with their family or friends as a team to solve a mystery and, of course, the new interactive Hall of Human Origins, which tells the story of human evolution over 6 million years.
But where do you start when there is so much to see and do? Where are the bathrooms? (The most convenient one is on the main floor near the Ocean Hall.) A little prep goes a long way, suggests Bill Watson, chief of On Site Learning at the Natural History Museum. Take a virtual tour before you visit, he advises. (Good advice for touring any major museum.) Make sure everyone is well-rested, well-fed and wearing comfortable shoes too.
Ask the kids questions as you go along. What does it mean to be human? (For one thing, I learned, we have longer childhoods!)
Decide if you want to focus on a particular area -- the Hall of Geology, Gems and Minerals, for example, where you can look into a crystal or the Ocean Hall with its living coral reef,. And leave when the kids have had enough. Like Disney World, it's impossible to see it all in one visit.
"Every family does it differently," says Bill Watson. "One of the things that is so great. Is there is something for everyone, and experiences you couldn't have anywhere else."
Eileen Ogintz interviews families and experts around the world for her widely syndicated column Taking the Kids ™ and is the creator of www.takingthekids.com She's written seven family travel books most recently The Kid's Guide; NYC and The Kid's Guide: Cruising Alaska. For more Taking the Kids, visit www.takingthekids.com and also follow TakingTheKids on twitter and like us on Facebook, where Eileen welcomes your questions and comments.
SUBSCRIBE AND FOLLOW
Get top stories and blog posts emailed to me each day. Newsletters may offer personalized content or advertisements.
Learn more