We were so proud of ourselves.
My best friend JoAnne and I fashioned ghost costumes out of old white sheets, corralled my little sister Amy to join us and --presto -- we were The Ghost Family. We happily went off trick or treating in our suburban Long Island, N.Y., neighborhood. No parents tagged along, of course, no one had expensive costumes or headed to a theme park fright fest. No one could have imagined trick or treating among giraffes at a zoo or dinosaur fossils at a museum.
Boy, have times changed. Not only would today's parents not allow kids to trick or treat without adult supervision, but they screen every bit of candy to make sure it's safe. But there's an even bigger difference: Halloween has become a huge deal, a lot more than an after-dark trek through the neighborhood in homemade costumes.
This year, there are thousands of haunted attractions around the country to choose from that offer chills and thrills for most of the fall. (Check out www.hauntedhouse.com)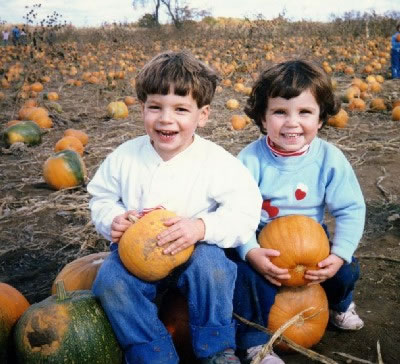 My kids in a Wisconsin pumpkin patch many years ago
Even Broadway is getting into the act with its first Kids' Night on Broadway Halloween, which means kids between 6 and 18 can see Broadway shows for free, including hits like "Wicked," "Billy Elliot" and, perfect for Halloween, "The Addams Family," "Mary Poppins" and "Memphis." (A paying adult must accompany each kid.) Even better, KNOB tickets include a pre-theatre Halloween party at Madame Tussauds, restaurant and parking discounts and more. You can feel extra good about participating because the event salutes the 60th anniversary of Trick-or-Treat for UNICEF, which to date has raised nearly $160 million. (For more on New York's Halloween offerings visit www.nycgo.com.)
If you are in Northern California -- or hanker for a getaway there -- visit Half Moon Bay. Located about 40 miles south of San Francisco, Half Moon Bay calls itself the pumpkin capital of the world with festivals, farms, pumpkin ale and even pumpkin spa experiences. (While you're in the neighborhood, the California Academy of Sciences -- considered one of the "greenest" museums in the world -- is celebrating the "Supernatural" all October with special programs and events that allow you to commune with bats and get up close and personal, just not too personal, with tarantulas, snakes and otherworldly fish.
There are of course, theme Park Halloween extravaganzas across the country. The month of October has morphed into a Major Deal for theme parks -- large and small -- across the country (Universal Orlando is celebrating its 20th Halloween Horror Nights with what they promise will be the scariest yet with eight new haunted houses, scare zones and live shows.
Knott's Berry Farm, is celebrating its 38th Halloween Haunt while Disneyland invites you to vote for your favorite Disney villain) and ride Space Mountain when it becomes Ghost Galaxy -- yes, a haunted version of what was my kids' first scary ride.
Of course why celebrate for one evening when you can party with ghosts and goblins for a weekend or more? That's what hoteliers figure anyway so you'll have your pick of Halloween hotel packages too -- even the chance to sleep with ghosts at a bed and breakfast. You'll find plenty of Ghoulish Getaways in New England along with the glorious fall foliage, complete with haunted houses, ghost stories, photo ops with giant pumpkins and the chance to decorate Halloween cookies. Certainly this is the season to visit Salem, Mass., which ranks third on www.rent.com's top ten haunted cities. (Savannah, GA is number one.)
Sure you're busy between work and soccer games and car pools to figure out costumes for the kids, much less a Halloween getaway. All the more reason to grab an afternoon or a weekend away.
The good news: You'll be too busy having fun with the kids to think about whether your job is safe or the upcoming election or the war in Afghanistan or whatever else is keeping you awake at night. . Your little ones will be so excited by the special museum exhibits, happenings at the zoo and pumpkin picking, they won't even mind when you limit their candy -- hopefully, anyway.
And at the theme park fright fest, your tweens might actually clutch you for comfort.
So where did you stash your witch hat? I've got mine ready.
Eileen Ogintz interviews families and experts around the world for her widely syndicated column Taking the Kids ™ and is the creator of www.takingthekids.com She's written seven family travel books, most recently The Kid's Guide; NYC and The Kid's Guide: Cruising Alaska. For more Taking the Kids, visit www.takingthekids.com and also follow TakingTheKids on twitter and like us on Facebook, where Eileen welcomes your questions and comments.
SUBSCRIBE TO & FOLLOW LIFESTYLE
HuffPost Lifestyle is a daily newsletter that will make you happier and healthier — one email at a time. Learn more