Thanksgiving is my absolute favorite holiday, and stuffing is one of my favorite parts of the day. I only eat it on this holiday, and I look forward to it all year. My recipe, a variation of my Grandma's classic, has the perfect texture -- mushy on the inside and crunchy on the top -- and each bite has all the flavors of Thanksgiving.
My dad and I have made a few minor alterations to my Grandma's recipe over the years, but the overall flavor has stayed the same. We've tweaked the herb mixture and experimented with different varieties of mushrooms, and have developed a pretty outstanding dish. The one thing I would never change, however, is the bread. My Grandma always used Pepperidge Farm croutons, and their tiny uniform shape was part of the dish's comfort. This year, for the first time, I agreed to try something new: real bread! Cut up and made into croutons from scratch! It may sound silly, but this was a big step for me and felt like a real departure from the classic. I'm very happy to report that this year's stuffing was the best yet. I guess sometimes change is good.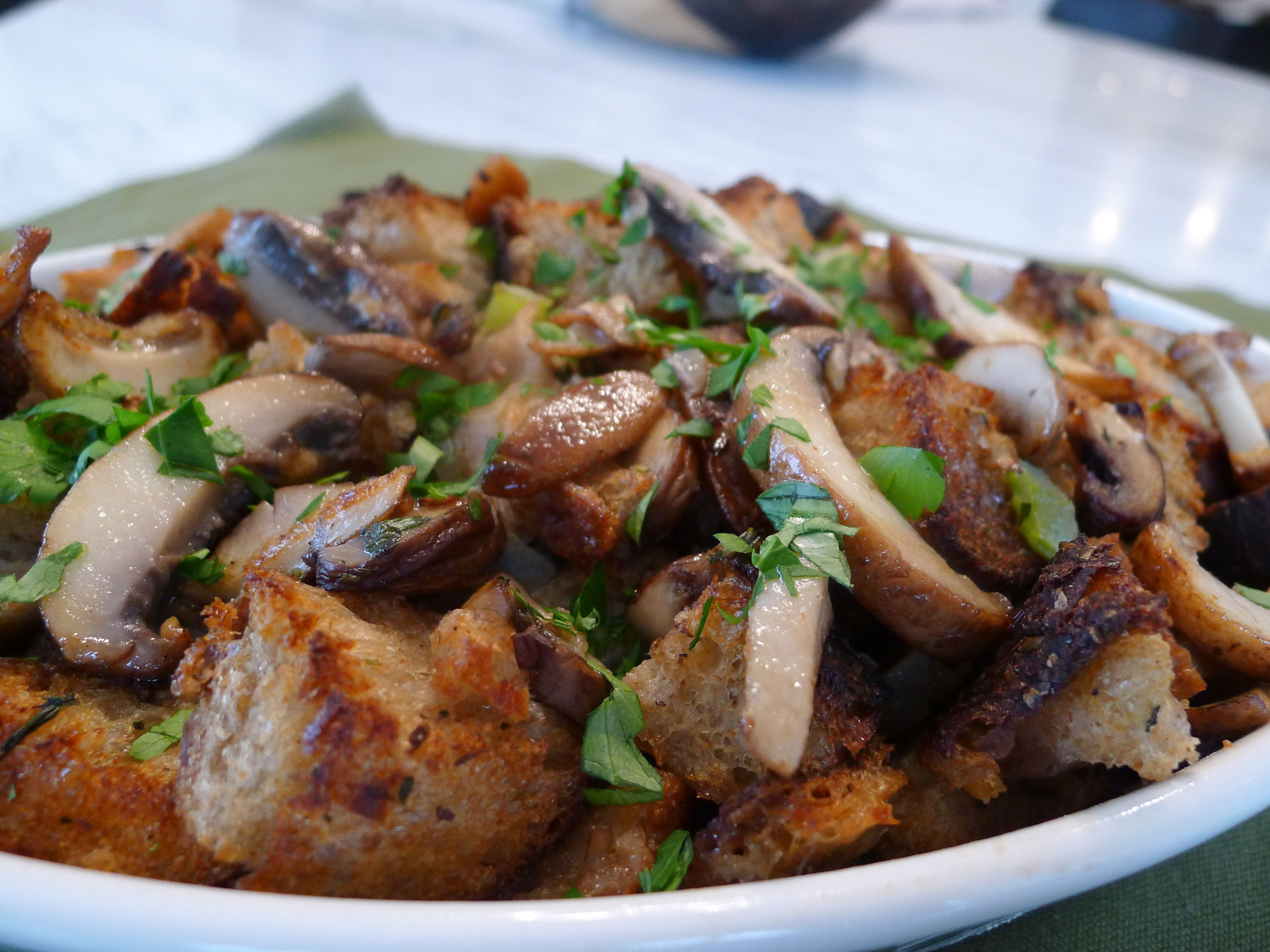 1 large loaf good, crusty bread (could be baguette, boule, country -- anything that's hard on the outside and soft on the inside)
24 oz mushrooms -- I use a mix of crimini, shitake, Portobello and dried (and then rehydrated) porcinis. You can use any kind of mushrooms that fit your budget.
2 celery stalks
2 onions
2 large shallots
4-6 cups chicken stock (if it's store bought make sure it's low sodium!)
1 splash Worcestershire sauce
Herbes de provence
Fresh herbs: Sage, thyme, parsley
2 eggs
Butter
Olive oil
Salt, pepper
1. Cut the bread into 1 inch cubes. Either let it sit out for a day or two to dry, or toast it at 375 until it's crunchy but not browned.
2. Prepare your herbs: Chop up about 10 sage leaves, 10 sprigs of thyme and a handful of parsley. Set them aside in separate bowls.
3. Chop the onions and celery and sweat them in butter. Season with salt, pepper, sage and herbes de provence.
4. Mince the shallots and mushroom stems and, in a separate pan, sweat them in butter and olive oil.
5. Once the shallots are translucent, add the sliced mushroom tops. Season with salt, pepper, sage and thyme.
6. When the mushrooms have softened and browned, add a splash of Worcestershire sauce.
7. Deglaze both vegetable pans with some chicken stock.
8. Pour vegetables with all their liquid over the bread. Add 2 cups of chicken stock and two eggs. Mix well.
9. The bread should be very moist. Add chicken stock until all of the bread is fully soaked.
10. Pour the mixture into baking dish and dot with butter.
11. Bake covered for 30 minutes at 400° and then uncovered for 30 minutes or until it's golden and crunchy on top.
12. Sprinkle with parsley and serve hot.
For more of my recipes visit www.firsthelpings.com.

SUBSCRIBE TO & FOLLOW LIFESTYLE
Get top stories and blog posts emailed to me each day. Newsletters may offer personalized content or advertisements. Learn more