On Monday, May 28, the much-anticipated G(irls)20 Summit will commence at the Instituto Tecnológico Autónomo de México (ITAM). Along with the 21 delegates of the G(irls)20 Summit, there will be many important officials, community leaders, and organizations in attendance. The commencement will feature two extraordinary Mexican women who have dedicated their lives to empowering women and girls, particularly by example. These women are global changemakers.
Ambassador Patricia Espinosa, the Minister of Foreign Affairs for Mexico, will offer some welcoming remarks. Ambassador Espinosa is an incredibly accomplished woman. She has been a member of the Mexican Foreign Service since 1981. She was promoted to Ambassador in 2000 and appointed Secretary of Foreign Affairs in 2006. She has served as Ambassador to Austria, Slovenia, Slovakia, and Germany. She was a Permanent Representative to the International Organizations in Vienna. She studied International Relations at El Colegio de México and continued her postgraduate studies in International Law at the Institute for High International Studies in Geneva. She is fluent in Spanish, English, German, and French.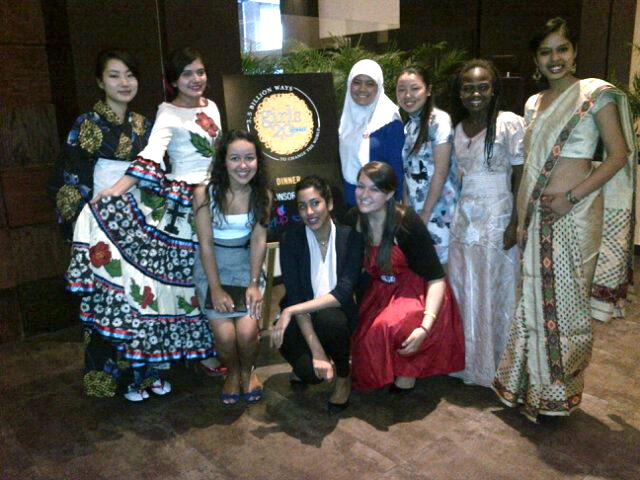 The Delegates at an evening dinner with GirlUp! Tomoko Kaida (Japan), Magdaly Santillanez (Mexico), Barbara Cesar (Brazil), Noura Al Otaiwi (Saudi Arabia), Elisabeth Jessop (USA), Disty Winata (Indonesia), Fisher Wu (China), Glender Favour (Cameroon/African Union), Priyanka Roychoudhury (India)
Followed by Espinosa, the audience will hear from the First Lady of Mexico, Margarita Zavala. She will welcome the 21 delegates to the G(irls)20 Summit and focus on "why the world needs to invest in girls and women." Although she is the First Lady of Mexico, she is very accomplished in and of herself. Early on, she was fighting for gender equity. In 1995, she spoke at the World Conference on Women in Beijing. She first entered the public sector as a local delegate at the Assembly of Representatives of the Federal District in 1994. From 2003 to 2006, she was a deputy for the National Action Party (PAN) in the LIX Legislature of the Mexican Congress. Prior to this, she was the Legal Director of the National Executive Committee and National Secretary of Political Promotion of Women for PAN from 1999 to 2003. She is the only First Lady of Mexico to have ever served in congress. In 2001, she helped to found the Board of Directors of the National Women's Institute (INMUJERES). She has not only been involved in government, but she is currently the President of the civic advisory board to the National System for Integral Family Development (DIF). DIF promotes child and family development in Mexico. In 2008, she launched a campaign for drug prevention among children and youth and she has worked constantly to protect unaccompanied migrant children through Mexico. She also teaches law and has worked at various law firms across Mexico. She is the mother of three children. Zavala is truly an accomplished woman, fighting for gender equity and supporting the women of her country. As an icon for women's empowerment, she has served other women beyond the borders as well.
The G(irls)20 Summit will run Monday and Tuesday and focus on issues of food security and gender-based violence in terms of opportunity lost and opportunity gained for women. The 21 Delegates from the G20 Nations, plus the African Union, will present a communiqué of suggestions to the Sherpas of the G20 in an effort to put women on the agenda.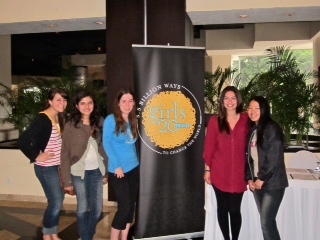 The Delegates arriving in Mexico City! Elisabeth Jessop (USA), Magdaly Santillanez (Mexico), Claire Charness (Canada), Sally Dimachki (France), Fisher Wu (China)
As the U.S. Delegate, I am well aware of issues facing women in my own country. I would like to see more women like First Lady Zavala and Ambassador Espinosa act as leaders in my own country. Currently, only 17 percent of the U.S. Congress are women. Women need to be empowered and aware of their own voice and potential to make a difference. Women are the key to economic productivity and social stability. It's time to engage! Let's start by putting girls and women on the agenda at the G20 Summit.
There are 3.5 billion girls around the world that have the power to create change. I am number 4,541. What's your number?