On September 25, the UN General Assembly laid out a partial road map toward the post-2015 agenda to build on the Millennium Development Goals (MDGs) and Rio+20. The agreed outcome document outlines how the UN open working group and financing committee will provide input to the full negotiations that will take place in September 2014. Civil society has been engaging in the process to provide input as the UN attempts to broaden participation to arrive at a final outcome document that will address the most pressing issues and form forward-thinking goals past the 2015 completion date of the MDGs. Members of Beyond 2015, an international campaign made up of more than 800 organizations, have commented on the need for the draft to address needs for the most vulnerable populations in the world. A range of perspectives call for UN member states to fully address inequality, re-imagine peace and security and do more to address development within a gender justice foundation as catalysts for transformational change to eradicate poverty.
The MDGs brought together the world's first global framework to address poverty through a common agenda. Overwhelmingly, the sentiment among member states is that the goals are effective means to address poverty and should be continued until its completion. The post-2015 process can ensure that the original goals strengthens international commitment to eradicating poverty and ensure development that stays within limits of what environment can handle so that all populations can enjoy quality life for generations to come.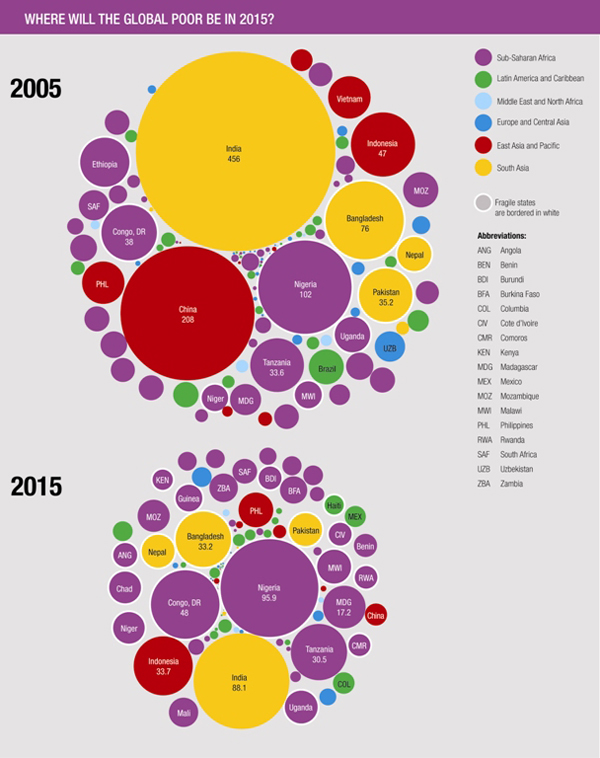 Photo credit: One.org
Three billion people live in poverty, 1.3 billion live in extreme poverty and 1 billion of those in poverty are children. The total population on the planet is currently 7 billion. If you count living on less than $10 a day, 80 percent of the world lives in inadequate conditions. The time for an agenda that eradicates poverty may be what some would consider a pie-in-the-sky dream, yet it has to become a reality. We can remove factors that contribute to poverty, but not without re-imagining the world's resources, human use of resources, global, national and regional governance.
Change does not happen over-night, but the post-2015 process is a way to engage ideas that must move the world out of a context that exploits people and environment. Commitment by governments to be held accountable for ambitious, yet practical standards has to take shape before tangible actions can be taken to relieve burdened economies, environments and people that are being crushed under poverty that is exacerbated by systemic inequality.
Thus far, the commitment and agreement on a single post-2015 agenda that recognizes that there are common responsibilities that need to be shared within different country contexts is a positive step. Civil society advocates, however, are looking for UN member states to draw deeper connections to the root causes of poverty and commit to action on them. Neva Frecheville, Co-Chair of Beyond 2015 and lead policy analyst on post-2015 for CAFOD, believes that people must be able to participate in developing this new agenda for it to resonate beyond the confines of New York missions. Regarding the direction that the post-2015 agenda is headed, Frecheville explains, "it is important to bring together environment and development. One of the things Beyond 2015 has been doing is working with a breadth of civil society voices who agree that this document has to be based in human rights, poverty eradication, environmental sustainability, equity and about the participation of people in decisions that affect their lives."
Beyond 2015 is a strong voice for civil society that is engaged in the work toward ending poverty, and the driving force behind the Participate initiative. Frecheville acknowledges that the work to enfranchise the most vulnerable cannot solely be done via online platforms. "I think there is the danger that it excludes the people who need to be at the heart of this conversation", she says. Frecheville surmises, "we need people to be actively engaged in a meaningful way through conversations at the national level between governments and constituencies."
The challenge to national governments is clear: do not settle for talking among your peers about what should happen to eradicate poverty in the world, open the conversation within your national borders to the people that will be affected by your actions.
The kinds of conversations Beyond 2015 would like to see happen include eradicating poverty through priorities like education and healthcare to address the types of inequalities that make poverty a vicious cycle. As an international community, we should all be thinking about the kind of global community we want to create and deliver on a shared vision. Finding the sweet spot of where the rubber meets the road requires an economic structure that puts people and environment in the center of development aims.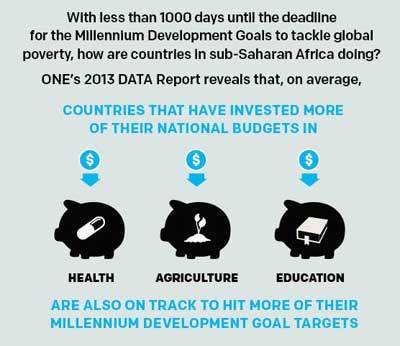 Photo credit: The London School of Economics and Political Science blog
Gaining commitment from heads of state on re-imaging what development looks like outside of free-market societies with haves and have nots is a daunting task. Equally as difficult of a conversation for governments to have is a strong commitment toward non-violent conflict resolution as the primary way to address peace and security, investing in disarmament and ending foreign occupations. Some governments are ready to have the difficult conversations about a new world order, while others feel threatened by a suggested change in status quo. There seems to be no clear indication of who will be the dominant voice in the post-2015 process.
Hope dawns with the momentum of UN member states backing fundamental values of human rights, sustainable development and participation of people in governance. There is also greater attention given to the possibility of a stand-alone gender goal to specifically address Violence Against Women and Girls (VAWG), a rampant issue already recognized in the international community as an impediment to peace and security.
Negotiations will begin in earnest in September 2014, after the open working group on SDGs and the financing for sustainable development expert committee have reported. Beyond 2015 will continue work to amplify the voices of the people that will be most affected by development changes.