I open the door to step back into the room, and he is already asleep again. Sitting in the chair by his bed. The effort to get dressed and move to the chair was too much. He is spent.
His lungs are filled with fluid, and he no longer has the physical strength to cough it up. They are giving him medicine designed to help, and he tries, but he just can't get it out anymore.
The coughing fits turn him bright red and leave him without breath. It is excruciating to watch and sadly, I am aware, only a preview of what is to come.
I wake him gently. "Dad, let's get you back into bed. You need to rest."
He cannot sit up, get out of bed, or dress without assistance. He can only walk for short distances, his gait unsteady and his feet shuffling, not lifting off the floor. He must be accompanied to protect against falls. He has had several and we are very lucky he has not been seriously hurt.
I'm getting more used to it now. It's not so shocking to see him this way. To be the one who has to do things for him. It still disturbs me, and I feel inadequate. But I'm not afraid or embarrassed to try to help him.
I explain he would be more comfortable in the bed, and he agrees, but says he can't do it on his own. I tell him I will help.
I place my hands firmly under his armpits and lift his frail body out of the chair, instructing him to shuffle a few steps forward. Then I rotate him and slowly lower his body onto the bed. I ask if he wants his clothes on or off. He chooses the latter, so I undress him carefully, down to his diaper and socks, the way he likes to sleep now.
How much he is aware of this is unclear. And I think to myself that the only blessing in the situation would be if he did not know. If he was unable to grasp the condition he is in. That may be the only gift dementia can offer us.
As soon as he is in the prone position, he becomes convinced he is falling. I'm not sure if he feels as if he is moving, or the bed is. He is not able to articulate. The only words he can find are "falling" and "dizzy." Speech is very difficult for him these days.
I assure him he is safe. There are rails; he cannot fall off.
The bed needs to be elevated because of the congestion in his lungs. But he wants to be on his side, so I have to lower it first to physically move him. He winces, and I feel guilt. I don't know what I am doing and I'm hurting him.
His body is completely limp and he is able to offer no assistance as I work to move him. It is very difficult. I tell him I will get a nurse to help. But he is already drifting back to sleep. So I tenderly move his body into a position that looks as if it will be comfortable and pull the covers up under his chin.
I lean over and kiss his forehead. "I love you, Daddy. I'll see you again soon."
"I love you, too," he murmurs.
I am down in the darkness. The light feels out of my reach. God forgive me; I wish for death. I want this hell to end. For all our sakes. I am running out of strength. And yet, I will require so much for the final leg of this journey...
This post originally appeared at The Writer Revived. It is part of a series I am sharing here concerning my family's journey with dementia. My father passed away March 10, 2014.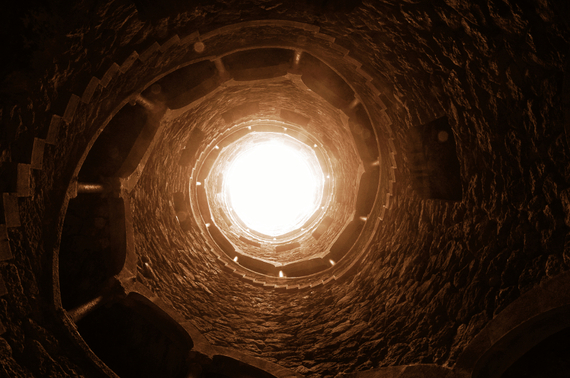 Earlier on Huff/Post50:
13 Resources For Caregivers
Talking with other people who face the same daily challenges can help caregivers manage stress. Specific types of support groups can vary on a community-by-community basis; check out this Caregiver.com guide to find the right program for you.

Caregivers have their hands full and may not have the time to meet with an in-person support group. In that case, an online support group can be a great alternative.

Support groups not your thing? You can see what other people are saying about caregiving by just checking out a simple message board, such as this one sponsored by AARP..

You may need to attend an event or simply seek a few hours for some much-needed rest. Eldercare.net offers a Search For Respite Tool or Eldercare Locator where you can find professional help. Also check out this guide from caring.com for more respite-care ideas.

Does your loved one need transportation to go buy food or go shopping? There are numerous van and shuttle services specifically for seniors. Contact your local Area Agency On Aging for one near you.

Don't have time to shop and cook? Consider a service that will deliver gourmet meals to your home, no matter where you live. For low-income seniors in need, AssistGuide Information Services offers a directory of food services available.

During the 2009 economic downturn, 1 in 5 family caregivers said their finances were so strained that they were forced to move into the same home with their aging loved ones to reduce expenses, according to a survey by caregiving.org. Some 47 percent of working caregivers indicate that an increase in caregiving expenses caused them to use up all or most of their savings. The Many Strong Support Network has a fundraising tool which allows other people to anonymously donate funds to people who are under financial strain.

If ever you have a question about resources, or need support at a moment's notice, AARP's caregiving support line is available at 1-877-333-5885, Monday through Friday, 9 a.m. to 5 p.m. Senior care advisors for Care.com, also provide free counseling for caregivers, and help them map out the best course of care for their loved ones.

Organized caregiver co-ops can provide an affordable way to coordinate care for your loved ones. Check with local community centers or this Adult Day Care Directory to see if someone in your area has already started one.

Care.com's Senior Care Directory can set you up with a housekeeper, errand runner, pet sitter, or whatever you need to make the caregiving experience a little more manageable.

According to author of "The Medical Day Planner", Tory Zellick, hospital social workers are a great resource for all caregivers. "[Hospital social workers] are always armed with information for your community," said Zellick.

Websites like Lotsahelpinghands have caregiving communities that connect volunteers with caregivers in need of support or help.

Family gatherings offer a great opportunity to discuss the future of loved one you care for, says Dr. Bruce Chernof, president and CEO of The SCAN Foundation. The group offers a guide -- "10 Conversations To Plan For Aging With Dignity And Independence" -- to lay the groundwork for these critical discussions.
Follow Elizabeth Flora Ross on Twitter: www.twitter.com/efloraross