Two weeks ago, Women's Voices for Change, an organization not only near to my heart, but one I helped found and one whose significance both causes me to loose sleep and to leap up in genuine exuberance, held a fund raising luncheon. It was such an enormous success in content, in form, in educational and entertainment value, in good will building-- in every way-- that our Board can barely speak of it without genuflecting.
Silda Wall Spitzer interviewed Arianna Huffington at our luncheon that started with modest expectations and turned into a blockbuster that even today, the day most people are talking about their relationship with the IRS, is the buzz of NYC. The responsibility of reporting on something so important to our site www.womensvoicesforchange.org, about something as significant as this event, in a place as revered as this stopped us in our tracks for a while. But just for a while. Now, it is my pleasure to take you back two weeks and to report on what was truly an historic moment, not only for our organization, but also for the world of women who care about what smart, compassionate women think and how they are effective at what they do.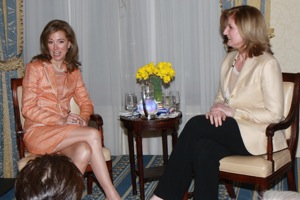 Photo taken by Carol Rosegg
On March 31, 3009, attorney Silda Wall Spitzer and Arianna Huffington were the headliners at a luncheon held by Womens Voices for Change. The theme of the day was personal reinvention. Silda, attorney and partner at Metropolitan Capital Advisors, proved also to be a natural-born interviewer. She was very well prepared on an array of subjects, and began with a great story to warm up the crowd of 300 women (and - okay - four men), good-naturedly packed cheek-to-cheek (we'd sold out in four days!). Silda told about how Dr. Patricia Allen, our intrepid leader, had convinced Silda to reposition herself for the sake of Women's Voices for Change.
Then it was on to the discussion between two enormously beautiful and powerful women. Silda asked Arianna whether she had reinvented herself in the multiple stages of her life -- from Greek student and president of a debating society at her British school to political spouse, politician in her own right, to media mogul. Arianna shook her head: "I think of it more of getting up when you fall down, dusting yourself off and going on to the next thing." As for life at 58, the author of On Becoming Fearless said, "How can you be fearless if you can't admit your age?"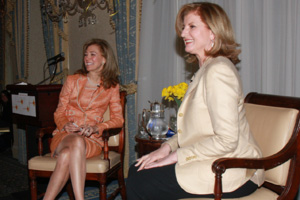 Photo taken by Carol Rosegg
What's terrific at this stage, she told us, was that, "we don't have as much fear of failure; we've been there and survived." We all roared when she talked about her daughters, who "will even not do something, because they might fail. I tell them about my first book, how it was rejected -- and they chime in, 'yes we know. by 36 publishers.' But it is just true that as we get older, we know" that failure is the beginning of success.
Cards were handed round for questions to be submitted. Many guests, including the woman on my right, used their card to take notes. So I'm sure many of us will hold close to the guidelines Arianna offered about how to move ahead with joy. "Not happiness -- even the Founding Fathers never promised us that, only the pursuit of it. But I think our capacity for joy increases." Asked for some keys to moving forward with joy, Huffington emphasized two elements -- one metaphysical and one quite physical. About the latter, "I cannot underestimate the importance of sleep," she said. "Raise your hands if you are at this very moment sleep-deprived."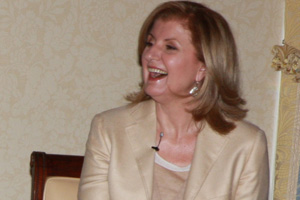 Photo taken by Carol Rosegg
When at least 200 women raised their hands, Huffington questioned the "very male" model of success "that consists of going, going. going, till you drop dead of a heart attack at 52." On numerous dates with powerful men, Huffington added to much laughter, "they always make a point of saying how little sleep they're getting. 'Oh, I just get about four hours sleep a night.' At some point in the night, I invariably find myself thinking , this dinner would be a lot more interesting if you had gotten at least another hour of sleep." The dialogue continued with trenchant commentary about life, politics and what Arianna calls the essential "Fourth Instinct."
It came as no surprise that Arianna was a delightful guest, warm and open in her responses. The take-away for me: how this woman, so well-informed, articulate, self-aware and self-deprecating, could know so much while getting all that sleep.
I have stacks of books and magazines beside my bed, I have an Ipod with audio books I listen to when I'm walking or riding an elevator; I have a Kindle 2 (because the pages turn faster), I speed read through three papers (but slow down for Cindy Adams), I check blogs, feeds, listen to my childrens' friends and my friends' children for street news; I don't Twitter because that would surely be the end of me, but we all know we're all trying to keep up.
So I've decided there's no point in losing any more sleep worrying over losing sleep and in wondering how I'll ever get to know all the things Arianna and Silda know. Women's Voices for Change is going to present more gatherings because we learned there is a yearning in these tough times, particularly, to be together. We discovered the true value of time well spent, of conversation between women, among women, and, as Arianna pointed out with surprise: "I am almost never in a group like this!" We look forward to joining with Arianna to do what only women can do: to "reinvent success" and spread it around!
SUBSCRIBE TO & FOLLOW LIFESTYLE
We're basically your best friend… with better taste. Learn more