The heat is brutal and the kids are home. Now what?
Poshbrood has rounded up five amazing summer destinations where you and your children can beat the heat. Book your flights, grab a suit and head out of town.
1. The Resort at Pelican Hill
If you haven't been planning a trip to Southern California, you need to change your plans. The Resort at Pelican Hill in Newport is absolute perfection. It is both a Forbes Five-Star rated Spa and AAA Five Diamond resort. Poshbrood spent an amazing 24 hours here recently and eagerly anticipates returning.
Pelican Hill is situated in the lush green hills between Newport and Laguna Beach. Modeled after an Italian seaside village, the entrance to the main lobby resembles a beautiful piazza. The decor inside the main building is casually elegant. It houses a great room featuring live Broadway entertainers on weekends; an Italian cafe featuring seasonal gelato made onsite, a resort boutique; and Andrea, a Northern Italian restaurant serving 17 hand-made pastas daily. The main building also houses a state-of-the-art fitness center and a luxurious spa.

Camp Pelican, the kids' program at Pelican Hill is amazing. Guests will get a coupon for a free gelato, and a cute stuffed pelican on arrival. Adults can lounge at the cabana and get massages at the fabulous spa, while the kids enjoy themselves and meet new friends at Camp Pelican. The camp features games, art supplies, computers, Rock Band, large flat screen TVs for movie night, a private patio, sandbox, and kid's pool. The camp accommodates up to 50 kids during the busy summer season.
Bottom line: if you're looking for an unbeatable California beach family getaway, the Resort at Pelican Hill is our top pick! Room rates start at $495 mid week. www.pelicanhill.com
2. The Tides Inn
Chesapeake Bay Bliss without the Bay Bridge Blues! The Tides Inn is a Leading Hotel of the World, located on the Northern Neck of Virginia in a quaint town called Irvington. It is a charming compound where the emphasis is on family fun, the bay and boating.
The Tides manages to balance a friendly, truly relaxing atmosphere on an enviable waterfront property with upscale amenities, while maintaining an enjoyably campy feel.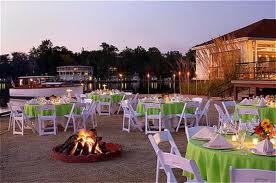 The driveway from the main entrance winds through a wide open and well maintained nine-hole family-friendly golf course, with Frisbee golf targets also at each hole. Grab Frisbees or a set of (very nice) golf clubs by the main lobby and go. No paperwork, no extra charge, no fuss. Help yourself to a bike while you're at it (a wide selection from training wheels to adult). Explore the grounds and sweet little Irvington, an artsy town.
The onsite "Crab Net Kids" (for ages 4-12) entertains the littles if adults are craving some alone time. The staff will teach your kids how to go crabbing. Plenty of other fun activities abound. You can find tennis courts, a basketball court, and hidden swings in the grand trees off the golf course.
The waterside pool has surrounding lounge chairs and The Pool Grille, a casual restaurant with open water views. Don't miss The Tides signature lemonade (adult version with vodka). The pier and small beach are a nice spot for strolls, lounging, and there are s'mores each night at 8pm at the fire pit, or movie nights and bingo games with milk and cookies in the evening. Hop the shuttle boat for a quick ride across the creek to explore the old Tides restaurant property and the saltwater pool. The friendly captain will teach your children "always to ask permission to come aboard a boat," and he'll tour you around a little until he sees more passengers dockside looking for a ride.
Bottom line: Laid-back luxury and the price is right! the staff at Tides will do everything they can to make your stay as easy and enjoyable as possible. Room rates start at $170/night for double room. $23 resort fee per day. Some pets accepted in specific rooms. www.tidesinn.com

3. Montage Beverly Hills
90210. Beverly Hills. Swimming pools, movie stars. You can't do better than The Montage Hotel in Beverly Hills. The hotel is stunning -- Mediterranean in design and decked out with beautiful flower arrangements. A Standard Guestroom -- the hotel's smallest -- offers a generous 480 square feet of living space, with two queen beds. Marble and mosaic-tiled bathrooms feature dual sinks, generous tubs and a separate shower with dual showerheads and sitting bench.
Another amazing and unique amenity of the Montage is their exclusive kids' program for hotel, restaurant and spa guests. Paintbox affords parents the opportunity to have a fun Los Angeles family vacation while also being able to experience time for themselves, whether discovering Beverly Hills, being pampered at Spa Montage, or enjoying an intimate dining experience. Plus, children will enjoy an array of supervised activities specially themed to create a playful and engaging learning environment.
The Montage offers a very awesome "Pampered Parents Package." Any parent who reserves a 60-minute treatment at Spa Montage will receive the first two hours of Paintbox complimentary. For those of us who don't roll with full time nannies, this is a huge benefit that no other Beverly Hills hotels offer.

After a stroll around Beverly Hills, we recommend the "Mommy and Me Tea" in the Lobby Lounge. Expert tea specialists serve exclusive artisan tea varieties, finger sandwiches, champagne (or sparkling cider for the tots) and delightful pastries. The children's tea menu includes: nutella, pb&j, grilled cheese sandwiches, assortment of pastries with "champagne" mocktail. A harpist adds to the soothing and special environment.
Bottom line: If you're looking for a great spot for kids and moms alike, check out the very posh Montage. Tres chic! Room rates start at $495 a night. http://www.montagebeverlyhills.com/
4. The Breakers Hotel
Palm Beach. Is there any place more posh? The historic Breakers Hotel was built by oil magnate Henry Flagler in 1896 and known as the "Palm Beach Inn." Rebuilt and updated several times over the past several decades and set amidst 140 acres of picturesque oceanfront property in the heart of Palm Beach, The Breakers has become a luxury retreat that sets the standard for family amenities and world-class service.
The hotels room have been renovated and are Dorothy Draper chic and offer every comfort. The hotel's Family Entertainment Center includes a movie theatre and playrooms and a Italian Restaurant so that parents can enjoy their pasta carbonara and cabernet while their children play safely just a few feet away. Genius! They also offer a daily kids' camp with endless activities and the hotel has one of the greatest playground's ever. Complete with night lighting!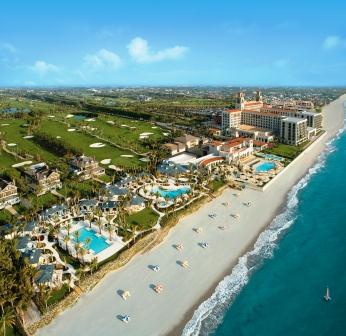 Other features that make The Breakers the ultimate family beach vacation include: a luxury spa, the private beach with chairs and cabanas, a fitness center, wonderful tennis and golf programs, world-class dining and four different pools: active, adult-only, baby pool, family pool and lap pool.
Bottom line: Looking for a relaxing, swank family getaway? Check out The Breakers. It'll make the whole brood happy. Summer room rates from $295 a night and includes kid's meals and kids' camp. www.thebreakers.com
5. Spruce Point Inn
Fog horns, sea breezes, lobstah, sailing, quaint cottages and summer s'mores: this is the ultimate summer getaway. Spruce Point Inn in Boothbay Harbor, Maine offers it all. The scenic four-diamond Inn overlooks the Atlantic Ocean and offers classic Maine cottages, lodge accommodations, condominiums and hotel rooms.
The Inn features a full service spa, a fresh and saltwater pool, tennis courts, restaurants, a poolside grill, Kids Camps, bikes, babysitting, kayaks, nightly entertainment and a fire pit for complimentary nightly s'mores. Guests exploring the grounds will find hidden ocean view hammocks to lounge in, read a book or watch the incredible sunsets. There are also cleared walking paths in the woods behind the inn and pets are allowed in some rooms.
This past winter, the Inn renovated all the rooms and cottages for a more modern, beach chic look. The quaint harbor of Boothbay was close enough to bike and walk to over the historic footbridge. Poshbrood recommends the duck pin bowling lanes and a visit to the 100 year old taffy making machine on a rainy day. The incredible Maine Botanical Gardens that include a jaw-dropping two-acre children's garden complete with fairy houses, mazes, boats, tree houses, bridges, play cottages, ponds, whimsical topiaries is just 15 minutes away.
Bottom line: if you're looking for a great, classic summer Maine getaway, Spruce Point is a perfect pick! Room rates from $170 a night, cottages from $255 a night. www.sprucepointinn.com
SUBSCRIBE TO & FOLLOW LIFESTYLE
HuffPost Lifestyle is a daily newsletter that will make you happier and healthier — one email at a time. Learn more