8 Reasons You Should Head To France Now (PHOTOS)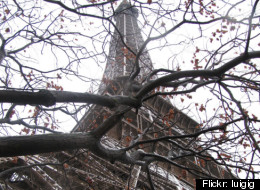 Poshbrood recently traveled to France to investigate the latest in luxury travel trends. Go now, mes amis, because January, February and March are perfect times to take advantage of winter discounts and travel incentives.
Winter months are naturally the off-season for travel to Europe and who needs the sweltering crowds of summer when you can sip café au lait on the Champs Elysées and save beaucoup Euros? Here are 8 good reasons to go to La Belle France now:
For the first time in Europe, the Musée du Quai Branly presents the exceptional collection of samurai armor. The exhibition shows the culture, lifestyle and art of the samurai warrior in Japanese society over almost nine centuries through various types of objects, including full suits of armor, helmets, and full horse armor, used for both battle and ceremonial parades. Samurai belonged to the intellectual elite of Japanese society and practiced disciplines often contrasting with the violence of the art of combat, such as calligraphy, poetry and literature. Their armorers worked as artists creating beautiful pieces, most with delicate details, which were also capable of protecting the samurai in the most violent of battles. The exhibit is mesmerizing and runs through January 29 2012. Tickets are 8.5 Euros.

Hotel Esprit Saint Germain has been designed along the lines of a private residence. 28 rooms and suites ideally situated in the heart of Paris, on the Left Bank in Saint Germain des Pres, between the Jardins du Luxembourg and the Boulevard Saint Germain, where literary and artistic legends surrounding Paris were written. This intimate hotel is offering a Short Break in Paris package for 999 Euros for 2 people. It includes an upgrade to a Superior Room, a one way transfer in a private car, daily American breakfast, complimentary Bar in the lobby with champagne, wines, spirits, Fitness centre (Steam room and Sauna), flowers and fresh fruits daily. This offer is valid from January 2 to 20 and January 24 to February 29, 2012.

Côte d'Azur for a song. The 5-star Cap D'Antibes Beach Hotel, with a private beach, spa and award winning restaurant can have you vacationing like P. Diddy on a beer budget. This minimalist hotel with lush gardens bordered by the sea and a fine sandy beach is offering a reopening special (the hotel is seasonal) with rooms from 290 Euros a night from March 30-April 6.

The euro fell to a 15-month low against the dollar in the last week of 2011. This means that your dollar will go farther in France and that European countries are ncentivizing tourists to visit to increase revenue. It is our duty to help, non?

Rail Europe just launched a new Rhine-Rhone high speed line in France. For the first time, direct service will be offered within France on routes including Paris to Besancon, Belfort or Mulhouse. International high speed TGV trains will offer direct service between France, Switzerland and Germany on routes such as Paris/Lausanne, Paris/Bern, Paris/Zurich and Frankfurt/Marseille. Also, like airline tickets, the fares for TGV trains are much lower in winter season that the peak summer and holiday seasons. Consider using miles or taking a discount carrier into one of the many London airports then take the EuroStar to Paris. It's only 2 hours and 15 minutes! TGV France tickets are available for sale at on their website.

This Relais & Chateaux property is a brief walk from the Arc de Triomphe and the Eiffel Tower, in the exclusive 16th district, famous for its luxury boutiques and restaurants. The historic building has been glamorously renovated and rooms are very large by Paris standards. Through March 31st, the Saint James is offering the Indulge package where superior rooms start at 360 Euro a night and include a room upgrade upon arrival and a VIP welcome with homemade pastries. We love this "crazy-chic" hotel and felt as if we were staying in a rich friends manor. Be aware, you can spend hours in the library bar perusing books, practicing your French with the excellent wait staff and sipping champagne.

If you live near New York City, you can posh up your plane without breaking the bank. OpenSkies is an all-business class airline with direct flights from New York (Newark Terminal B) to Paris (Orly) with very competitive rates. OpenSkies is currently offering a Biz Seat starting at $801 each way based on round trip purchase (taxes&fees of $123 and $2.50 September 11th Security Fee extra). We flew OpenSkies to Paris in December and can attest to the business seat comfort. The biz seats recline a luxurious 140 degrees for optimal overnight snoozing. If you can't sleep, you can watch movies, TV shows or play games on your personal iPad for the duration of the flight while sipping champagne. Details on their website - http://www.flyopenskies.com/en/special-offers/new-york-paris-biz-seat.html

Airfares are typically much lower from late fall through the end of March. According to Rick Seaney, founder of FareCompare.com, over the last 5 years, the difference in price between winter and summer season airfare to Europe (from the U.S.) is approximately 40%. That could equal a Louis Vuitton bag or some Hermès scarves!
Follow Elizabeth Thorp on Twitter: www.twitter.com/Poshbrood