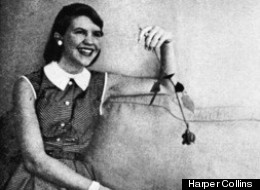 On May 31, 1953, twenty-year-old Sylvia Plath arrived in New York City for a one-month stint at "the intellectual fashion magazine" Mademoiselle. Over the next 26 days, Sylvia Plath would go to Balanchine ballets, fashion shows, and games at Yankee Stadium. She typed rejection letters to writers from The New Yorker. She feasted on avocados and crab meat with the legendary BBD&O ad men--followed by a horrific bout of food poisoning. She got drunk with new friends, talking late into the night of secret dreams. She went on dates and danced in the Village. She sobbed in office bathrooms, she lunched at Hamburger Heaven. She typed half-letters to her ex-boyfriend and threw them in the trash. She hopped in cabs with trendy radio names, she flirted with famous playwrights. She shopped alone at Bloomingdales and she stalked Dylan Thomas. She danced at the West Side Tennis Club and fought off an aggressive diamond-wielding delegate from the United Nations. She brushed elbows with Jose Ferrer at the Barrymore Theater. She took hot baths, had her hair done, and discovered her signature drink (vodka, no ice.) She should have felt jaunty as a pillbox hat. She was supposed to be having the time of her life.
These 26 days--later immortalized in her novel The Bell Jar-- shaped the way Sylvia saw herself as a writer--and as a woman. All New York's gory beauty would shoot through her, indelibly altering everything from her hair color to her taste in men, to her views on Russian literature. But for now, Sylvia Plath is just a college junior with a suitcase full of dresses, a job in New York, and everything to live for.
Elizabeth Winder is the author of the new book Pain, Parties, Work: Sylvia Plath in New York, Summer 1953.
Perched on the corner of Lexington and 63rd, the Barbizon Hotel for Women was 23 floors of peachy-pink brick and femme Baroque trimmings. Haunted by Grace Kelly and Little Edie Beale, this hothouse of pretty, brainy ingénues was famous for its Ford models, strict chaperones, and "no men past the lobby" rule. For men like J.D. Salinger (who was always trying to sneak in) it was Shangri-la. For Sylvia Plath, her new home away from home. Her room was basically a box— crammed a tiny, beruffled bed, desk and French-style parlor chair—with a white enamel sink for rinsing her stockings and taking off her makeup. But it faced east—with a view of the river and the Third Avenue El. Sylvia loved it.

Sylvia's first day at Mademoiselle was nothing short of a fiasco. It started before breakfast—a sudden nosebleed that bloodied up her fresh blue dress. (Mademoiselle's editors ironed their stockings and kept spares at the office.) Things deteriorated further when Sylvia made a snide remark to fellow interns in the elevator—and was overheard by Editor in Chief Betsy Talbot Blackwell. Sylvia spent the afternoon locked in the office bathroom weeping. Until—knock, knock—it's Mademoiselle picture day! Someone shoved a dried rose in her hand and photographer Herman Landshoff clicked away--- all the while bitching about how he should be working with "real" models.

In a manner similar to America's Next Top Model, Mademoiselle's Guest Editors (or "Millies") spent their second day getting makeovers at Richard Hudnut's trendy salon. Sylvia opted for a simple shampoo and blow dry, but her new friend Janet went from Kansas braids to chic bob. On their last night in the city, Sylvia would tipsily fling all her clothes off the roof, and Janet would come to the rescue with a flouncy green dirndl and a peasant blouse in white eyelet. Janet (who Sylvia affectionately nicknamed "The Hayseed") appears as "Betsey" in the Bell Jar.

At nine in the morning on their third day, all 20 girls donned Mademoiselle's "collegiate" uniform—wool kilt, baby blue blouse, and tight little cap. The fleet of tartaned girls were rushed into cabs bound for Central Park, where they were all greeted by Herman Landshoff—the same fussy photographer from Day One. It was already 94 degrees—94 degrees in wool skirts and wool caps. Sylvia found the ensemble particularly demeaning. Mademoiselle had promised an urban experience, and here she was dressed in bobby socks and a beanie, after demolishing her savings on black shantung, which languished unworn at the Barbizon. It took hours to perfect the star-formation—hours squinting in sun with Landshoff barking out orders. The shoot lingered long into the afternoon Sylvia stands at the top of the star.

Sylvia worshipped poet Dylan Thomas—who happened to be friends with Cyrilly Abels, Mademoiselle's managing editor and Sylvia's current boss. Unfortunately, when Thomas popped in to the office for a chat, Sylvia happened to be out. Determined to meet her Welsh hero, Sylvia rallied her troops (Guest Editors Neva, Carol, and Janet) and let the stalking begin. Neva and Janet staked out the White Horse Tavern in the Village. Carol and Sylvia plopped down in the Chelsea Hotel—sprawled out in the hallway, in front of his room. The girls retreated at dawn—delirious, Dylan-less, yet somehow victorious. The whole mad frolic became known as "The Dylan Thomas Incident," and earned a permanent place in Mademoiselle lore.

At 2:30 on the hot afternoon of June 25th, Mademoiselle's Guest Editors entered the inner sanctum of haute couture—Pauline Trigere's atelier on 7th Avenue. The models were sheathed tightly in black silk, rustling like ponies before the show. Folding chairs had been crammed into the tiny showroom—which looked more like a starlet's dressing room with its plushy carpeting and vanity lights. The Millies sat close, rapidly taking notes on their steno pads: Dress 101, removable apron with crystal buttons; Dress 102, cree and grosgrain; Coat 129, ice-cream beige, like the pale chocolate raft in Candyland. Sylvia was a bit distracted—she had a date that night with an Estonian strawberry farmer. The show wrapped by cocktail hour. Each girl left the altier clutching a gold-painted pencil stamped with "Trigere" in forest green script.

Each June, editor Betsey Talbot Blackwell hosted a cocktail party in her brownstone at 1170 5th Avenue. Packed with glittery designers, writers, and actors, the party was a Mademoiselle tradition, and Sylvia's last chance to make a real literary connection Dressed to the nines in her black sheath, cropped jacket, and shiny patent pumps fresh from Bloomingdales, Sylvia spent the party perched on an ottoman, completely monopolizing playwright William Motter Inge. Sylvia could be exhausting—especially to the soft-spoken, retiring Inge. The month was wrapping up, and thoughts of clocks and calendars stalked her, pantherlike. Desperate to make one last, meaningful connection, Sylvia chattered away at Inge, gazing up at him like some pretty little dauphine. Perhaps the playwright was enjoying Sylvia's banter—her bright mouth, at times awkward, often mobile, and always red, red, red.
CLARIFICATION: The year that Sylvia Plath interned for Mademoiselle in New York City (1953) has been added.