I have found that more and more clients are looking for activities to do in addition to traditional game-drives while on safari and horseback riding is one of the most popular requests.
A safari on horseback is a unique and incredible experience because you are able to get so close to the animals. While wild animals may be nervous of human beings on foot or in a vehicle, they are much more relaxed around horses because the horse disguises your smell. Traveling on horseback also allows you to explore beyond the reach of a vehicle and is a welcome change when you have been sitting in a car on game-drives six to eight hours a day for much of your trip.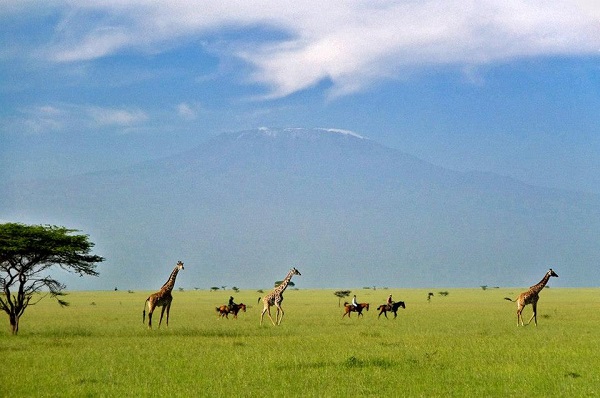 Ride Kenya offers multi-day trips in Amboseli/Chyulu Hills in Kenya
There are many horseback safari options in East and Southern Africa, offering everything from lessons and one to two hour rides to 10-day horseback camping adventures in the bush. Here are some my favorites:
Multi-Day Horseback Safaris
You can find a multi-day itinerary for almost any level of skill and a wide range of budgets. You can camp every night or end each day at a luxury lodge. Find a sample itinerary here and scroll through the slide show to see multi-day horseback safari options from Kenya to Botswana to South Africa.
PHOTO GALLERIES
Horseback Safaris
Almost all of these multi-day itineraries will ask you to complete a self-assessment of your riding ability. Please be honest! You will be traveling in areas where there are wild animals and you need to be comfortable enough on a horse to handle the unexpected. If you come across a lion in the grass or a charging buffalo you need to be able to stay in the saddle if your horse reacts. It is no fun for anyone if you get scared or hurt and there are programs for all riding levels so you can find one that matches your skill level.
Shorter Rides
Properties that offer a day or afternoon of riding are great not only for beginners but for avid riders who want some riding on their holiday along with other activities, or who are traveling with others who do not want to ride. Here are just some of the properties that offer riding as an activity:
Kenya
Lewa Wilderness and Lewa House: Lewa Wilderness Lodge offers horses suitable for novice riders to ride for a couple of hours while staying at the lodge. Guests staying at Lewa House also have access to the horses.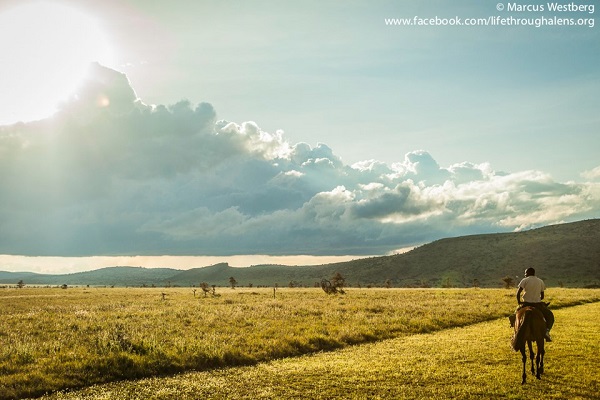 Lewa Wildlife Conservancy, Photo by Marcus Westberg
Ol Malo: Ride for an afternoon at this family-run lodge in Laikipia. The family is full of life-long and competitive riders so you are sure to have an experienced guide!
Loldia House: Loldia offers short rides on the shores of Lake Naivasha.
Sosian Ranch: One of the Offbeat properties mentioned in the slideshow, Sosian in Laikipia has well-trained horses for confident riders. Camel rides are also an option.
Solio Lodge: Nestled between Mount Kenya and the Aberdares Solio is a luxurious lodge on a reserve known for its rhino population. The main reserve is a fenced area within an enormous cattle ranch and the horseback riding is available on the larger ranch out of reach of the reserve's big cats!
Borana Ranch: Borana's 26 horses can be used to explore the ranch for the afternoon as well as for the multi-day trips.
Ol Donyo Lodge: As mentioned above, Ol Donyo and Great Plains Conservation helped found Ride Kenya and short rides in the Chuylu Hills/Amboseli area can be arranged through the lodge.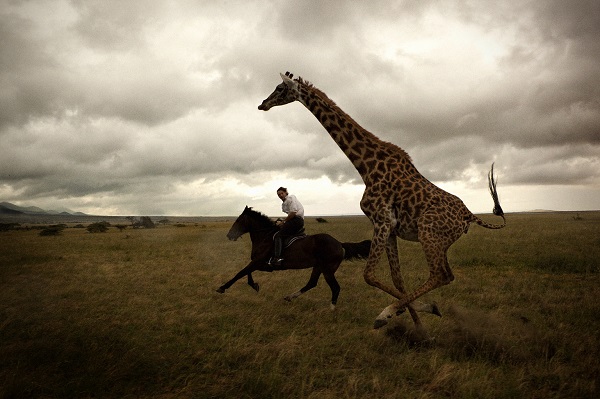 Ride Kenya at Ol Donyo Lodge
Tanzania
Manyara Ranch: Offers riding for an afternoon or a full-day for experienced riders.
Singita Grumeti Reseve: Any of the properties in the Singita Grumeti Reseve in the Serengeti offer access to the stables at Sasakwa for a few hours of riding.
South Africa
Grootbos Reserve: The 2500-hectare Grootbos Nature Reserve in the mountains of the Cape Coast has 20 well-trained horses and experienced guides cater for all levels of experience. They also have a 3-hour beach horse riding excursion to Walker Bay.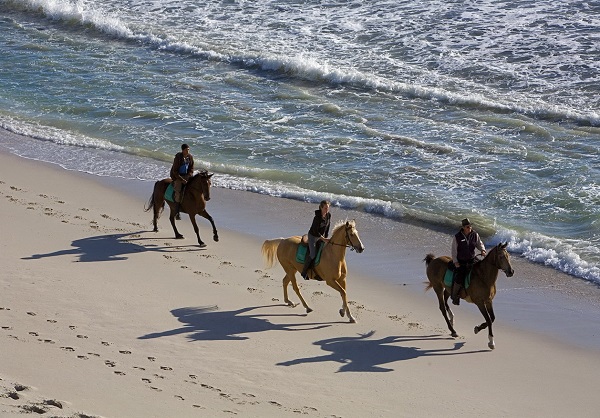 Grootbos' Walker Bay Ride
Tswalu Kalarahi Reserve: Tswalu offers guests rides in a truly stunning setting, from grassy plains to Kalahari Desert with the Korannaberg mountains as a backdrop. All rides are led by equestrian guides trained in the Kalahari ecology. They also offer lessons and ponies suitable for children. The rides take place in a enormous part of the reserve that is fenced and predator free.
Ant's Nest: Ant's Nest is a unique bush home on a private reserve in the Waterberg. Owners and hosts Ant and Tessa offer horseback riding for groups with mixed riding abilities including children's ponies. Guests can ride from 1 to 6 hours a day. Family hosting, a wide variety of activities and total flexibility mean that Ant's is perfect for groups that are a mix of avid riders and those who could care less!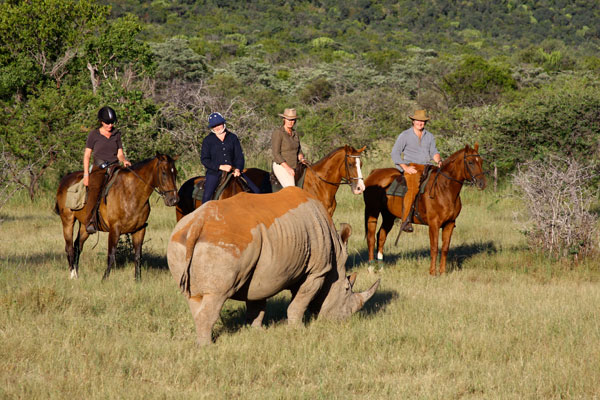 Riding at Ant's Nest
Paradise Stables in Franschhoek: Offer wine-tasting by horseback with a fine collection of horses and a great reputation. The tours can include visits to Rickety Bridge and Mont Rochelle vineyards among others and are around 4 hours long.
There are many properties in KwaZulu-Natal that offer horseback riding as an on-site activity, a few of these include:
• Fugitive's Drift
• Oaklands
• Three Tree Hill
• Pakamisa
• Cathedral Peak