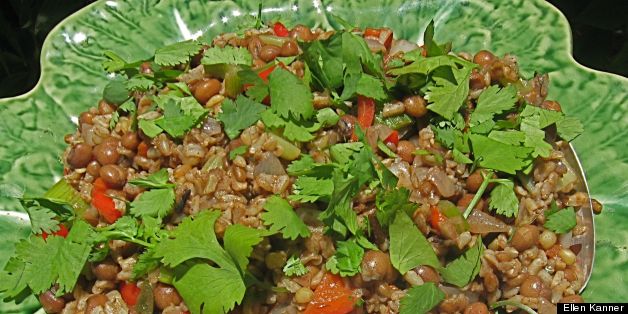 Last Meatless Monday began by confabbing with the head of my local chapter of EarthSave about my upcoming presentation, "Eating to Save the World." I believe such a thing is possible. It means starting not at the table, but in the market or garden.
"People are caring more about what they're eating and where their food is coming from," says Anne from Eden Organic Nursery Services . "They're going with as much garden as they can handle, even if it's just some pots of herbs."
Sounds like me. I have big gardening ambitions but little garden. I needed Anne's guidance in planning for fall, South Florida's growing season. She gently steered me away from getting three kinds of pole beans, suggesting only pigeon peas, the best suited for hot and humid conditions. Anne also recommended malabar spinach rather than the kale and collards I've been growing. It's heat-tolerant and can climb a trellis, a great space-saver. And I feel good knowing the seeds come from a local, organic source.
"People have added so many chemicals," says Anne. 'I'm chemically sensitive myself, so it's doubly important for me not to poison the environment, not to add to the problem."
Planting organic seeds best suited to your growing zone means there's no need to overfertilize or bomb plants with pesticides. "People see a bug and want to spray it," says Anne. "It could be a good bug. Hold back and watch what happens. Let nature go through all its cycles. Have patience."
Planting pigeon peas and other legumes also enriches the soil with nitrogen. They're good to grow, crazy with nutrients and great to eat. I'm already planning what to cook up with my first harvest. From the beginning, my Meatless Monday formula has been, here's what's going on, here's why it's important or what action you can take, here's something to eat for dinner.
I worked the culinary/gastronomic angle last Monday, too, doing recipe development, including a sweet potato and sunflower dip for an upcoming post and a healthy, herb-intense recipe for a project created by royal veg, Jill Nussinow, the Veggie Queen.. I schemed about recipes for pigeon peas and malabar spinach.
Food is about culture, whether it's Caribbean pigeon peas and rice, Indian curried Malabar spinach or a loaf of chewy, grainy, eastern European rye. I have the opportunity to work with The Jewish Museum of Florida on their upcoming exhibit "Growers, Grocers and Gefilte Fish: a Gastronomic Look at Jews and Florida Food." about how faith, food, place and culture intersect. That's a big part of my book, "Feeding the Hungry Ghost: Life, Faith and What to Eat for Dinner," and a big part of who I am. Among my ancestors -- a celery farmer (no wonder I love it) and a couple of professional cooks -- my great grandmother and her sister. They ran a series of local coffee shops and a bakery which boasted the slogan, "Pumpernickel and Rye Our Speciality."
That made me remember I wanted to follow up with a delicious friend to find out about her experience at last week's Kneading Conference, a gathering of artisans who have their hands in the dirt or in the dough.
Then came meetings, phone calls, emails, interviews, and as afternoon tipped into evening, I phoned big-hearted, prolific cookbook author, instructor and inspiration and passionate vegetarian, Crescent Dragonwagon..
In the soft twilight, Crescent sat outside on her kitchen steps, admiring the asparagus she planted three years ago, just now coming into their own. I looked out at my collards with their big, leafy heads, and imagined them welcoming the malabar spinach as it crawls up its trellis, the pigeon peas as they send their nourishing roots into the soil. "We are all ecologically bound, whether we recognize it or not," Crescent said. "We are all connected."
The two of us sat miles apart but heart together, united and connected by what we grow and what we eat -- the way we all are.

Caribbean Pigeon Peas and Rice

Cute, round and tan, pigeon peas, aka gandules or gunga beans, are a staple in markets with big Latin and Caribbean communities. If you can't find (or grow) them, use red beans (another island favorite) instead. You can make the rice and beans a day or two ahead, then assemble the dish before serving. Alternately, make it all at once and serve when you like. It keeps a few days in the fridge and flavors meld and improve over time. As ever, when handling chiles, wear gloves or wash your hands well afterwards.

2 cups pigeon peas or red beans, cooked and cooled (or 1 15-ounce can of prepared beans, rinsed and drained)
2 1/2 cups brown rice, cooked and cooled
2 tablespoons olive oil
1 large onion, chopped
3 garlic cloves, chopped
1 green or red pepper, chopped
1/4 habañero (Scotch bonnet) pepper or 1 to 2 jalapeños, seeded and chopped, depending on how hot you like it*
2 celery ribs, chopped
1 tomato, chopped (or 1 cup canned diced tomatoes, drained)
1 teaspoon allspice
1/2 teaspoon cumin
1 small handful fresh thyme leaves, or ¼ teaspoon dried
1 small bunch cilantro, chopped
sea salt and fresh ground pepper to taste

In a large skillet, heat the oil over medium-high heat. Add the onion and garlic, and sauté until softened, about 5 minutes. Add the pepper, habañero, and celery, and continue cooking, stirring occasionally, for another 5 minutes. Stir in the diced tomato and season with the allspice and cumin.

Add the cooked pigeon peas and rice, stirring until the mixture is well combined. Reduce the heat to medium and continue cooking, stirring occasionally, until the moisture from the vegetables is absorbed, about 10 minutes. Add the thyme, cilantro, salt, and pepper.

Serves 4 to 6. For crowds, this recipe doubles like a dream.