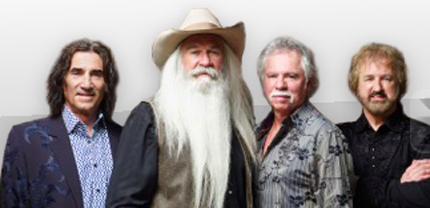 It is the harmonies that are so striking and, even, unique. The four voices of the Oak Ridge Boys -- (in photo from left) bass Richard Sterban, baritone William Lee Golden, tenor Joe Bonsall and lead singer Duane Allen -- blend together flawlessly and they've been flawless since 1973 when the four first came together in this band that dates back to 1943 in Oak Ridge, Tennessee. (Photo courtesy of the Oak Ridge Boys)
They are from four different places, yet they see a logic to the fact that they came together in the group. Allen grew up in Texas, Golden in Alabama, Bonsall in Philadelphia and Sterban in New Jersey. Bonsall says, "We grew up in the north, they grew up down South. The one thing we all had in common at a very young age, was that we were all very turned on by the Southern gospel music quartets."
The gospel singing world is, apparently, a small one. Duane Allen says, "From time to time the Southern gospel groups wold come to the area where Joe and Richard were. Sometimes in concert, other times in churche. Both of them went to see the Oak Ridge Boys. That's where they met.
"Joe and Richard began to sing with a Pennsylvania-based group called the Keystones. They did this for about 10 years. The Oaks were promoted up north by the Keystones and that's how William Lee and I first heard them. Richard went on to sing with the Stamps, who were working with Elvis."
Bonsall says, "I think we were all inspired by the harmony. We each wanted to do that. So, even though we traveled different roads, we each set a course and ended up here."
Allen, classically trained with a degree in music, joined the Oaks in 1966. Golden had joined the year before. Allen started his own record label, Superior Records, and met Bonsall when he signed the Keystones. "In 1972," he recalls, "our bass singer decided to get off the road and we knew Richard Sterban, so we called him and he joined us. Then, our tenor position opened in 1973 and we hired Joe."
The guys recently played the Golden Nugget Hotel on Fremont Street in downtown Las Vegas. It was an appropriate venue for the group because, like the Oaks, the Nugget has real history. It, too, was founded back to the 1940s, And, again like the Oaks have in music, the Nugget has kept up-do-date and relevant in this city of mega-resorts. In fact, the hotel has already booked the group, as well as Merle Haggard, Randy Travis and Charlie Daniels for the annual National Finals Rodeo in December. It was the Oak Ridge Boys first time at the venue and they were obviously happy to be there and got a kick out of using the same dressing room as Frank Sinatra.
But, as noted above, they are very much of today. Asked who they listen to, they naturally mention Elvis and,, also, classic black gospel groups, Norah Jones, Andrea Bocelli, Taylor Swift, Rascal Flatts, blues singer Joe Bonamassa, doo-wop groups, Louvin Brothers, the Everly Brothers and John Mayer
While I had the grand opportunity to talk to all four members of the group, Allen very nicely volunteered to answer any after-the-interview questions (The interview took place before they went onstage, so there was a tight time restriction.) A student of classical music in university ("I studied classical music because that was the only type of music I could study. Nothing else was being offered in the '60s."), Allen also studied business and, today, is the president of the Oak Ridge Boys, Inc., for whom he manages the business of being the Oak Ridge Boys.
He says, "I like what's happening in music today, but I also like to learn where this music came from. My classical teacher at university said there are no original melodies any more. They've all been written. All you're doing is finding a way to do it a little differently and finding a different way to put 'I love you' in that melody. That's the simplicity that we all need to look for in music. That's the body of the music world that we live in. I like to live there and I love this business."
As tight as they are today, it has not been all smooth sailing. In 1987, William Lee Golden -- who'd adopted the long beard and hair of the "Mountain Man" -- was voted out of the group. He did, however, remain popular with the public and, in 1995, returned to the Oaks.
Singing gospel, the band was a huge success. But, in 1977, they switched their focus to country music and released Y'All Come Back Saloon. Though it was controversial to die-hard gospel fans, it was a hit on the country charts and, from that point on, they recorded both kinds of music.
In crossing over to country, they sought the advice of former Louisiana Governor and gospel singer Jimmie Davis, who had a massive crossover hit with "You Are My Sunshine." Allen says, "He was one of the first to cross over from gospel to country. He said, 'If you want a country song, then cut a country song.'
"We said, 'But what about those people that follow us now?' He said, 'If you hit, they'll all claim you.' And that's the truth."
The Oaks perform the song, an audience favorite, still today:
The 1981 song, "Elvira." was their major breakthrough to a very broad audience. The song made it to the country, pop and adult contemporary charts in the U.S., earning platinum status, and also charted in Canada and New Zealand. It became their signature,
After that, hit followed hit so that, today, the Oak Ridge Boys draw a diverse audience. In Las Vegas, for example, the audience ranged from children to seniors and came from several countries. They have won a string of awards and, last year, won the ultimate honor in country music -- induction into the Grand Ole Opry.
Each of the guys individually has a separate thriving career in the arts. William Lee Golden is a gifted artist, painting what he's seen on his travels. These works include paintings of Monet's garden in France, of spring in Arizona, of Barbara Bush's flower garden in Kennebunkport, Maine and another named after a haunting, evocative song on which he sang lead for the Oaks, Ozark Mountain Jubilee.
Bonsall is an accomplished songwriter and author of several books. One, An American Journey is a history of his 30 years with the Oaks. From My Perspective is a collection of essays on myriad subjects. An Inconvenient Christmas and The Home, A Molly Book are for children. Perhaps closest to his heart is G.I. Joe & Lillie: Remembering a Life of Love and Loyalty, the story of his parents. He also wrote a song with that title for the group.
Richard Sterban. who was part owner of a Milwaukee Brewers AAA ball club, is also an author. His bio, From Elvis To Elvira details the journey of a guy who began singing as a soprano in his Camden, New Jersey church to the guy with who sang what is, arguably, the most famous bass line ever recorded -- " oom poppa, omm poppa, mow mow" in Elvira. The book is due out August 1.
A first for the Oaks will be the "Oak Ridge Boys Rally at Sea" Caribbean cruise February 28 to March 4, 2013. It'll feature all the stuff such a cruise should include -- concerts, meet-and-greet, an Oaks-hosted welcome reception -- and will stop in Key West and Cozumel.
But it is singing that is their main occupation. Asked about those marvelous harmonies, Allen explains, "The style of harmonies we use came from our roots in Southern-style gospel quarter music. In that business, the bass singer sings low, the tenor sings high and the lead singer and baritone fill up the middle. All vocalists sing in full voice. We do not claim to be 'pretty' singers. Instead, sometimes it may sound and feel like four Peterbilt trucks coming right at you. We can sing softly and in close harmony. But we've always been just too full of energy to bring it down to that level.
"I have often said that if the four boys were singing in unison on the same note, the texture of our four voices are so different that your could still pick out [each of us]."
You can hear some of that notable harmony on the 2011 CD, It's Only Natural, originally recorded for Cracker Barrel restaurants but now available in all the major music outlets. For this album, celebrating the 30th anniversary of Elvira, they recorded a new arrangement of the song. Golden also sings a very beautiful song called "Before I Die," that catalogs the items on a bucket list, like "sail the Mississippi in a boat I've yet to buy." It is eminently relatable to anyone who has thought of this kind of thing.
The last track on that album is called Sacrifice for Me, Bonsall's tribute to all of those from soldiers, to firefighters and police officers, who have given their lives to keep others safe. While the entire group performs it in their shows, the official video features Bonsall singing solo:
And, if must be noted, that the Oak Ridge Boys have loyal fans because they are very good to those who come to see them. They take time with them, shaking hands, holding meet-and-greets and, generally, showing their appreciation.
At their Golden Nugget show, the man next to us from Austria, the couple from Texas, native Las Vegans, my friend from Canada and me -- a New Yorker raised on rock 'n' roll and Broadway -- all had a grand time. Being a source of enjoyment to such a diverse audience is, indeed, a unique gift. The Oak Ridge Boys possess it and the fact they are willing to share it is terrific.
SUBSCRIBE TO & FOLLOW ENTERTAINMENT
HuffPost Entertainment is your one-stop shop for celebrity news, hilarious late-night bits, industry and awards coverage and more — sent right to your inbox six days a week. Learn more