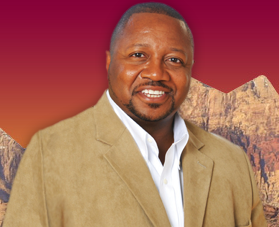 Mark Brandon says, "No one can tell you what to do. This is a free country, and if you want to run for office you should be able to run for office."
He appears to possess all of the qualities needed -- he loves to talk to people, he owns a small business, he wants to contribute to making the world a better place, he's smart, educated on all the issues and very passionate about service. Mark Brandon is running for the State Senate in Nevada and, despite all of his public-service-ready qualities, he is running uphill.
Now, if you don't live in Nevada, or have moved here from another state as I did, it's a very different political world here. For example, to get the party's designation as a candidate, there's no screening committee where everyone interested in getting the nomination appears before Party leaders. Candidates seem to be chosen by fiat and, this year, Brandon was not chosen. Because of that, he's been running extra hard. With early voting starting Saturday, May 22 and the primary election June 8, he's coming into the home stretch.
Steve Fernlund, a Democratic Party activist who owns a small business, says, "I encouraged Mark to run early on. He's very committed to seeing the community prosper. I continue to support him because he understands the seriousness of the issues facing Nevada."
Brandon came to Las Vegas 16 years ago to open an insurance agency. The Ohio native says he was repeating what his parents, Connie and Chester, did. They moved north because of the opportunities moving presented. They each worked for General Motors for 38 years. "My parents were hard-working, no-nonsense blue-collar individuals," he recalls. "But education was very important to them."
Brandon went to the University of Toledo, carving a very successful college football career -- All-American, a profile in Sports Illustratedand, named to the Mid-American Conference (MAC) first team and, in his senior year to the MAC Defensive Player of the Year. He was signed to the Kansas City Chiefs and, later, played in the Canadian Football League. He says, "Once that stopped, I went back to Ohio and regroup. I lived in Warren, 45 miles east of Cleveland, then went to Cincinnati where I worked at WCIN radio in advertising.
The radio station's general manager was mayor of a small city in Ohio and, Brandon says, "I watched him interact with people. I saw how they respected him. Sports was different and that intrigued me. After a while I decided it was time to leave Ohio. I'd become less involved in sports and, more and more, in the customer service sector."
He spent some time in Arizona. Since he's been in Las Vegas, 46 year-old Brandon has been deeply involved in his community. He's sponsored and coached kids' sports teams, served on the board of his golf club and is special events chair of Justin Timberlake's annual golf tournament that benefits Shriners Hospitals for Children.
But, it is in talks with the clients of his insurance agency that the need to "do something" to benefit his community really hit home. "As a businessperson, I understood that legislative decisions affect business, education -- just about everything. I hear what people have to deal with these days and how legislation affects them.
"We're in a chaotic reactive mode, We're trying to stop the bleeding so we need to regroup, set goals and plan. I know we have to reinvent ourselves and the way we do business for the future. I have a passion about reinvention," he adds. "I don't think people know that when the legislature is in session any citizen can ask questions. That's how I got involved."
He attended the 2009 State of the State address and followed the entire legislative session on his computer. Now, be aware that watching the entire session is not as big a chore in Nevada as it is, say, in New York or California. The Nevada Legislature is a biennial one, meeting every only in odd-numbered years for a 120-day session. If more time is needed, the governor may call the legislature's 63 members (42 in the Assembly and 21 in the Senate) into a special session. The specific purpose of the session must be stated the only action that may be taken must pertain to that purpose. Unlike in other states, Nevada legislators do not have district offices and have no staff of their own.
Brandon was first approached to run in 2008 and by December of that year he had his campaign mapped out and ready to go.
The first item on his agenda -- after the letterhead, logo and ephemera like that -- was to begin walking the district. He walks assiduously, always with one other person and has filled three notebooks with the concerns of thousands of prospective constituents. For the primary, he's seeking out those called here the "inveterate" voters -- often called "prime" voters in other states -- who vote in every primary, general, state, local and national election.
Fernlund believes that Brandon's meet-and-greet tactic will be the winning one. "His opponent's campaign is being run by Nevada Senate Democratic Caucus. They seem to be running an Obama-type campaign without an Obama-type candidate. They believe they can win with robocalls and the internet. And, yes, the Obama campaign used them but, most important, they had an outstanding field organization. That's what is missing. The way they got voters in ancient Greece is still today the best way -- the candidate has to ask the citizens for their votes."
"The campaign," Brandon says, "has tapped into my sports mentality of discipline and teamwork. It's a grind but this state, this town, believes in winners and I want to be one."
We'll find out June 8 if Mark Brandon gets what he wants.
SUBSCRIBE AND FOLLOW
Get top stories and blog posts emailed to me each day. Newsletters may offer personalized content or advertisements.
Learn more