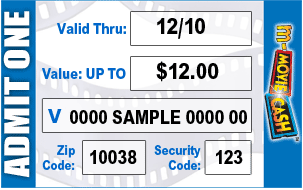 As you may imagine, technology is a very big deal at ShoWest, the trade show of the National Association of Theatre Owners (NATO) in Las Vegas this week.
Above is one example of what's to come soon -- an e-ticket that can be delivered right to your smartphone. You can also look for really comfy theater seats, Dolby 3D (beautiful picture), a touch-screen dispenser which can dispense 17 flavors of Coca-Cola and some other terrific new concession items. Of course, we've yet to see the highly healthy snacks proposed on the opening day. But, maybe, real soon.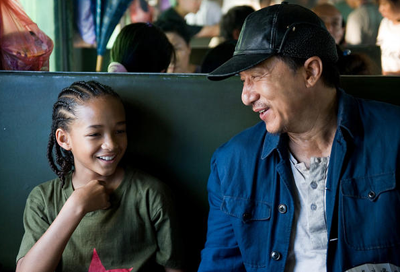 The big event of the the day was a screening of one of Columbia's big summer pictures, The Karate Kid, starring Jaden Smith and Jackie Chan (left).
This is a departure from the first three films (1984, '86 and 89. It takes place in China and is not a remake of the previous versions. For the audience in attendance today, the big news was the star of the movie is Jaden Smith, 11 year-old son of Will and Jada Pinkett Smith. Jaden was named as the recipient of the ShoWest Star of Tomorrow Award.
Thus, before the film, his dad, with his mom standing by silently, came on stage to say a few words. Will Smith, of course, got a huge reception and then his son was given the award.
Jaden took the mic, acknowledged the enthusiastic reception and said, "My dad wrote me a speech with a whole lot of funny things in it, but I'm 11 and I'm nervous, so thank you!" He quickly, and to more applause, walked off the stage.
The film is very good. We cannot give any plot points but it is absorbing and satisfying.
The day was capped by another film, the Lionsgate April 15 release Kick-Ass. Again, can't review it until next month, but I will say it is a strange combination of funny and violent....and the audience seemed to enjoy it immensely.
Also on Day 3, the trailer for the August Lionsgate film, The Expendables was unveiled. It stars Sylvester Stallone, Mickey Rourke, Eric Roberts, Jason Statham, Jet Li and one other actor you haven't seen on screen in a long time. But, remember, he did say he'd be back. Now he is.
Tomorrow is ShoWest's closing day and it features a diverse group of people getting awards and at least one eagerly anticipated film. That's what an event such as this is supposed to be like and, more than any other day, the last one will surely live up to its promise.
Follow Ellen Sterling on Twitter: www.twitter.com/EllenSays