Octavia Spencer is one very happy, very proud woman. The source of her happiness and pride at the moment is The Help, the film adaptation of Kathryn Stockett's ubiquitous book -- 100+ weeks on the New York Times Bestseller List and still very active on the paperback and e-book lists -- that's still selling very well.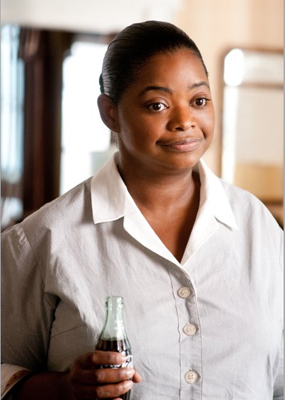 The Help is, in brief, the story of Skeeter Phelan, an Ole Miss graduate who returns home to Jackson, Mississippi, in 1962 with a dream. She wants to be a writer and decides to tackle a taboo subject, the real lives of the black maids who work for white families there. Of course, before she can begin writing, she's got to talk the help into helping her with her must-be-kept-secret project. Key among those who must be convinced to tell their stories is Aibileen, raising her 17th white child while trying to cope with the death of her only son who died when he didn't get the help he needed from his bosses after a work accident.
Aibilen's best friend is Minny, known by far as the best cook around, who has a problem holding her tongue. She's sassy, funny and unlike so many of her peers who refuse to show their anger, she does. She learns to be especially tolerant of Celia, the woman who hired her after she did a "terrible awful" thing that would prohibit anyone less needy from allowing Minny into their home.
On her first-ever press tour to promote a film, Octavia Spencer, who brings Minny vividly to life on the screen, seemed to be having a blast, even enjoying the interminably repetitive questions. Much smaller and younger than her character, she seems to percolate with real enthusiasm when she speaks and is a genuinely interested listener, too.
Born in Montgomery, Alabama in 1972, Spencer may be best known to devotees of Ugly Betty as Constance Grady, the IMS agent who stalked Betty's father. Her film resume is a varied one, taking in everything from the deliciously demented Bad Santa,
Even though she's from the part of the country that was at the epicenter of the civil rights storm, Spencer says, "I'm of a generation after the civil rights movement. My mom is a single mother who raised seven children. He motto was, 'make it happen!' And she did."
Spencer says she didn't know much about what went on in the decades before her birth. "Then my mother made us watch [the 14-hour PBS documentary about the civil rights movement] Eyes On The Prize. It gave me nightmares. That wasn't the way I grew up."
"But," she adds, "it's important to know about this so we don't repeat it. The younger white women in the cast were learning about this history for the first time. And it was important that they did. You must know and you must be educated. My mother was very progressive in that she never told us what to think. Seeing that, and learning about that time, I realize just how good I had it."
Though they didn't know it at the time, it seems Spencer and Tate Taylor were destined to work together on The Help. They met as production assistants on A Time to Kill in 1996. They became friends, stayed in touch and, in New Orleans several years later, she met Taylor's childhood friend, Kathryn Stockett.
"She told me she was writing a book," Spencer recalls. "Oh, yeah, I thought. who isn't writing a book? She was unsure of where she was going to go with the character of Minnie. Later on, when it was finished, she told me she'd based the character of Minnie on me and asked me to read it."
"I really didn't want to because I thought it'd be another Gone With the Wind and I'd hate another Gone With the Wind. A lot of the African America characters are just set pieces. They're not real people."
Since they met, Spencer and Tate Taylor have become best friends, along with his producing partner Bruson Green. She says, "The fact that Tate Taylor and I lived together for a year and, with him and Bruson, to have two white brothers that my mother didn't bear -- it's wonderful."
"You know, bigotry isn't relevant to just the south. It never was. But I'm very grateful that I don't know what it's like from experience."
The cast of The Help -- in addition to Spencer there is Emma Stone, Viola Davis, Bryce Dallas Howard, Jessica Chastain, Allison Janney, Cicely Tyson, Sissy Spacek, as well as a couple of men -- is a true ensemble, working in concert to create a harmonious account of a turbulent time.
"The whole cast is wonderful," Spencer says. "My character is integral to the story and so is every other character. We all exist together, and that aspect of it -- working with these wonderful people -- is what makes it really special. As actors and characters, there's so much we give each other."
Asked, finally, what Minnie would be doing today, Spencer's response is quick and emphatic. "Oh, she'd own a café. It'd be part of Miss Celia's bed and breakfast."
Photo by Dale Robinette - © DreamWorks II Distribution Co., LLC. Used with permission.

SUBSCRIBE TO & FOLLOW ENTERTAINMENT
HuffPost Entertainment is your one-stop shop for celebrity news, hilarious late-night bits, industry and awards coverage and more — sent right to your inbox six days a week. Learn more