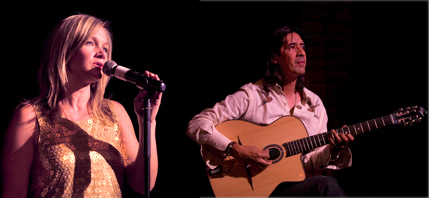 Every once in awhile entertainment will come to Las Vegas that has long-time residents saying "It's vintage Vegas," meaning that it reminds them of the time before corporate-think ruled the stages here. It was a time when shows weren't pre-packaged; when entertainment could go on into the wee hours. It was a time when there was always something to see, do and/or hear. Nowadays, unless you go to one of the theaters or showrooms on the Strip, that isn't the case. Late night entertainment is a rarity here. Musicians don't usually get to strut their stuff the way they used to. To be fair, Stations Casinos does offer this kind of music and so does the Palms. But late-late? No.
Now, in an effort to keep body and soul apart, I do public relations work in addition to writing. Occasionally I've done PR for a Las Vegas institution called the Bootlegger Bistro.
The Bootlegger is one of the now-rare restaurants that is not a hotel coffee shop that is open 24/7. And it has nightly entertainment. No cover charge. Just go, eat and enjoy.
Anyway, for the past few months the Bootlegger's been hosting a series called "Midnight Music." The idea was to give some of the many amazing musicians who come here to back up Strip headliners the opportunity to do their own music in a casual setting. Because they all work early in the evening, the shows begin at midnight.
First up was Herman Matthews & Friends. Matthews is the drummer for Tom Jones and the "Friends" are most of Jones' band. Brandon Fields, sax player for Barry Manilow, also played with his "Friends." John Abraham, who plays with Cirque du Soleil did the Bootlegger as did Jimmy McIntosh, who plays in the local production of Jersey Boys. And Las Vegas favorites Brad Cordle and Tim Scott -- the Cordle Scott Band -- have played (and they all will again).
The music is always great and, since I've come to know some of the musicians, I love going. But last Friday night was a revelation.
The band was Hot Club of Las Vegas, a gypsy jazz group inspired by guitarist Django Reinhardt ("Django" is Romany for "I awake" and was his nickname) and violinist Stéphane Grappelli who, during the 1930s came together to with two other musicians to form the "Quintette du Hot Club de France." Today, there are "Hot Clubs" around the world, including San Francisco, Phoenix, Detroit, London and, even, Renaux (that's "Reno" to the rest of us). And, there's the Hot Club of Las Vegas. They were the band at the Bootlegger last Friday night.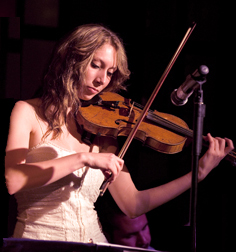 Accompanied by singer Carol Linnea Johnson (with the group's leader Mundo Juillerat at top) and violinist Adriana Thurber (above) they did it all -- old stuff, new stuff, stuff in between, but all of it "Djazz" inspired by Django.
Mundo Juillerat's nickname is the "Fly'n Hawaiian." He got the name, explains, "from band members in the 1980's. Besides doing crazy onstage acrobatics in the rock bands I played with, the name stuck when I had a sledding mishap on the slopes of Mt. Rose/Lake Tahoe. Having not gone sledding before I brought my Hawaiian Boogie Board with me and while sledding I got misdirected and went off a slope we did not know was there! I flew about 30 feet in the air landed perfectly and immediately went off another slope for about another 20 feet. Didn't wipe out!! When I finally stopped I could hear my band mates yelling from high above, 'The Fly'n Hawaiian!!!''
At any rate, long before that, he learned music by going as a small child with the women his family to the hula studio where, instead of being outside doing what other kids were doing, he'd watch and listen to practice. He began on the ukulele. "When I was five," he recalls, "I would sneak into the studio and play it. I got caught and, then, I got taught. I began playing acoustic guitar and toe'iti (Tahitian word for a log drum)."
When his parents moved to the mainland, Mundo stayed behind and built a music career. He came here and began to build his career. His day job is in the orchestra of Le Rêve at the Wynn.He married into a musical family and his gypsy jazz group is gaining ever more recognition.
He explains, "Gypsy jazz with Django, who was in love with American swing and Louis Armstrong. He tried to play that kind of music and he tried to listen to it whenever he could. He infused the Parisian ¾ musette with American music, flamenco and the gypsy harmony that he grew up with. Plus, he worked in a dance band at night so that became part of his music."
I am not a student of jazz. Frankly -- and forgive me -- I find it somewhat dissonant and disorganized and have never figured out if that's deliberate or now. My taste runs more toward rock 'n' roll, show tunes and, even, older country and folk music. I like swing and Dixie. And this music combines them all.
When I went to hear Hot Club of Las Vegas it was, indeed, a revelation. It's jazz, but it has a definite melody. I'm afraid I lack the musical vocabulary to convey it properly, but I -- along with the friends who came with me -- were blown away. We realized we'd heard Django in the soundtrack of Chocolat and there's word that Johnny Depp will portray him in a biopic.
So, even if you cannot get to see this band in person, check out their music, Django's music or, if there is one, a hot club group near you. Or, you can wait for the movie. But, you know what, don't wait -- wherever you are, you should seek out this music today.