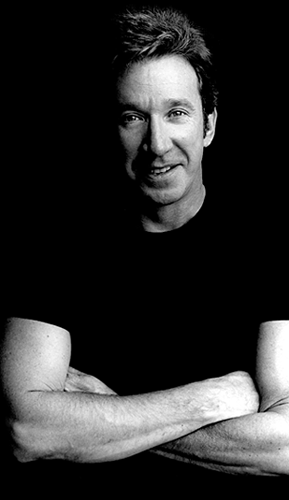 Most of us know Tim Allen, who visited our homes each week for most of the 1990s, as Tim "the Tool Man" Taylor in the sitcom Home Improvement. There is also a string of films in which he invariably plays the good guy, a very likable fellow of the sort we'd welcome to the neighborhood. Of course, in addition to the TV series, Allen is probably most familiar to audiences as the voice of astronaut Buzz Lightyear in the hugely successful Toy Story films. He's also served as producer of several movies.
Allen's stand-up was the source of his character on Home Improvement. His persona is that of a guy's guy, a man who likes women but also likes those manly pursuits like fixing cars, tinkering and building.
Now, that's certainly part of the real Tim Allen, but there are apparently many parts to him. For one, he's an author who's written two books. Also, he's a designer. "I'm a creative guy, artistically with graphics. That's the way we emulate the creation of the universe," he says, adding, "I love doing logos. I've been a graphic artist all my life. I took a cat and made it into a logo" (below).
Allen studied design in college and, even worked in an advertising agency for awhile. He got into stand-up at a club in Detroit in 1975 on a dare from a friend and found he enjoyed making people laugh. He began to do television, and that led to Home Improvement.
Faith plays a large part in his life and, in a brief conversation, he seemed to be a very curious person, a questioning one. For example, he says, "I don't understand why it has to be either-or -- either socialism or democracy. Why can't we combine things to get the best of each system?
Design is still a love. He wrote:
I see Design as a practical art. I admire and appreciate good design in a beautiful car, a building, a computer, an appliance, a tool and a chair -- even in a lighting fixture.
Industrial Design holds a special purpose for me. Things we use everyday must have form and function. Haven't you ever said, "this thing looks great, but it doesn't work worth a damn," or "this thing sure works great, but it's butt ugly!" Good industrial design does both. I wanted to share this passion of mine because we all deal with design projects on a daily basis whether we know it or not. In essence, we are all designers.
Cars loomed large in the life of Tim Taylor on Home Improvement and among Tim Allen's design projects are, of course, cars. He has designed and rebuilt several. He's posing in the top photo below with a Cadillac CTS he designed that got a feature story in Car and Driver. Now, he says, "I have a 1950 Cadillac in the garage that I'm redoing. The paint is chipped, but the interior looks brand new. I'll leave it the way it is on the outside. The underside will be new, all vintage performance parts.
"I'm making a '55 Ford. I really don't know why, most guys do Chevys. We've taken it apart and put in an absolutely modern chassis and a racing motor. It's the biggest project I've done," he says, adding, "I don't really do it, but I'm having it done to my design."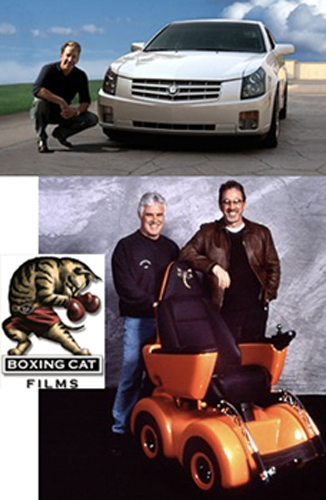 While Tim Allen's love of cars is apparent, he did another project out of another kind of love. It is called the "Dragonfly," a wheelchair he designed for his niece who has cerebral palsy. Working with Steve Moal, a California builder of specialty cars with whom he'd collaborated before, he wanted to design a wheelchair that is cool looking and easy to operate. (Photo of Allen and Moal with the Dragonfly, right.)
Alas, Allen says, "The design was overshooting the runway. It was so beautiful that my niece was terrified that she'd hurt it so she doesn't use it much. It turned out to be too heavy. I didn't test it but I found out it would lean in sand and dirt. " But he doesn't sound as if he's finished with the idea of a wheelchair. "I just like the idea of giving people mobility," he added.
All along, Allen continued to do stand-up and, these days, is getting back to it in a big way. But it's not easy. "I never got away from stand-up. I did charity events and would do five or 10 minutes on Leno or Jimmy Kimmel."
When he decided to go back on the road, however, he found, "I couldn't do an hour. It was hard. I did the comedy clubs and it was great exercise. Now, It's turned out to be a labor of love. But it wasn't like riding a bike. I had to work hard to get back into it."
He's now traveling across the country with his stand-up act. He'll appear at the Venetian Hotel and Casino in Las Vegas two to four days a month from March to November. He finds he's enjoying the stand-up.
How do audiences respond? "I'm not sure who my audience is," Allen says, "But it's been fabulous. I'm kind of persnickety about where I play. It seems like the dumpier the room the better the crowd. It's overwhelming. The audience encourages me and pretty soon I'm ad libbing.
"The big advantage to playing the Venetian in Las Vegas -- where it's a beautiful theater -- is that unlike other places, even many other nice venues, I can do a set and lighting cues, I can put on a real show. I can dress up, wear a tux.
"I love old Vegas! And that's what it's like when I'm there."
Photos courtesy of Tim Allen.

SUBSCRIBE TO & FOLLOW ENTERTAINMENT
HuffPost Entertainment is your one-stop shop for celebrity news, hilarious late-night bits, industry and awards coverage and more — sent right to your inbox six days a week. Learn more