A few of the chefs wore black jackets but the majority wore white. The crowd standing in the hot sun in front of the Bellagio Resort and Casino fountains waited patiently.
There were a few brief remarks by Adam Rapoport, editor-in-chief of Bon Appétit and publisher Pamela Drucker Mann, Randy Morton, president and COO of the Bellagio and, as always, the omnipresent Las Vegas Mayor Oscar Goodman, who said, "This is remarkable. We have the greatest chefs in the world. Chefs are becoming celebrities. Maybe that's a problem." Goodman did not elaborate on that last statement but the existence of the celebrity chef apparently gave many in the crowd pleasure.
Occasionally, someone in the crowd would recognize a chef someone they'd seen on TV -- "Look! Tom Colicchio!" "That's Rick Moonen!" "Wow! Hubert Keller! I loved him on Top Chef Masters!"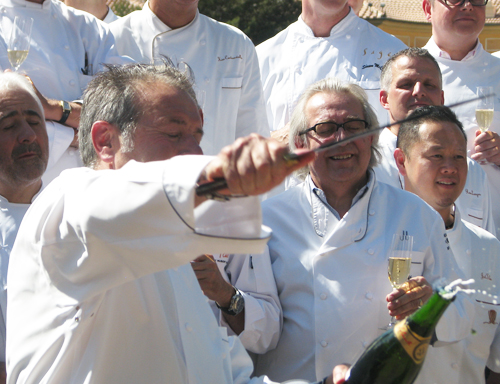 Finally, the moment for the saber-off came.
Julian Serrano, chef at Picasso in the Bellagio, held the saber aloft, waved it a bit and then, grasping a bottle of champagne in his left hand and the saber in his right, lopped off the top of the bottle and, with the crowd applauding and cheering, champagne spewed into the air. Each chef raised his or her glass of champagne in a toast to a successful event. Goodman raised his omnipresent martini glass.
Thus the fifth annual Vegas Uncork'd by Bon Appétit began.
The event is a very high-end food and wine extravaganza yet the title sponsor is a magazine designed to teach readers how to cook properly. So, the question is natural: does sponsorship of such an event make sense for the magazine?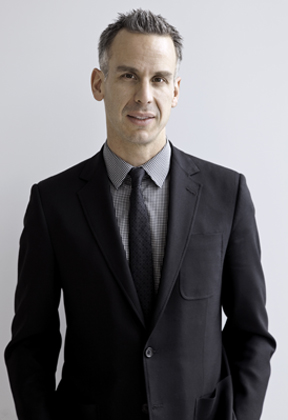 With just about one month on the job as editor-in-chief of the magazine, Adam Rapoport says he's looking forward to the event as he's learning about his Bon Appétit readers.
"A magazine has to be a lot of things. It has to be current and reflect what's going on. It also has to be beautiful to look at and offer good service," Rapoport believes. Therefore, an event like Vegas Uncork'd seems a natural fit for Bon Appétit. Readers who attend will learn about the state of the art and non-readers will often enjoy the event so much they will become readers. It is a good match.
Most recently style editor of GQ, Rapoport (photo right) says, "I've been working in magazines and writing about food for many years. I know you need to have a dialogue with the readers so you can understand each other.
"People want recipes, so we give them 50 or 60 each month. These have to be easy, but not too easy; creative but not too creative. And, they must know that the simple things like, for instance, eggs, are often not that simple. People have to learn, too, that it's OK to improvise in a recipe."
Rapoport clearly likes his readers and, since he really enjoys cooking, he understands them. And, in this rapidly changing media world, the magazine more than ever must expand its horizons -- "eBooks, apps, TV -- all of these play into what a magazine is today," Rapoport says, adding, "People have different expectations and you have to try to fulfill them while being true to yourself."
The most common cooking mistakes, he notes, "are with seasoning and heat. People get that wrong quite often."
When the formal events of Vegas Uncork'd By Bon Appétit began Thursday evening, those common cooking mistakes were absent from the menus of the five "Masters' Series Dinners" from which guests could choose and the after-hours event at Tom Colicchio's CraftSteak.
The offerings were "Locavore's Delight with Bradley Ogden," "Come Fly With Me: Wine Dinner with the Sinatra Family" at Sinatra, the restaurant at Encore honoring The Voice, François Payard's "Elegant Bistro," and "Big Night with the Rao's Family."
I attended the Rao's event where diners were welcomed by the two Franks -- Frank Pellegrino, Sr. and Jr. -- and Ron Straci, owners of the original Rao's that opened in East Harlem in 1896 and it's only outpost, the Las Vegas Rao's.
The meal was wonderful, four courses each featuring healthy-sized tastes of three dishes in the categories of appetizer, seafood, entrée and dessert. There were wines with each and Chef de Cuisine Nocole Grimes did herself proud. Everyone at our table -- even those slated to attend the late-night event at CraftSteak -- ate a bit of everything and enjoyed it thouroughly.
One of the nice features of such dinners is the opportunity to meet not just the chefs, but other people like yourself, many of whom traveled from across the US and from other countries to attend.
After dinner, Frank Pellegrino, Jr., said his family was especially pleased to be part of Vegas Uncork'd By Bon Appétit. Their involvement this year begain with a chef's dinner March 1 at Rao's in Manhattan. "I had the pleasure of meeting Adam Rapoport in March," he said. "Adam is fabulous. And I believe his and Bon Appétit's approach to doing this is unique. I really enjoy it."
Later on at CraftSteak the crowd was animated and excited to taste the offerings of food, wine and liquor. Someone asked me, "Is it always like this in Las Vegas?" In honesty, I thought for a moment, and responded, "Yes. Our city offers all of these good things all the time. But, this gathering of food-lovers and the providers of the food they love is, indeed, a very special event."
On the agenda for the next couple of days are lessons in wine and cheese, wine and chocolate, some more master's series events and lots of good company enjoying lots of good food.
Photo of Saber-Off © Ellen Sterling; photo of Adam Rapiport courtesy of Bon Appétit
SUBSCRIBE TO & FOLLOW THE MORNING EMAIL
Start your workday the right way with the news that matters most. Learn more