What's Joy to the World without the J? Oy, which is Yiddish for woe, headache or pain in the patootee, which is what Christmas is to a lot of people.
But not to me. For whether more Oy-ful than Joyful depends on whether you're an insider to the whole Christmas scene or not. And I'm not, and it's from the perspective of a non-Christmas-y person that I experience all the holiday's joy and none of the oy.
Despite having no religious connection to Christmas, I love the holiday because it's just so doggone pretty and smells so yummy, and its music is so beautiful.
Christmas joy is wearing my very adorable, very vintage sweater.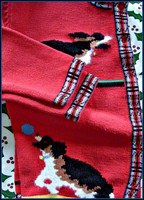 I love Christmas because it brings out the very best in my neighbors, who go all out, their yard decorations lighting up otherwise dreary winter evenings. Their living room curtains, normally drawn, are opened and invite us to look into their front windows, where framed behind glass are Christmas trees -- brilliant with colored bulbs, twinkling light strands and shiny ornaments hanging like precious jewels from evergreen branches. From the sidewalk, their homes have taken on the look of independent artscapes within a common theme.
As a thank you to neighbors for making our evening walk such a joyful stroll, I deliver cookies in bags a-jingle with Christmas decorations.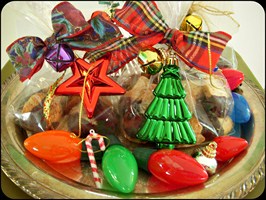 I bake only one cookie recipe, but a lot of that one. This year's cookie is a buttery shortbread.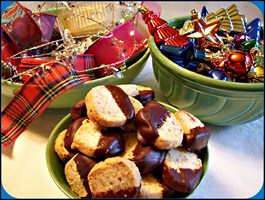 Almond Shortbread Cookies Dipped in Chocolate
1 cup butter, softened 2/3 cup sugar, 1 egg yolk, 1 t vanilla extract
2 cups sifted flour, 1/4 t salt, 1 1/3 cups finely chopped blanched almonds
6 oz dark chocolate, 3 T unsalted butter, 1 T hot water
In a large bowl, cream butter and sugar until light and fluffy. Add egg yolk & vanilla and blend in. Add flour, salt and almonds. Stir until ingredients are combined well. Divide dough into 2-4 pieces. Shape each into a 1 1/2-2 inch roll. Wrap rolls in plastic wrap and chill until firm.
Preheat oven to 350 degrees. Line baking sheets w/ parchment paper. Cut dough into thin slices. Place 1-2 inches apart on the sheets. Bake 8-10 minutes, until lightly browned. Remove from pans and cool in racks.
In the top of a double boiler, melt the chocolate and butter over simmering water. Add T of hot water and stir mixture until smooth. Remove from heat. Dip edge of each cookie into the chocolate. Cool on racks or the parchment paper until the chocolate hardens.
Makes 6 dozen. Freezes very well.