For this year's Thanksgiving gathering, my assignment is desserts, of which one must, according to Thanksgiving law or something, be a pumpkin pie. Pumpkin pie is not my favorite pie, but to others, it's not Thanksgiving without it. And since I'm in a crowd-pleasing mood, I'll bake one.
In searching for a recipe, I learned there is a jack o'lantern pumpkin and a pie pumpkin, and a "jack" does not a pie make.
I also learned that baking a pumpkin pie wasn't always a simple task. Back in the day, just processing the pumpkin was a labor-intensive job. In reading about a pumpkin's preparation, I became curious as to whether this pie has been a consistent recipe of pumpkin, eggs, milk and spices over the years, or if in the last, say, 100 years, it's experienced significant changes.
From a selection of early cookbooks, I saw scant variation in the ingredients. Also consistent is the chore it was to prepare and bake a pumpkin pie. Witness: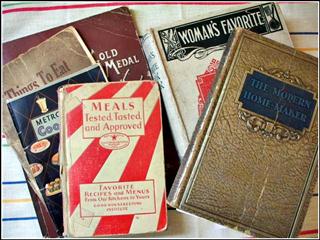 1902 Woman's Favorite Cook Book
"Pumpkin Pie (Like Mother Makes)"
1 qt milk, 3 cupfuls of boiled and strained pumpkin, one and one-half cupfuls brown sugar, one-half cupful molasses, the yolks and whites of 3 eggs beaten separately, a little salt, one level tablespoon each of ginger and cinnamon, salt to taste. Beat all together and bake with an undercrust; enough for three pies.
Pumpkin Pie 1904 Gold Medal Cook Book
One cup stewed and sifted pumpkin, one level teaspoon salt, one saltspoon mace, one teaspoon cinnamon, two-thirds cup sugar, one beaten egg well mixed together, pour over one cup each of cream and milk boiling hot, fill the plate and set into oven as quickly as possible; if pumpkin is watery add one teaspoon flour. It is done when it rises well in the middle. A rim of puff paste can be laid around the edge of the plate if liked, if used it should be at least one inch wide and the edge that goes down into the pumpkin rolled very thin.
Pumpkin Pie 1915 Things to Eat
4 Tablespoons pumpkin, 1 pint cream (or milk with piece of butter size of walnut), 1 cup brown sugar, 1/2 cup molasses, 1 teaspoon cinnamon, 1/2 teaspoon allspice, 1 tablespoon flour, 3 eggs well beaten add last. Will make 3 pies.
Pumpkin Pie 1929 The Modern Home-Maker
2 cups stewed and strained pumpkin, 1/2 teaspoon cinnamon, 1/2 teaspoon ginger, 1/2 teaspoon baking powder, 1/2 teaspoon mace, 3/4 cup sugar, 1/2 tablespoon flour, 1/2 teaspoon salt, 2 beaten eggs, 1 cup milk. Line a buttered pie plate with pastry. Beat eggs, add to milk and pumpkin. Add sugar, flour, salt and spices and mix thoroughly. Pour into lined pie plate and bake in a hot oven until a golden brown color.
Finally! With the entry of canned pumpkin into our collective pantries, a pumpkin pie no longer required the hours nor mess of stewing, straining and mashing.
Pumpkin Pie 1930 MEALS Tested, Tasted and Approved -- GH Institute
2 cups pumpkin, 3 eggs separated, 1 cupful brown sugar, 1/34 teaspoon salt, 1/2 teaspoon nutmeg, 1/2 teaspoon ginger, 1/8 teaspoon cloves, 1/8 teaspoon allspice, 1/4 teaspoon cinnamon, 3 cupfuls scalded milk. To cooked or canned pumpkin, add egg-yolks, sugar, salt and spices, and mix thoroughly. Add scalded milk and fold in stiffly beaten egg-whites. Pour into a pie plate lined with pastry and bake. Makes 2 medium or 1 large and 1 small pie. To serve, cool the pie slightly and arrange small mounds of unsweetened whipped cream, 1 in the center of each individual piece of pie. Drop 1 tsp honey in the center of each mound of cream and serve at once.
All I have to say is thank goodness for canned pumpkin. But are all canned pumpkin products the same, or is there one canned pumpkin and recipe that stands out? Seems there is.
According to my new apron friend, 91-year-old Pillsbury Bakeoff veteran Joan Vanburen of Willmar, M.N., Libby's pumpkin pie recipe is "...easy to make and comes out good for anyone."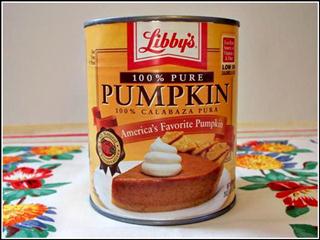 And in this, Joan is in agreement with Beth Howard, proprietress of The World Needs More Pie website, whose only alteration to the recipe is eliminating the call for cinnamon as a personal taste preference. And in that, I am in total agreement.

SUBSCRIBE TO & FOLLOW THE MORNING EMAIL
The Morning Email helps you start your workday with everything you need to know: breaking news, entertainment and a dash of fun. Learn more