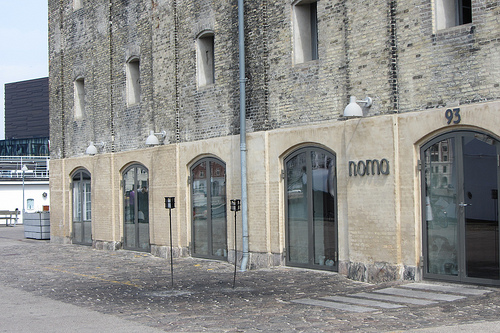 On Monday, April 30, 2012, restaurant Noma in Copenhagen, Denmark snagged the top spot on the S. Pellegrino list of The World's 50 Best Restaurants for the third year in a row.
So what's the secret to culinary world domination?
I visited Noma on Friday, May 4th, less than one week later, to find out. In twenty-six plates this is what a meal looks like at the world's best restaurant.
What's on the Menu at the World's Best Restaurant? Noma in 26 Plates
The marathon meal kicks off with a playful culinary illusion; the first two courses are camouflaged in the table's centerpiece. Antler-like "twigs" are crafted from juniper-dusted malt flatbread; the red flowers are edible and stuffed with escargot.

A snack of crispy deer lichen dusted with "cep" mushrooms resting on a bed of brilliant green moss.

The first group of courses at Noma fall into the "snack" category: small bites with big flavors. Here, crispy pork skins are draped with a thin, sour black currant ribbon.

A heaping platter of empty mussel shells invokes a Where's Waldo moment as diners scan the pile for the next course. Lifting the top off what appears to be an intact mollusk reveals a plump blue mussel and warm celery purée on an edible bottom "shell."

Presented in a blue and white cookie tin, the next snack draws nostalgic sighs from Danish diners. "Cookies and Cheese" is a savory play on a traditional sweet. A thin biscuit is smothered in salty Swedish cheese and topped with fresh arugula.

A glass storage jar arrives at the table, filled with ice. Wait - did something just move in there? Opening the lid reveals four live Fjord shrimp, one of which immediately launches itself out of the jar and onto the table. Despite the Fear Factor element -- the shriek of a diner at another table draws sympathetic laughter from the room -- this is the sweetest shrimp I've ever tasted.

A paper-thin wafer of seeded rye toast and a crisp layer of chicken skin form two sides of a creamy, smokey lumpfish roe sandwich.

This crunchy potato lattice is stuffed with velvety chicken liver and dusted with black trumpet mushroom.

Sugar sweet dehydrated carrots, lightly grilled and served in a stone bowl dusted with sorrel.

Shavings of cod liver, rich in flavor, are delicately draped over a thin crisp formed from caramelized milk.

A large, speckled, egg-shaped container opens to reveal two steaming quail eggs on a bed of straw. Pickled and smoked, the warm eggs explode in the mouth, coating the tongue with sweet, runny yolk.

Æbleskiver are traditional Danish Christmas desserts, batter balls stuffed with sweet apples. At Noma, sweet becomes savory as the apples are replaced by pickled cucumber. Swimming through the dough balls are small, silver Nordic fish called muikku.

Another intriguing illusion from chef René Redzepi -- everything in this flowerpot is edible, right down to the dirt. Crisp radishes plunge into a soil made from malt and hazelnut flour. At the bottom of the pot swims a creamy emulsion of sheep's milk yogurt and fresh herbs.

A razor thin slice of wild duck skin tops this cod roe sandwich, stuffed with fresh vinegar-dusted herbs on rippled toast.

A golden nest of delicate fibers painstakingly plucked from a braised breast of veal, accented with a streak of cream.

A Norwegian razor clam enshrouded in green parsley jelly perches on a plate next to a line of white horseradish "snow." Ice-cold clam broth spiked with dill oil is added table-side.

Sliced chips of dehydrated scallops perch on a bed of watercress, beech nuts and jet-black squid ink.

A single, plump Faroe Island langoustine lounges on a warm rock. This is the meal's final finger food; the langoustine is dragged through green droplets of oyster and dulse seaweed emulsion.

Stripped down taste perfection: roasted onions with thyme leaves, splashed with gooseberry juice.

Barely-grilled, thick white asparagus is paired with tender young spruce shoots, green asparagus sauce and fresh whipped cream. Inedible pine branches add color and aroma to the dish.

Flaky white pike perch is cooked in slightly bitter cabbage leaves and served with verbena, dill and a fish sauce foam.

The DIY dish of the meal; an iron skillet swimming with hay oil is placed in front of each diner. Napkins are encouraged to be tucked into shirt collars. Following strict instructions, diners crack a duck egg into the plate, cooking it for 90 seconds before adding three types of aromatic herbs.

North Sea turbot is basted in mushroom broth and served with celeriac and a strikingly flavorful array of wild greens.

A bitter white disc of Gammel Dansk (comparable to Jägermeister) sorbet suspended in green sorrel.

The exclamation point in the dish's title is intentional. Pear tree! is the combination of two elements: the pear, baked and adorned with tiny flowers, and the "tree," an aerated pine parfait that melts to nothingness the moment it enters the mouth.

Walnut ice cream smothered in cream, oat crumble and tangy blackberry powder.
Follow Elyse Pasquale on Twitter: www.twitter.com/foodieintl