An interview with a candidate on reigniting Mandela's vision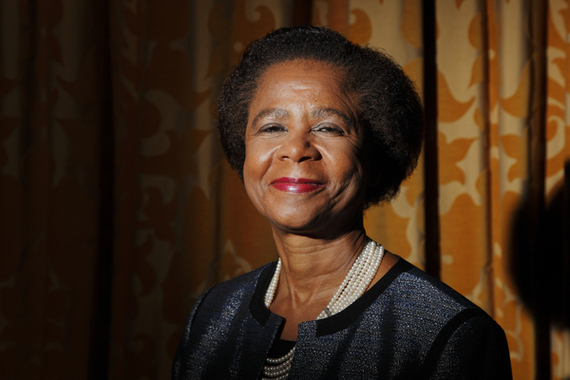 Twenty years after the end of apartheid, South Africa seems to be at a new crossroad. The country has experienced remarkable change, while at the same time many believe it's falling apart. Blacks have become more affluent, while many of the country's institutions have eroded. The brain drain continues to threaten the country's future. My business partner, Dr. Don Beck, who played a crucial role in the country's transition from apartheid, returned recently to help stakeholders map out what that future looks like. One of the freshest voices he encountered was that of Dr. Mamphela Ramphele, founder of the Agang South Africa party (pronounced A-khung). The word means "to build," and her platform is to build a new South Africa that challenges the current wisdom of the African National Congress (ANC) that has dominated South African politics since the end of apartheid. I interviewed Dr. Ramphele (who insisted on being called Mamphela) a few days after she ended her talks with the Democratic Alliance on becoming their presidential candidate. The wisdom of the feminine is rising throughout the world. From CEOs of prominent corporations, to global leaders like Angela Merkel of Germany, Ellen Johnson Sirleaf of Liberia and Dilma Rousseff of Brazil. Dr. Ramphele has the pragmatism of a medical doctor, the ease to speak through her authentic self to tribes, and the ability to hold a stick to feudal lords while aligning all of South Africa's stakeholders with a bright and promising future.
You've been in the news lately concerning your potential nomination by South Africa's Democratic Alliance as a presidential candidate. Then you decided that your party should go it alone. Can you explain what happened?
Last week I announced that I would accept the Democratic Alliances' nomination as presidential candidate, subject to some technical details being worked out between the two parties. As the week progressed, it became clear to me that what we had in mind was not what the DA had in mind. After much discussion and consultation between me and the DA's leader Helen Zille, and after listening to our members, we decided to call off the agreement.
We saw an opportunity to move beyond party politics and imagine a new South Africa and to re-design the political landscape of this wonderful country. We need a fresh approach. No single group has the answers, as the answers are not yet known. But they could be. And we will continue to engage citizens, businesses, other political parties including the DA and the international community, in a conversation to find them. However, I will not accept the DA's nomination for presidential candidate. I remain the leader of Agang and we will enter the election as Agang.
We remain focused on our campaign with our structures across the country, our members and volunteers. We know there is an opportunity to provide a fresh start and political home for the millions of South Africans who will no longer vote for a corrupt ANC and don't wish to vote for the DA.
Our vision has not changed -- we are still working toward changing the political landscape. We are still campaigning for the 2014 elections. South Africa needs a government that serves the people and works to build a future that is best for all, not a cult of the personality where people claim to "rule" while serving their own self-interest at the expense of our children.
You have a corruption clock on your website.
Yes. That is our view that South Africa has all the resources it needs to be successful. If you stop corruption, you will have all the money you need to educate every South African. One of the strong areas of focus is quality of education. Every child should be given an education to make them the best that they can be, to bring out the genius that they are born with. But today we have many problems with higher education and smart students not being able to get support. There is enough money if we stop the corruption to get free education for every student from beginning to end and a system of higher education where students can pay back half of what they received or work for the government and work it off. That is so simple -- you get national servants, whether a doctor, lawyer, teacher... you work for the government for two to three years and your school or university fees are paid off completely. Then you can decide whether you want to stay in the public sector or move to the private sector.
For the average American, South Africa had its moment in the sun during apartheid. But it sounds, from your party's platform, that you want to rebuild the country's leadership position in Africa and in the world community. So, what has the ruling party done since the end of apartheid?
President Zuma is a traditionalist who has crowned himself as emperor and built himself a big palace with the people's money. He sees himself as entitled. But to keep his sense of entitlement, he maintains rings of patronage around himself. So unfortunately, South Africa has fallen prey to what has happened to many liberation movements. Twenty years seems to be the magic number where idealism fades into the background and the me/myself/I comes to the fore. The ANC now has taken control of the State as their private property. Sadly, they are doing so by literally locking the door on the tribes so they can't move out of poverty. The educational system had become hopeless. People are dying due to poor health care. Children are born with brain damage because of poor prenatal care and malnutrition. One of the largest hospitals in South Africa, which used to be one of the best public facilities for poor people, has become a place where you run the risk of losing your life on the operating table. People die because the electricity goes out. We have teaching hospitals where elevators have been out of use for the last seven months. How do you move patients on trolleys? They have to be carried up or down the stairs... This is South Africa today. Every year billions of Rands go missing. Students who were supposed to get financial aid -- 9 billion had been allocated... but the ones who are responsible to distribute the money get it and use it to buy luxuries. The system is broken.
Your party's platform has five principles. What are they and how are you going to make them sustainable?
With the end of apartheid, what was intended to be a drive toward an inclusive economy has become a corrupt quota system, which benefits the politically connected people. People now see that, and because of it, the ANC has become a minority government -- it is governing with 38 percent of the national eligible vote. This is an opportunity equal to none in the last 20 years to put South Africa back on the right track.
The first thing that Agang proposes to do is deal with the issue of government accountability. We need a clean governance approach -- we are proposing electoral reform. The reasons why the government can do what it is doing now with impunity is because it doesn't cost them from an electoral perspective. People continue to vote for them because this appears to be the only party that can look after them. These are voters who are barely surviving on basic needs and in return for some food staples they vote for them by the millions. The ANC also makes participation in public works programs contingent upon ANC membership. You have to show your ANC card to participate in government contracts. So there is immeasurable corruption. We believe that if we have an electoral process where there is a mix between the constituency and proportional representation, people will have the freedom to hold who they appoint to account. So that is the first thing.
The second thing is we need urgent introduction of civic education in our educational system so people can understand the power they have as citizens. Not just that in terms of voting, but that they own the country. That the governing party is only that, not a ruling party. We are not a monarchy or empire. We are a constitutional democracy. People are free to live up to the imperatives of our constitution.
The educational system itself is broken. I already mentioned that. The largest union in the country is the South African teachers union and they follow the ANC ideology. There are teachers who believe in high quality education, but it's the under-performers, the people who cannot teach who are using the union as an umbrella and wish to hide and to destroy the future of our children, and that we are going to stop.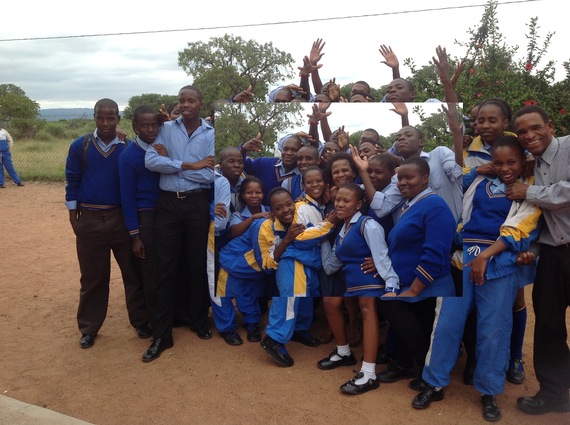 The third thing is to make sure that the transformation of the economy is real and sustainable. So when people earn a living, they have dignity, they have pride and a sense of self. For that we need to combine it with the transformation of education and training so that we have high quality education and training that is bringing us people who are ready to make the choices that we need to make.
Government cannot solve problems by nationalizing our economy. It has nationalized colonies in very important and significant parts of industry but they are inefficient, ineffective and corrupt. The issue is that we can't have mines owned by the State because the State has no capacity to deal with so much enterprise it owns today. Everything it owns like South African Airways. They are all failing. The worst of it all is our mining sector -- these companies are in serious trouble because they are not competitive, they are not productive. They are using a 19th century model of low wages and low skills. We are proposing high wage, high skill and modern technology.
Because the mining industry has huge tracts of land, we need to link them to the agricultural sector so people don't have to migrate to other parts for work. Our proposition is that there is no need to take away land forcibly from people. The state is the biggest landowner at the national level, the provincial level, and local level. We need to re-imagine our rural areas. The government can satisfy land hunger by distributing State-owned land. But they don't even know how much land they have! They'll steal land anyway. Land reform is being used as a route for money laundering. The government buys land for much more than it's worth and the difference goes to finance the ANC election machine.
I talked to your colleague George about the brain drain, especially of white and black young people. You are talking about the brain gain of black and white kids. Tell me more about that.
This is the fourth item in the Agang platform. Our foreign policy. South Africa has the worst end of the stick with international migration. We have a closed system. We are unwelcoming of skilled migrant workers that our economy needs. Our economy has got vacancies for 800,000 technically skilled people. How can you have an economy that works without them?
I was in London two weeks ago and met South Africans who are accountants, financial managers, and doctors. This is sad because we invested in them and now London is enjoying the benefits. At the same time, we are receiving African economic refugees. We won't give visas to professionals who want to come and work in South Africa, but refugees appear on our doorstep because we don't have border control. They come here and trade here, do what they like, earn money here, but don't pay taxes because they are undocumented. It is the most unwise approach to migration that you can find in any part of the world.
The last issue is that is the most difficult and the most long-term is going to be the issue of land reform, and the issues between mining, agriculture, and ecotourism. But you know what? We can create millions of jobs and bump up our economic growth beyond any expectations if we do the right thing.
What do you want to tell the world and the American people about your party Agang?
President Obama set an example by inspiring young people to participate in the political process and build their future. American people have demonstrated resilience in the face of enormous difficulties. South Africa, under President Mandela, has shown to have that resiliency. What is missing now is the inspirational leadership that can help our nation transcend what looks difficult to transcend: identity-based politics, the race card that is used to trump accountability, and a new focus on performance instead of patronage. What Americans and the world can do is what they did during the anti-apartheid struggle; they need to help us build a new era in post-apartheid South Africa. Yes, we gained freedom when apartheid ended, but over the last 20 years, our institutions have collapsed.

Our party, Agang, has clear objectives in making government accountable to the South African people. Our platform seeks to make the promise of our freedom become a reality. That promise is about jobs, and livelihood, it's about high-quality education and training, it's about health care that is dependable and dignified for ordinary people. It's about safe homes and safe neighborhoods, safe streets, safe communities, and it's about an economy that can be the engine of our beloved continent. We have everything we need to succeed. It's all about believing in a brighter future for our young generation. Agang's platform reaches across the demographic profiles of all South Africans. It's a party for everybody; not black or white, it has no baggage ... it's all about putting the country first, we need the support of freedom lovers from around the world to help us make this new form of freedom a reality.
-----------
As my interview with Dr. Ramphele came to an end, I had a vision of what could be possible not just for South Africa, but for the world as a whole if more women are empowered to be leaders. The wisdom of the feminine; the relational, the pragmatic, and the holistic is far more complex than a world dominated by patriarchy.