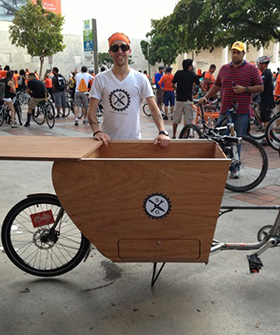 Time spent in jail sends a person into deep reflection; inspiring ways to better yourself or a situation. Well 26-year-old Aleric "AJ" Constantine has done just that. Even though he only spent around 24 hours in prison, every minute was put to good use devising a very sweet revenge. He was arrested on June 28th, 2013 for serving ice cream without a license... yes seriously that is what he was arrested for. AJ rigged a hybrid refrigerator-bike for his artisanal ice cream to sell during the Critical Mass bike race in Miami.
The bikers gather the last Friday of every month and tension between the police and riders has gown due to increasing numbers of cyclists racing through the city. Though Constantine had permission to sell outside of a local business, the cops were only interested in stopping this illegal selling if ice cream. No more basil ice cream infused with balsamic marshmallow fluff and crushed waffle cone for you! After his time in the slammer, Constantine hit the streets of Miami under a new name, Po-Po Pops. Ice cream inspired by the slammer and the cops who put him there. He states, "I'm making a funny matter out of a bad situation." An ice cream pop made of Krispy Kreme-flavored ice cream, candied bacon, and fudge. Constantine tells the Miami New Times, "When I come up with my flavors, I like to base them around a scene event," he says. "It's not making fun of cops, but I just thought of the typical clichés -- pigs, so bacon, Chief Wiggum from The Simpsons sitting around eating doughnuts and coffee and not doing much else." You can try Aj's Po-Po Pops at various events around the city starting in August.
SUBSCRIBE AND FOLLOW
Get top stories and blog posts emailed to me each day. Newsletters may offer personalized content or advertisements.
Learn more