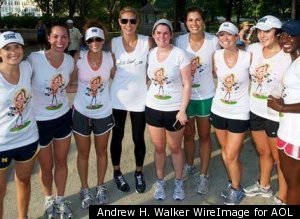 103 days until the New York City Marathon.
Looking back on this hazy, hot and humid week of training for the New York City Marathon, it's pretty easy to pick the highlight. The Tuesday morning intervals along the Hoboken waterfront, where I sweat more than I thought any human could? Or the mid-week, cross-training spin class that made my legs burn (and my butt still hurt)? Or how about Saturday's 8.5-mile run at the crack of dawn in the midst of the scorching heat wave? While those were all so much fun, this week's highlight had to be going for a run in Central Park with Heidi Klum. Yes, you read that correctly.
Sometimes working at AOL has its perks, especially when one of your "co-workers" is a world-famous supermodel. Heidi and I have something else in common (other than being blonde and gorgeous, of course). She loves to run. This June, she kicked off her Summer Run initiative, where she's challenging the readers of her new AOL website to get in shape. Logging her miles each morning with a photo blog, she even got some celebrity friends, including Kim Kardashian, Brooklyn Decker and Michael Kors, to join her in getting fit. So when she invited AOL employees to go for an early morning run last Friday, how could I say no?
Many of us on the AOL Marathon Team were especially excited -- hoping that this would be a great way to spread the word about our fundraising efforts for the Leukemia and Lymphoma Society, and who knows, maybe even convince Heidi herself to get involved.
But when I first learned I'd be joining Ms. Project Runway for a run, my initial thought was obviously, "What should I wear!?" Luckily, I didn't have to stress about that important decision for too long. When I met up with the rest of Team AOL (and tons of media and paparazzi) at Central Park at 7 a.m., we were given a custom v-neck t-shirt with a cartoon caricature of "fitness Heidi." There was no hiding who our pace leader would be that day. My fellow marathoners and I chose to accessorize our outfits with Team in Training hats and visors.
After an overwhelming round of flashing lights -- I guess I could never handle being a celebrity -- we took off running! Heidi, AOL CEO Tim Armstrong and fitness expert David Kirsch led the group of 100. Due to the excessive heat on Friday, we just did a quick trip around the park's lower loop (1.7 miles). I was shocked there was only one other runner we passed who yelled something out to Heidi, which she just took in stride.
After the quick run, and a little embarrassed about how sweaty, er, dewy I was, I still decided I wanted to go and chat with Heidi before we had to say "auf wiedersehen." As we cooled down, I grabbed a fellow marathon teammate and we trotted to the front of the pack. As I pulled up next to her (she's much shorter when New Balance sneakers replace her usual Louboutins) I leaned over and said, "So, Heidi, do you want to run the New York City Marathon with us?"
She turned to me in her chic HK by Heidi Klum sunglasses, put her arm around me and said, "No sweetie, I don't."
Forget any follow up questions, pleas for donations, autograph requests for my 91-year-old grandmother (a huge Runway fan) -- Heidi Klum just touched and talked to (sweaty) me! And that was enough to make the 5:30 a.m. wake-up calls, the burn at spin class and an oppressively hot week of marathon training totally worth it.
Heidi Klum's Summer Run concludes today. But maybe there's still a chance she'll start missing those early morning workouts so much, she'll call up the AOL Marathon Team and join us for the full 26.2 on Sunday, November 6. What do you say, Heidi?