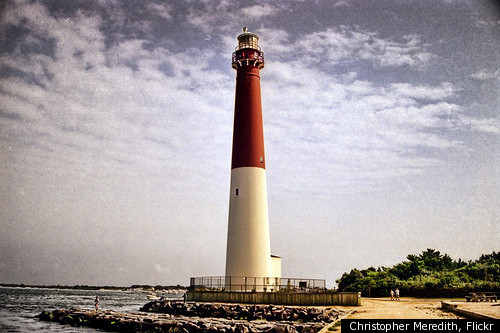 81 days until the New York City Marathon.
Last week, I learned there is no such thing as a vacation from training for the New York City Marathon. Even though I left New York for a week-long family trip down to Long Beach Island, NJ, the running sneakers came with me.
I took my job as a beach bum very seriously, but I also accomplished a pretty important milestone in my training -- completing a half marathon. As if that wasn't enough for a "week off," I decided to run the entire 18-mile island, too.
Okay, so technically I didn't run the whole 18 miles all at once. But even though it was broken up over a few days, I'm still crossing "Run LBI" off my "25 Things To Do While I'm 25" list. (Also on there is "Eat Taco Bell" -- something else I've never done in my life.)
My family has been going to Long Beach Island for as long as I can remember -- spending countless tokens at Fantasy Island Amusement Park when we were younger, eating cookies from Crust & Crumb and ice cream from Skipper Dipper, playing mini golf at Mr. Tee's and spending sun-up to sun-down on the sandy shores and in the waves. But in all those years, I've still never seen the whole island, from its northern tip at Barnegat Lighthouse (pictured above) to quiet Holgate, where you can catch views of Atlantic City. This year, I wanted to see it all -- by foot.
Early in the week, I did a few short runs -- a quick, late-night four-miler on my own and a special five-miler with my brother-in-law Jim (an inspiration himself, dropping 130 pounds in the last two years). Both runs were hot, humid and sweaty, but they felt insignificant, covering only a small, familiar chunk of the island close to this year's house on Atlantic Avenue.
I was saving the biggest stretch -- the most uncharted territory -- for my long training run on Thursday morning. Early Thursday morning. Thanks to my two-year-old nephew Brendan and one-year-old niece Meghan, the 6 am wake-up call was no problem at all. The night before, I mapped out the route and discovered that almost exactly 14 miles from our house in Beach Haven Gardens was Barnegat Lighthouse. All I had to do was start there and run home. Easy.
My oldest sister Sarah chauffeured me up to Barnegat Light and literally dropped me off on the side of the road. It felt like I was being punished and it reminded me of trips in the car when my four siblings and I were younger. Someone (most likely my brother Mike) would do something to really irritate my parents and they would say "I'm going to pull this car over and you can walk home!" What an awful punishment, I remember thinking. Especially because when this happened, we were usually on the shoulder of some major highway.
"Bye, bye, Emmy," said Brendan, still in his Elmo pajamas, before Sarah drove off. And there I was, left alone on the side of the road. I gave "Old Barney" a little nod and faced south. "Well, here goes nothing," I thought, setting my watch. And I took off down the road.
Trotting along the quiet, shady boulevard, I made it a point to say good morning to all of my fellow runners, bikers and walkers -- because honestly, there wasn't much else to do. The north end of the island is very residential and filled with impressive homes -- many with gated entrances and property larger than the island's disappearing shoreline.
Six miles into the run (about an hour), I saw a familiar silver Ford Escape with two kayaks strapped to the top coming toward me. As promised, my parents came out to make sure I was still alive... and to top off my water bottle. With little more than a quick thumbs up, a panted "I feel good" and some cold Poland Spring, I waved goodbye and continued along my way. The idea that this run was some sort of parental punishment quickly vanished.
Soon enough, I was in Surf City, with more stores, restaurants and traffic to keep me company. It was fun to do a little window shopping, imagine the brunch menus as the smell of bacon wafted from the kitchens and wonder why, oh why, I was choosing to do this instead.
8.5 miles in, I arrived at the busy Route 72 intersection where you come onto the island. Anyone who knows LBI knows that it's here where you either turn left (those rich kids!) or turn right. The Faherty family has always turned right. From now on I was in familiar territory -- which was a good thing and a bad thing. I tend to have a faulty gauge when determining how far away things are. "Oh! I'm already at Joe Pop's? I can't be far now." Wrong.
That's about when I decided to get off the main drag and head down Ocean Boulevard, hugging the coast line for the rest of the trek. From here, things got tough. The morning sun was growing more intense, my knees were aching and my water was quite warm. Maybe I could just use that house's hose, or hop in their outdoor shower, or just call it quits and go jump in the ocean, I thought.
But around the 10.5 mile mark, I got a boost of energy, courtesy of my younger sister Maura. (My family has a way of showing up right when I need them, huh?) She rode her bike from the house to bring me water -- and tell me a hilarious story about falling off the bike along the way. As she turned around, she shouted, "Only a mile and a half until Claire!" That's right, yet another sister was joining in on the fun and would meet me at mile 12 for the final two miles home.
As I mentioned in my first blog, Claire was the one who got me on this running kick in the first place, when we made a year-long pact to run at least one charitable 5K race a month. So there is no one else I'd rather have by my side when I'm hurting. I picked her up (two miles to go!) and immediately felt better. We chatted the whole time. She told me how impressed she was that I no longer rely on my iPod to run ("you're a real runner now, Em!") and we reminisced about our favorite LBI houses (definitely the yellow house on 7th Street). I interrupted the conversation only once as I looked down at my watch. I announced that I had just run 13.1 miles -- a half marathon.
From there, it felt like a breeze to get to 14. And it was. Claire and I celebrated the accomplishment with a cheesy high-five, a cold glass of chocolate milk and a quick dip in the brisk Atlantic (that's easier than icing, right?)
Needless to say, I gladly spent the rest of the day rotating between my beach chair and beach blanket. (Rough life, I know.) But the running of LBI wasn't completely over just yet. There were still two miles from Beach Haven to the southern end of the island that I had yet to conquer -- perfect for a slow recovery run the next morning.
I was so happy to have Maura join me for the out-and-back four-mile run to the end of Holgate. She's been on a real fitness kick all summer, but has never really liked running (she prefers swimming and kick-boxing), so I kept her distracted by playing the alphabet game (finding all the letters of the alphabet on road signs, passing cars, etc.). She smoked me twice and before I knew it, we could see the end of the road, the end of the island and the casinos of Atlantic City rising above the coastline.
I raised my arms victoriously -- having run every inch of Long Beach Island, north to south, throughout the vacation -- and threw up a few fist pumps to really mark the celebration. It wouldn't be the Jersey Shore without a little fist pumping, right?
Click here to read more "Countdown to the New York City Marathon" blogs.
SUBSCRIBE AND FOLLOW
Get top stories and blog posts emailed to me each day. Newsletters may offer personalized content or advertisements.
Learn more