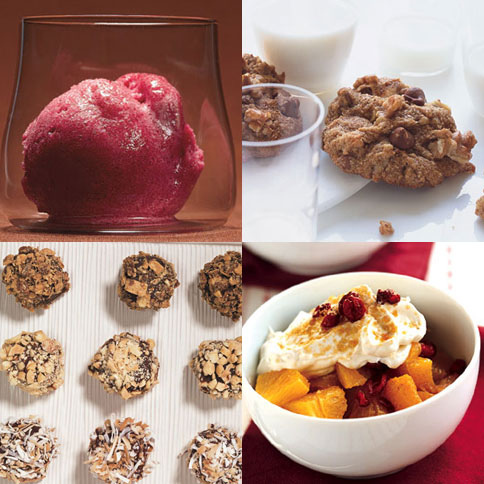 It's an unbreakable pattern: Every night 10pm swings around and I crave something sweet. I'm still trying to reverse the tolls of holiday indulgence, so I've removed all sugar-filled temptations from my pantry. But Valentine's Day launched a chocolate assault against my plan. I'm tortured by cravings. And when I do succumb, a few cupcakes here and there go down much too easily.
So I'm giving up. I have a new plan. I embrace my sweet tooth, but I feed it mindfully and in small doses. Keeping a few relatively healthful treats around seems to help.
Here are some ideas from our recipe archives:
1. Cranberry and Vanilla Bean Sorbet (Pictured top, left)
Here's a clean, bright dessert that makes a great finish to any meal and can be prepared days ahead. Plus, who knew that mellow vanilla would go so beautifully with tangy cranberries?
2. Chocolate-Dipped Frozen Banana Bites (Pictured bottom, left)
These banana bites make a fun snack or end to a meal, and each one contains just 78 calories. Not bad!
3. Citrus Salad with Ginger Yogurt (Pictured bottom, right)
This colorful fruit salad is topped with delicious Greek yogurt and crystallized ginger.
4. Whole Wheat S'more Cookies (Pictured top, left)
Whole wheat flour gives these clever cookie S'mores a graham-cracker flavor.
5. Slow-Baked Honeycrisp Apples
These baked apples are best served slightly warm, but they are also great served cold for breakfast. To make a healthy version of this recipe, top them with Greek yogurt.
6. Sliced Strawberries with Grand Marnier Zabaglione
In this elegant dessert, warm Grand Marnier-spiked custard is spooned over fresh strawberries just before serving.
7. No-Cholesterol Brownies
These chocolaty brownies are the perfect way to indulge on a low-cholesterol diet.
8. Raspberry-Lemon Souffles
This healthy and easy low-fat treat satisfies a dessert craving without the guilt.
9. Asian Pear and Grapefruit Salad with Sake Granita and Pear Sorbet
An exotic fruit salad that comes complete with its own ice cream pairing

10. Spiced Fresh Orange and Honey Sorbet
This refreshing, subtly flavored sorbet, is perfect after a spicy meal.
More from Bon Appétit:
SUBSCRIBE TO & FOLLOW LIFESTYLE
We're basically your best friend… with better taste. Learn more