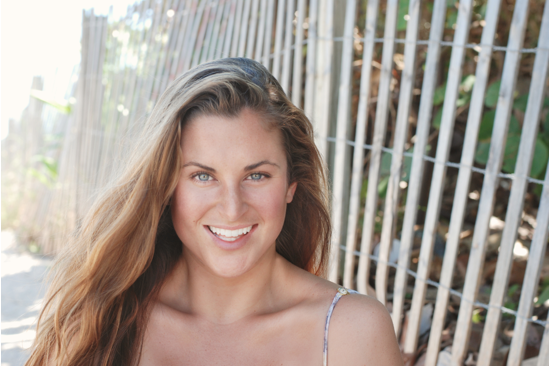 There is a marketing myth behind skincare that says we need long listed regimen of special products to give us supermodel skin. I'm here to debunk that myth for you. In the past, I've tried topical prescription creams, every type of face wash imaginable, peels, oils, lotions, potions... and nothing works quite as well as this simple glowing skin care regimen that I've put together.
Here's the list of winning products that I swear by and use day in and day out (all in order of how I apply them):
1. Chantecaille Bamboo & Hibiscus Exfoliating Cream, $85. The Chantecaille Bamboo & Hibiscus Exfoliation Cream texture feels like a milky cream with tiny flecks of sand, which really aids in ridding my face of any leftover makeup or residue. It's very important to use a natural and light exfoliating cream on your face, especially when you live in a city where the dust from the streets and construction can suffocate your pores.
2. Tata Harper Resurfacing Mask (for instant glow), $55. I have tried every scary looking mask and this nontraditionally clear mask (thank God) is a total winner. I use the Tata Harper Resurfacing Mask every couple of weeks and it makes my skin really glow --hallelujah, there is truth in marketing. The first time I tried this mask, I met a girlfriend right after for coffee, and she told me that my skin looked amazing -- it was glowing. Money well spent! If you're looking to make a first impression, like I do when I meet new clients, use this mask for the perfect, alluring glow.
3. Tata Harper Repairative Moisturizer, $100. I travel a lot and this moisturizer is perfect for every climate. Tata Harper Repairative Moisturizer offers just the right amount of moisture and doesn't leave my face feeling caked or too moist. I love the travel size (15 ml) bottle because I can always keep it in my carry on bag.
4. Chantecaille Nano Gold Energizing Eye Cream, $265. This under eye cream is so much better for everyday use than a tinted concealer. Chantecaille Nano Gold Energizing Eye Cream is flecked with real gold (hence the price tag), which reflects the sunlight and dramatically improves any under-eye circles. I always feel like the truer you are to you skin (i.e. allowing your real skin to show through your makeup), the more honest people will perceive you to be. Wear just enough product that you still look like you, and you will appear as confident, naturally radiant and honest.
5. Origins All and Nothing (Sheer Pressed Powder for Every Skin), $27.50. I have tried every powder in the book, and the most natural looking powder that keeps my t-zone matted is Origins All and Nothing. After I apply the Tata Harper Repairative Moisturizer and Chantecaille Nano Gold Energizing Eye Cream, I lightly brush this powder over my chin, upper lip, and forehead. This keeps my face from looking too shiny, especially when I'm in Miami where the humidity can make you sweat in places you never knew you could.
6. Chantecaille Poudre de Perle (Akoya), $58. I love a nice youthful pink glow right on the apples of my cheeks. The Chantecaille Poudre de Perle blush tube is so convenient with a built in brush. Brush it lightly several times over each cheek bone and instantly you'll have that post-yoga glow.
7. Chantecaille Compact Soleil (St. Barth's), $45. This is my trick for everyday definition, and using a product that's safe on your skin is key to preventing breakouts. I lightly brush Chantecaille Compact Soleil under my cheekbones, along my jaw line, down each side of my nose and across the top of my forehead. Bronzer gives your face a bit more definition that looks great even on the more natural days.
8. Chantecaille Faux Cils Mascara (Black), $42. Usually, I curl my eyelashes and I'm out the door sans mascara. On days where I want an extra pop around my eyes, I use Chantecaille Faux Cils Mascara made with red seaweed extract and infused with rosewater for a delicate fragrance. I am very careful with what I put around my eyes; the makeup industry is so loosely regulated and we don't know if a product's side effect can be damaging. A good rule of thumb I use when buying a product is, if I can safely eat it, it's safe enough to put on my skin (especially around my eyes).
9. Tata Harper Lip Care (Be Fierce), $24. Even my husband steals Tata Harper Lip Care from my purse. I am extremely picky with chap stick (this happens when you marry a Jewish man) because I always feel the chemicals in the products alter the texture inside of my mouth. This nourishing clear lip care however, stays just on the lips and smells like a delicious, sweet apricot.
10. Alba Botanica Hawaiian 3-in-1 Clean Towelettes, $5.99. Most makeup removers leave my skin oily and caked. The Alba Botanica Towelettes smell like pineapple and leave my skin perfectly fresh, yet are strong enough to remove all of my mascara with one towel.