 Working in online media -- and being a somewhat stereotypical member of the "Millennial" generation -- I rarely handwrite anything. I'm all about the texting, tweeting, emailing and Facebooking. I ceased giving or receiving the carefully penned (and immaculately folded) notes of my childhood nearly a decade ago.
I saved the notes, though, all hailing from my middle school and high school years. They're in a big box in a closet at my parent's house. I hadn't read any of them in forever ... until a few weeks ago. I had been using a very old wallet, and during my morning commute I was rearranging its contents and came across a note tucked in one of the pockets. Apparently it had been resting there for nine long years. The date was April 7th, 2003.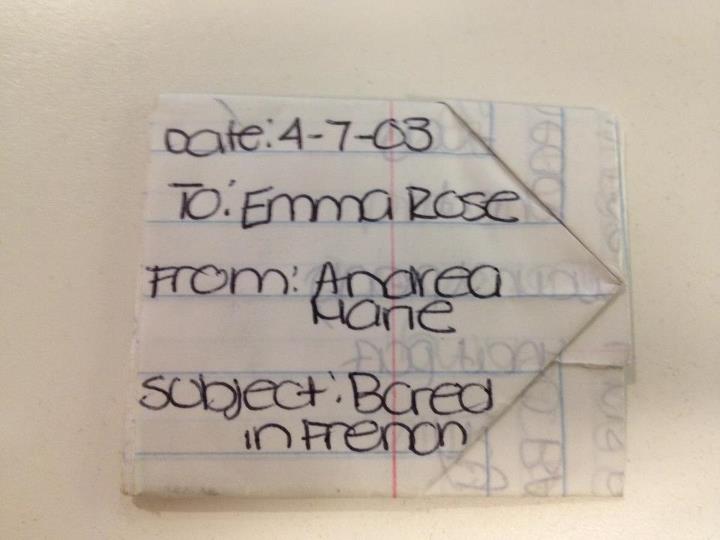 Some highlights from the note (written by my friend Andrea to me) include:
• "LOL Health [class] was so bad. I looked ahead at what I was reading and saw the word penis. So I read that part really fast."
• "I was just daydreaming about the beach. I wanna go to an under 18 club and just dance for like hours. How fun would that be??"
• "Anyways, I'm writing this in my English journal which is so bad."
• "Theatrefest [a national theater festival] is going to be SO FUN! By the way, where do we get the forms?"
While the note itself was by no means one of our more interesting, intellectual or even juicy exchanges -- and we did have plenty of those as well as these more frivolous ones -- it was a fun snapshot of a particular moment in time. Finding it brought me right back to 2003 and made me think of all those other notes I had saved in that box. Years worth of academic anxiety, heartbreaks, hook-ups and teen angst live on, inked by a GellyRoll pen, on a few sheets of college-ruled, three-hole notebook paper.
I know that I'm not the only one who has these handwritten treasures stashed away. In honor of the "back-to-school" season, we want to see your old notes! Send a photo and a choice quote to women@huffingtonpost.com. We'll feature our favorites in a slideshow here.
LOOK: Amazing Childhood Notes
A Collection Of Childhood Notes
My best friend wrote me this note when we were in fourth grade. We're still best friends!!! Choice quote: "Don't listen to what other people say about you. You know, that you are weird or strange."

"In 7th grade, I received the following card from a boy who I 'battled' against for the best grade in Earth Science class."

This was written by my daughter when she was little. I've had it framed ever since.

This is a scan of from a notebook that I had in second grade. It is dated at the top "2/17 1995" and reads: "I like Aliens for Lunch batter than Aliens for break fast". These are actual books that I was reading in school. Clearly, I was a really great speller.

My son Aaron who is now 20 wrote this form letter in daycare in 2nd grade. I think he was in trouble for leaving the homework table too early and going to the Lego table. I think it's a good idea to try to float.

The intricacy of folding is amazing. I was afraid to open a few because I thought they would fall apart on me or I would never be able to fold them back again.
Follow Emma Gray on Twitter: www.twitter.com/emmaladyrose