Tabloid magazines, the Daily Mail, Donald Trump: They all have something to say about Kim Kardashian's pregnant body, and none of it is good.
After months of headlines focused on pregnant Jessica Simpson's baby-related weight fluctuations, the tabloid (and Trump) eye has come to rest on Kardashian. The fat-shaming that has followed is in some ways more of the same -- more of what we saw with Simpson -- but it's much, much more. Both the volume of stories about Kardashian's body and what headlines say about it remind us how acceptable it has become to talk publicly about an individual woman's appearance in terrible ways. They also demonstrate how having a female body that is anything other than thin -- whether it be average, overweight or simply pregnant -- is being cast as both a crime and a punishment.
Here are a few of the things the tabloids have said about Kardashian over the last few weeks:
Star considers Kim's supposed 65-pound weight gain to be a "nightmare."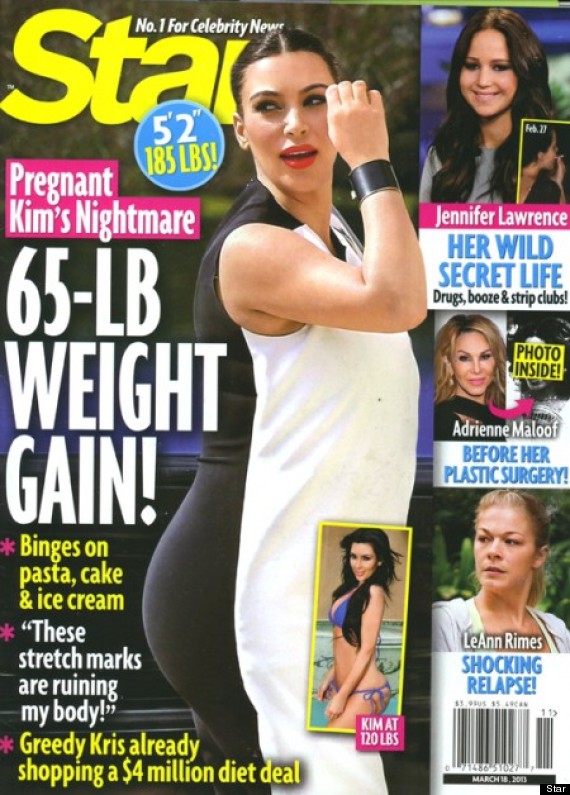 The above cover image led to this charming "Who wore it better?" meme. Not. OK.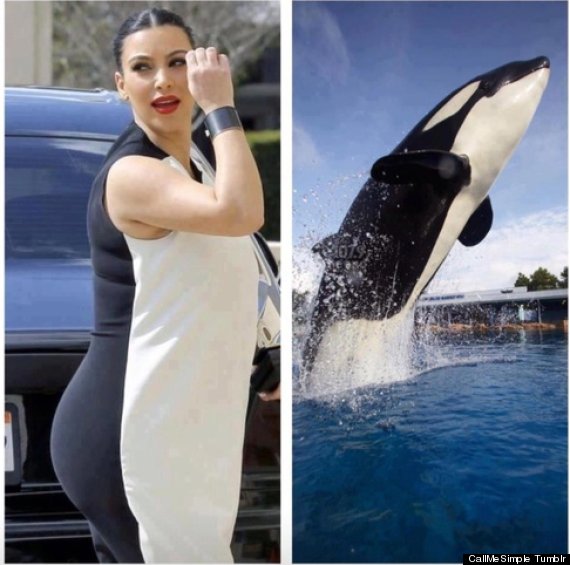 (Source: CallMeSimple Tumblr)
This In Touch cover not only claims that Kardashian is eating uncontrollably but also putting herself on a grueling diet "while pregnant" -- suggesting that she's also a bad mother. And despite Kardashian's very public statements to the contrary, one of the cover lines informs us that she "'hates' her body."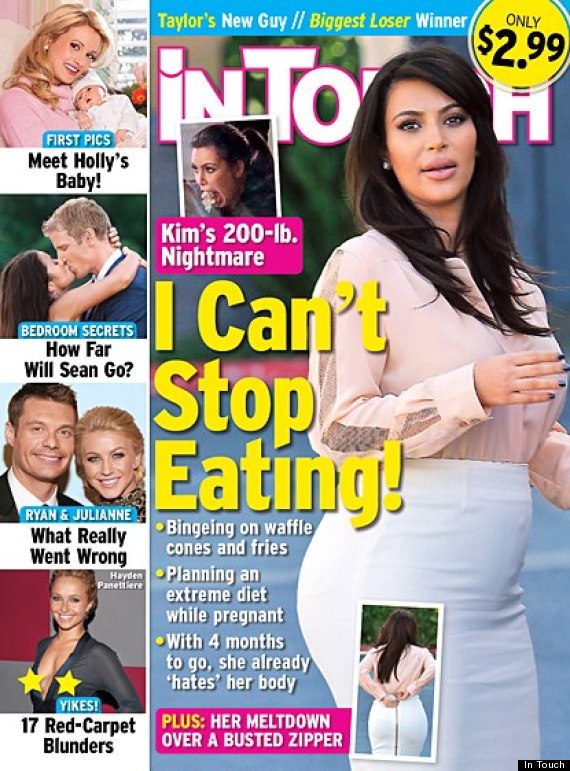 Us Weekly took it one step further and combined a headline about how awful the fat-shaming has made Kardashian feel with another about how she is "struggling" to stick to a diet.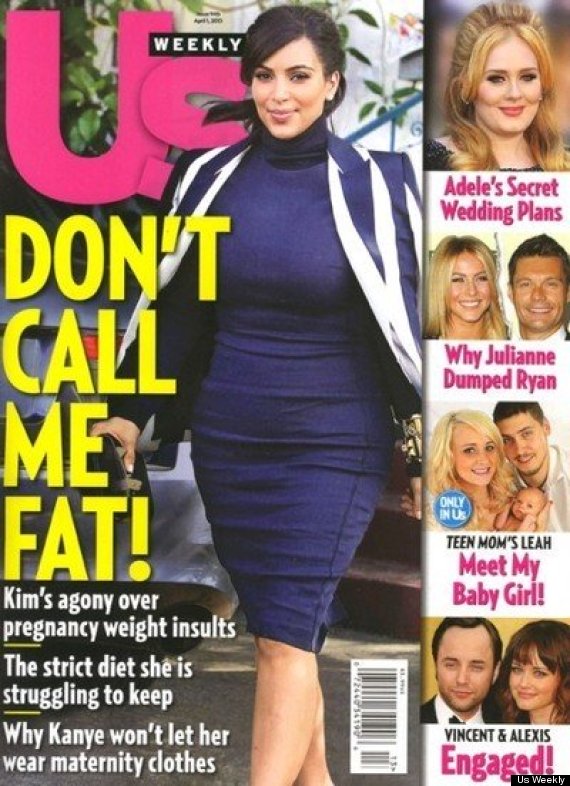 You can argue that Kim Kardashian of all people welcomes any press, good or bad -- the woman did launch her career with a sex tape -- but this is about way more than her. It's about the ubiquity of weight-centric commentary on female celebrities' bodies. It's about portraying weight gain as a central tragedy in a woman's life, the cause of meltdowns and the source of insults, that then must be fought with extreme diets -- even "while she's pregnant." It doesn't take much for the average female supermarket-goer to think to herself, "Do people think that about me?" And just like that, weight has become a central drama in her life too.
These headlines affect us all, even when we tell ourselves we aren't paying attention, that we write them off as trash. They leak into the cultural ether and affect how women see themselves and other women and how much time and thought and energy women put into fixing bodies that aren't broken. When will we acknowledge that all of us, even Kim Kardashian, deserve to spend our lives thinking less about how we look and more about what we can do -- and that the former definitely gets in the way of the latter?
ALSO ON HUFFPOST WOMEN:
Meet Our Body Image Heroes
After the media focused on her alleged weight gain in September 2012, Gaga hit back at critics by baring her body in photographs, sharing her struggles with an eating disorder, and inviting her fans to join her in a "body revolution."

Adele says she tries not to worry about her body image and doesn't want to be a "skinny minnie." "The first thing to do is be happy with yourself and appreciate your body -- only then should you try to change things about yourself."

The actress took to Twitter to say, "I'm not trying to be hot. I'm just trying to be a good actress and entertain people."

After the March 2012 frenzy around Judd's "puffy face," the actress fought back in The Daily Beast, calling the media out for making women's bodies "a source of speculation, ridicule, and invalidation, as if they belong to others."

Tate's essay about body image and motherhood not only broke the Internet; it has sparked a movement of "moms who stay in the picture."

On her informed, thoughtful blog "The Beheld," Autumn writes about beauty, body image, appearance and her two -- that's right, two -- mirror fasts.

Gruys went on a year-long mirror fast during which she did not study her reflection in mirrors or other reflective surfaces, or look at photographs of herself.

"I am always in support of someone who is willing and comfortable in their own skin enough to embrace it," the singer said in a recent interview.

At the 2012 New Yorker Festival, the magazine's TV critic, Emily Nussbaum, asked Lena Dunham, producer, creator and star of the hit HBO show "Girls," why Dunham is naked in so many scenes. Dunham responded, "I realized that what was missing in movies for me was the presence of bodies I understood." She said she plans to live until she is 105 and show her thighs every day.

Chung responded to critics who suggested that her slight frame made her a bad role model for young women, saying: "Just because I exist in this shape doesn't mean that I'm, like, advocating it."

The NYU student started the amazing Body Love Blog, where she posted this picture of herself and wrote an open letter to those who feel entitled to shame others for the size or look of their bodies.

This 5-foot-tall, 200-pound singer spoke openly about her weight to The Advocate, saying, "I feel sorry ... for people who've had skinny privilege and then have it taken away from them. I have had a lifetime to adjust to seeing how people treat women who aren't their idea of beautiful and therefore aren't their idea of useful, and I had to find ways to become useful to myself."
WATCH: Emma Gray Discusses Kim Kardashian And Fat-Shaming On "Showbiz Tonight"

WATCH: Margaret Wheeler Johnson And Rosie Pope Discuss Fat-Shaming On HuffPost Live
Follow Emma Gray on Twitter: www.twitter.com/emmaladyrose