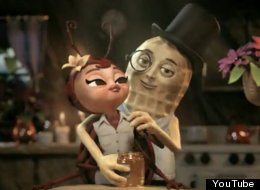 Mr. Peanut has gotten a makeover -- a MANLY makeover. In an ad that seems at least in part an excuse for Planters to make a whole lot of "nuts" jokes (way to keep it classy, guys), the commercial joins other recent spots designed to make fun of the way advertising has represented masculinity in the past. (Scroll down to see the ad.)
The tagline of this new ad campaign, which, according to Ad Week, Planters launched in conjunction with magazine Men's Health, says it all: "It's the manliest mix we've ever assembled." Mr. Peanut was once a gentleman bachelor -- when Robert Downey Jr. voiced the character in 2010, his lines included statements like, "At Planters, we know how to throw a remarkable holiday party. Just serve classy snacks and be a gracious host." (True, Mr. Peanut hit a partygoer with his cane, but the party continued and nuts were served all around.)
In contrast, the new Mr. Peanut would never be caught dead hosting holiday parties -- he prefers to blow up planets with lasers, drive vehicles out of building windows and seducing ladies.
So what does it take to be the manliest nuts (words I never thought I'd type) around? A whole lot of absurd superlatives -- the "hardcorest," "no-holds-barredest," "like a bossest." Thus the commercial good-heartedly mocks the "manly" action sequences and advertising campaigns we've come to expect from advertisers marketing products to men. In a 2007 article in Yahoo Business, "The Return of Manly Advertising," George Marker argued that after a few years of courting female consumers, companies began to go back to targeting men:
Now we are seeing the return of the pendulum, as commercials featuring comedic routines by bumbling men and their obviously superior wives are replace [sic] by chest pounding testosterone anthems.
Marker's thesis has proved fairly prophetic. Some key examples: In 2010, Miller Lite released an ad campaign telling dudes to "take off their skirts," "Man Up!" and care about the taste of light beer ... ugh. Last October, the advertisements for Dr. Pepper Ten -- a "manly" diet soda -- told women, "You can keep the romantic comedies and lady drinks. We're good." And of course, male grooming company AXE, never got off the hypermasculine train to begin with (and I suspect never will).
In response, Planters seems to have taken the Old Spice approach. In 2010, the after-shave and deodorant company famous for hyping traditional masculinity in older ad campaigns took a lighter approach with commercials that just made everyone giggle. The Planters commercial is similarly over-the-top, filled with made up buzzwords and farcically male scenarios. The result is entertaining and memorable, but combined with the Old Spice ads, it also suggests that the conversation surrounding masculinity is changing bit by bit. Over the last 50 years women have debated, deconstructed, diversified and reinvented what constitutes femininity -- to their collective benefit -- but masculinity has stayed more stagnant. Journalist Hanna Rosin, author of the oft-quoted 2010 Atlantic Monthy article "The End of Men," said as much during a debate in September 2011:
Female feelings about what's okay as a woman, and people have measured this for college students and adults, have changed radically. Women now think it's much more okay to be aggressive in the workplace. It's much more okay to win. ... The male identification hasn't -- self-identification -- hasn't changed basically in 60 years. Men ... think it's only acceptable to be a guy in this tiny, narrow range.
The creative minds behind this Mr. Peanut campaign are playing with stereotypical masculinity instead endorsing it. In his own small way, ridiculously "manly" Mr. Peanut is pulling back the curtain on how absurd our ideas about what constitutes a "real man" really are. Whether he's truly a dapper gentleman or a laser-wielding warrior, I hope we see Mr. Peanut reinvent himself many times over in the future.
RELATED: More "Manly" Advertisements
"Hey ladies. Enjoying the film? Of course not. Because this is our movie and this is our soda," a man says as he runs through a jungle avoiding various mishaps. He successfully lands on an all-terrain vehicle and continues, "You can keep the romantic comedies and lady drinks. We're good."

When a man asks for a light beer but doesn't care which one it is, the woman bartender gives him a beer and says, "Just take off your skirt and I'll give you a Miller Lite." As the man moves away embarrassed and wearing a skirt, a deep manly voice tells him to "man up!" Another "Man Up!" ad features a female bartender telling the man to "put down his purse."

Ex-NFL player Isaiah Mustafa addresses women with boyfriends who "sadly, aren't him" because they smell like a woman.

L'Oreal Men Expert is so exclusive to men that if the cream even touches a woman's face it turns her into a frog.

The E*TRADE Baby's girlfriend is mad at him for not calling but he tells her he was busy "diversifying his portfolio." His girlfriend, who apparently isn't interested in trading, gets confused by the trade jargon.

The video features a group of men walking in a field in their underpants singing, "I wear no pants." The ad poster for "Wear The Pants" included phrases such as "Somewhere along the way, the world decided it no longer needed men," and, "but today, there are questions our genderless society has no answers for...We need men to put down the plastic fork, step away from the salad bar and unite the world from the tracks of complacency."

In the video, a woman has to convince a store clerk that she is a man in order to buy a Yorkie bar. She passes every test but she gives away her identity when she can't resist a compliment. Andrew Harrison, who was Nestle's marketing director at the time, spoke with The Guardian in 2002 about the ad campaign: "We felt that we needed to take a stand for the British bloke and reclaim some things in his life, starting with his chocolate."
Follow Emma Gray on Twitter: www.twitter.com/emmaladyrose