This week on "The Bachelorette," a.k.a. Emily's journey to find a baby step-daddy, the men came to tell all. And they did ... for about half of the show. The other half was spent plugging the franchise's drunk uncle, "Bachelor Pad." Oh, and the whole thing starred Chris Harrison. (Chris must really live for these "Tell All" episodes. He has so much to do!)
To begin, Chris H. (not to be confused with Chi-town contestant/"Bachelor Pad 3" star Chris Bukowski) informs the audience that "all of the season's most memorable guys" are back. This statement is confusing, as only about six of the original 25 had any distinguishing characteristics whatsoever. Then we have to sit through a whole lot of other stuff before these "memorable" men even come onstage.
EM TAKES A TRIP DOWN MEMORY LANE
Chris Harrison and Emily sit down for a pre-show chat and take a stroll down memory lane, reminding the audience of all the more uncomfortable moments that this season has bestowed upon us. Some highlights included Doug's super awkward kiss, Ryan's "I won't love on you as much" and "trophy wife" comments, and Emily telling Kalon to "get the f**k out."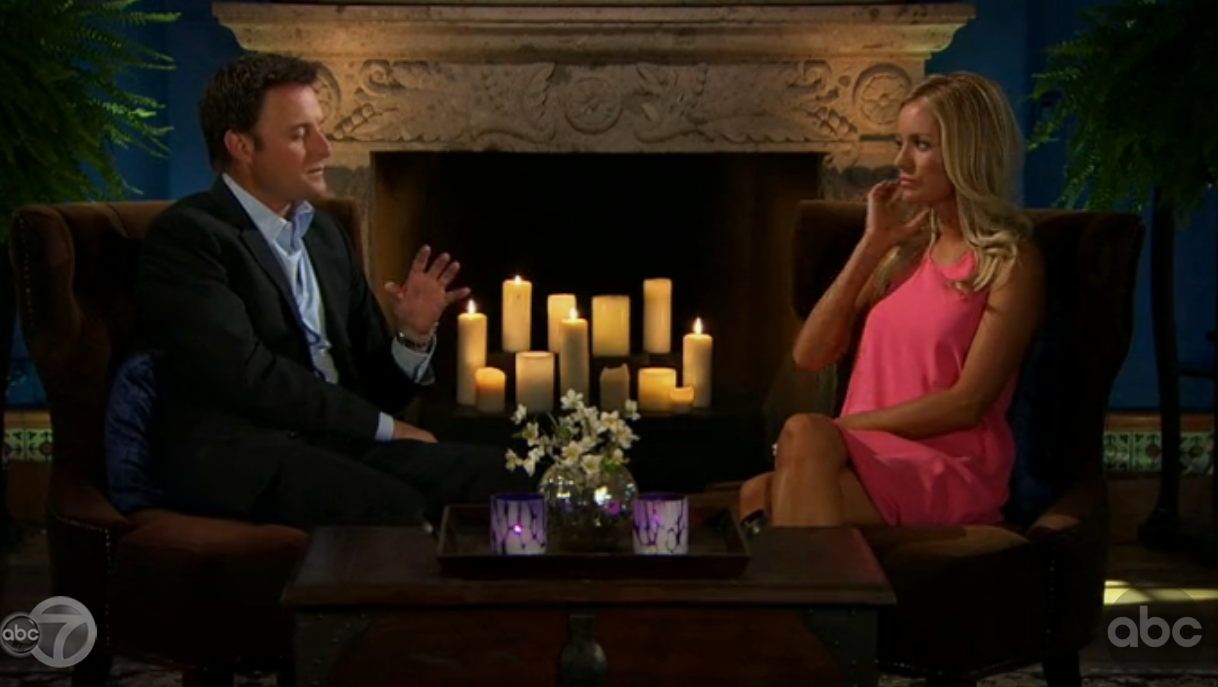 (Photo Credit: ABC)
NEXT, we move onto the "moments America didn't see," during which we learn:
--Emily swears like a sailor, especially when she accidentally spilled white wine on her West Virginia gown. "I'm supposed to be a lady!" she exclaimed during the clip.
--Shelly the ostrich egg had a bedtime routine, which Em participated in. She and Travis even sang the little egg a lullaby. (Spoiler alert: these two should never go on "American Idol.")
--Arie's younger twin brothers were totally spying on Em and the race-car driver's intimate make-out moments during their hometown date. "That's awkward," says Em, stating the blatantly obvious. Apparently, Arie was unaware of this too. (See tweets below).
--Chris B. tried and failed miserably to defy the stereotype that "white men can't dance" multiple times on his "journey."
--Emily can do the running man, and she promises Chris Harrison that she'll perform after the finale ... for four dollars. Girl sure does drive a mean bargain. Fingers crossed that she follows through.
**EXTENDED "BACHELOR PAD" PROMO**
Tears! More Tears! Cursing! More More Tears! Bikinis! Money! Shit Talking! Kalon! Betrayals! Heartbreak! Fans! iPhotos! Most Shocking Season Ever! Tony's Son! Spelling Bee! Fireworks! Love! More More More Tears! Chris Sleeping Around! Pumping Iron! Enemies! Payback!
(Single dad Tony, villain Kalon and dance move-challenged Chris are all on "Bachelor Pad." Oy. Guess Tony didn't miss his son that much after all...)
THE MEN (FINALLY) ARRIVE TO "TELL ALL"
Chris H. helpfully reviews the names of all the dudes. I truly have no idea who the first 10 are (no, seriously, Randy who are you?), but they don't say a single word during the episode, so NBD. The audience boos Kalon, because duh, and cheers for Sean, because OMG everyone thinks he's totes gonna be the next next Bachelor. Then we get to see a montage of even more flashbacks (because watching this show once is just not enough). The montage reminds us that Emily is hot, Chris is immature, Doug is humble, Kalon is pompous and arrived in a chopper, and Ryan is cocky (but has no chopper).
After watching the montage, Chris gets offended by something and picks a fight with Doug and Ryan, and then a bunch of the dudes start yelling at Kalon. It all kind of devolves as Kalon tries to use big words and tell everyone how Chris and Tony are his new BFFs, but I'm mostly just excited that John "Wolf" is wearing pink pants. #Winner.
KALON'S NEW BUZZWORDS ARE "UNIQUE" AND "SCENARIO"
Chris Harrison calls Kalon into the hot seat. During his few minutes in the spotlight, he does nothing to make himself look better, confirming that yes, he may in fact be as big a jerk as the producers made him out to be. Some highlights:
--"I guess my humor is just wasted on people." (Yeah, that's definitely it.)
--He describes "The Bachelorette" as a "unique scenario" over and over again. Sure, except for the seven preceding seasons, and all 16 seasons of the Bachelor.
--He doesn't think that interrupting a woman and telling her to stop talking until he's finished is all that offensive. "Go get in your helicopter!" yells another dude whose name I don't know. You tell 'im.
--Apparently, America likes everything "sugarcoated." God, America, toughen up.
--Kalon calls Ryan his friend. Ryan immediately develops a facial twitch.
DON'T WORRY, RYAN WON'T BE THE NEXT "BACHELOR"
Next, Ryan, the season's other villain, is up. Shockingly, after Kalon's interview, he doesn't seem nearly as terrible as he did during the show. Mostly he just laughs off criticism and laughs at himself during the incriminating flashbacks. We learn that:
--Ryan just thinks he's a "fun-lovin' guy."
--He definitely did say that he thought he might be the next Bachelor.
--He definitely will not be. "Let me speak for ABC," says Chris Harrison. "Not gonna happen."
--Ryan is sure that he's not an "arrogant ass." Chris H. seems skeptical.
--He has a journal. And he wrote about Emily in it.
--For some reason, he still thinks that his "I just won't love on you as much" comment was funny. We all realize that he has absolutely no idea what "funny" means.
CHRIS HAS SO MANY EMOTIONS
Chris B. comes up for a chat with Chris H. and delivers an impassioned defense of his "immature" behavior. You see, he just really really loved Emily -- in fact, he loved her "110 percent." He talks about life being short and how he's lost some friends, which made him not want to hold back. He even tears up and begins to pull on our heartstrings ... until everyone remembers that they just watched a "Bachelor Pad" promo in which he refers to women as "new cars" and sleeps with at least three different ladies in the house. The general consensus on Twitter seemed to be that he resembled a potential serial killer.
SEAN WINS THE NIGHT
This episode of "The Bachelorette" may as well have been named "The Night Sean Unofficially Announced His Bid To Be The Next Bachelor." This season's second runner-up is definitely the most beloved, and he continued to come off very well last night. He was also the only dude who didn't appear to have stopped off at Mystic Tan pre-taping. This is how Sean won the night:
--"I fell in love with that girl. I still have very strong feelings for her."
--Abs.
--He's never really gone through heartbreak before this, but his mom thinks it's going to be very healthy for him.
--"Emily has done so much for me. She's opened my eyes. ... I'm more open now than I've ever been. I cannot wait to find love." Aw.
EMILY REVISITS HER BACKWOODS ROOTS
Finally Emily returns, this time wearing a hot pink bandage dress and some serious hair extensions. (But ... NO SPARKLES!?)
--Em on Sean: She "ugly cried" watching the episode where she dumped Sean. "What girl wouldn't want Sean?" she says.
--Em on Doug: "I've never had the breakup talk and first kiss in the same moment," she says. They both have a good laugh over Doug's inability to read situations and Em's inability to deal with awkwardness. She also thanks him for revealing Kalon's true, "baggage" colors.
--Em on Kalon: Kalon tries to half-apologize to Emily for the way things "transpired." He says it's been a "growing experience" for him. Em is a smart lady from West Virginia, so her response is pitch-perfect: "You, my dear, should be a politician because that's the biggest load of bullsh*t I've ever heard." She goes on to tell him that she hopes he finds pride in "bigger things than your Prada shoes and rented helicopter." Oh Em, so glad you brought your feisty side.
--Em on Ryan: "I hope you find your trophy wife as the Bachelor of Augusta."
BLOOPERS!
The outtakes include a lot of dudes streaking, a lot of Em cursing, a lot of tripping and a moped crash. And before the show even began, Emily joked to Chris Harrison that she hoped to sleep with all 25 dudes. Well, there's still a week, Em. Group hot tub party?
NEXT WEEK, ON THE "GRAND FIN-AHH-LE"
Jef's so cute! Arie's so cute! Tears! Emotions! Holding hands! Making out! Pensive thinking! Staring out at the beach! Em's parents! Em's confused! Pow-wow with Chris! More tears! Hearts are broken!
Oh, and Emily makes cat videos for YouTube. See you next week, friends.
LOOK: This Week's Best "Bachelorette" Tweets
The Best Tweets About "The Bachelorette" Episode 10, "The Men Tell All"
SUBSCRIBE TO & FOLLOW TRUMP'S FIRST 100 DAYS
How will Donald Trump's first 100 days impact YOU? Subscribe, choose the community that you most identify with or want to learn more about and we'll send you the news that matters most once a week throughout Trump's first 100 days in office. Learn more