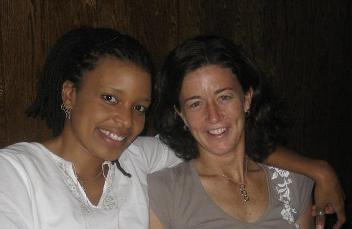 Stacy Beardsley and K Thomas met three and a half years ago at a friend's birthday party. Two months later, they were dating and now, three and half years after that night, they live together in a house in north Chicago with their two black labs Kobi and Maddi (just nine weeks old).
They are like any other couple.
Stacy, a former public school principal, now works to design academic curricula for schools in the city. K is a engineering project manager for an international cosmetics company. At the end of the work day they might meet up with their neighbors to walk the dogs or work on the small yard in front of their home.
Two weeks ago K's entire department was eliminated due to cut costs and now, as a Trinidadian citizen on an H1B visa, she will have to leave the country once her employment terminates. She has only a few months to find a job that is willing to take on the burden and currently heavily publicized stigma of sponsoring a foreign worker on an H1B visa or she will be forced to return to Trinidad alone.
Their story was supposed to go much differently.
If Stacy and K were in an opposite-sex relationship they would be married and Stacy could sponsor K to remain in the country.
Even if K couldn't find a job right away, she would be allowed to stay in her own house, with her partner while she searched for new employment. StaProxy-Connection: keep-alive
Cache-Control: max-age=0
could take on extra hours and support them both. K holds an MBA from Northwestern's Kellogg School of Management, an undergraduate degree in mechanical engineering from the University of Mississippi and ten years of experience, so when the economy stabilized she'd likely find a place to land.
But Illinois doesn't have marriage for same-sex couples. It doesn't even have civil unions. And even if it did, the Defense of Marriage Act bars same-sex couples from acquiring the immigration rights that come with any heterosexual marriage.
"If it were a question of her being away for a year, then we could figure it out. We could make this work. But if it's for more than a year, it becomes difficult... I'm pretty tied to urban education. I am passionate about it. The chance of me being able to do what I do [in Trinidad] are nil." Stacy states in a matter of fact tone.
When K leaves the country, she is required, to spend a year out of the United States before applying for a second work visa - a process that can take months and is pretty equivalent to a lottery system given the new limitations on the numbers admitted.
In practical terms, the best she can hope for is two and a half years outside the country before gaining permission to return to Chicago on a permanent basis.
"Pretty much our only hope is the United American Families Act passing." K admits.
UAFA was introduced in the House and the Senate in February and is now slowly gathering support.
Stacy and K have started a letter writing campaign targeting all of their local representatives. They spoke to the office of brand new Congressman Mike Quigley (D-IL). And State Representative Deb Mell has agreed to sit down with them to discuss options. K spoke to an aide at Senator Dick Durbin's (D-IL) office about her situation and they have written letters to Senator Roland Burris (D-IL), but neither Senator has signed on to co-sponsor the legislation.
Even Stacy's sister, across the country in California, has begun a drive to get Congressional and Senate support for UAFA from her own representatives.
Most of this will not help Stacy and K.
K is applying to every job she can but admits that, as of right now, the Middle East is her best option. The pay is similar to that in the United States and Middle Eastern companies are some of the few actively hiring foreign workers. She already has an interview for a job in Kuwait.
Stacy grimaces when K starts to talk about moving so far away.
Sitting with Stacy and K, it is abundantly clear that these two women love each other very much.
In a few months, K will be forced to leave her partner, Kobi and her new puppy Maddi. Stacy will be left behind, only enjoying visits with K when she can travel overseas or Karla can acquire a visitor's visa to return home for a short stay.
Stacy and K's story is not unique, which only makes it harder to bear. No couple should be forced by government regulations to choose between their country, career and family and staying in the same place as the person they love.
One can only hope that quick passage of the UAFA will help people like K and Stacy have a fair shot at making a loving committed relationship work for the long term.
SUBSCRIBE TO & FOLLOW TRUMP'S FIRST 100 DAYS
How will Donald Trump's first 100 days impact YOU? Subscribe, choose the community that you most identify with or want to learn more about and we'll send you the news that matters most once a week throughout Trump's first 100 days in office. Learn more