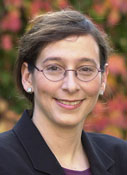 Much has been made of the two open lesbians on the list of potential Supreme Court picks: Kathleen Sullivan and Pam Karlan. According to NPR, both are in the running, though fall behind Sonia Sotomayor, Diane Wood and Elena Kagan. Either one would, no surprise, be groundbreaking diversity appointments to the Court.
Both Sullivan and Karlan have support from the LGBT community and many liberals think that it would be a huge victory to have a lesbian voice at the Supreme Court when cases like the Massachusetts DOMA challenge make their way before the panel of nine Justices. They might be right (although I would remind them that Sullivan did appear as attorney for Shell Oil in a case arguing against Shell's liability for toxic waste - not my idea of a "liberal" position).
The debate over whether Sullivan or Karlan could make it through the approval process given their sexual orientation is an important one, and it illustrates just how far America has to go towards tolerance and equality. But it may not be the right debate for those who are interested in seeing LGBT rights litigated successfully.
A few weeks ago I saw a presentation by Lambda Legal lawyer Camilla Taylor (part of the team that won gay marriage rights in Iowa) speak on a panel about gay justices. One member of the audience talked about how important it was to have judges who know gay people, have gay family members or have considered the issues facing LGBT Americans in their everyday lives. Taylor responded by pointing out that it makes far more sense to look for judges who are smart, rigorous and fair, than those that agree with you before you go into the courtroom.
Her point is important now, when the discussion focuses on one justice that may have a large role in determining the fate of thousands of same-sex couples in this country.
The argument for same-sex equality does not rest on conflicting evidence or complicated reasoning. It is a clear claim for equal treatment under the law for two identically situated categories of Americans.
The argument that there is some rational basis to the continued discrimination against same-sex couples relies on quasi-scientific studies and emotional claims.
But the lawyers arguing for legal discrimination against LGBT people are talented, they have extensive resources and produce a lot of paper and many statistical studies that must be sorted, analyzed and dealt with in any decision.
Smart, rigorous judges go through each box of material, weigh the evidence and determine that equality must prevail. The overwhelming lack of concrete evidence supporting discrimination against LGBT Americans has been pointed out by conservative and liberal judges in Florida, Iowa, California, Massachusetts, Connecticut as well as other states.
However, it would be easy for a judge to skip the analysis, take the volume to mean something about the quality of the evidence, and determine that a rational basis for discrimination exists. Worse, it would be possible for a judge to use the volume of evidence to confirm their own gut feeling or belief.
I would celebrate the appointment of Sullivan or Karlan. However, we don't need a diverse judge to win rights that protect diversity. We just need someone with a little integrity, patience and intelligence.
SUBSCRIBE TO & FOLLOW TRUMP'S FIRST 100 DAYS
How will Donald Trump's first 100 days impact YOU? Subscribe, choose the community that you most identify with or want to learn more about and we'll send you the news that matters most once a week throughout Trump's first 100 days in office. Learn more