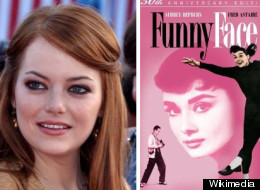 One of the great pleasures of watching movies is seeing perfect casting in action--no one else could have played James Dean's part in Rebel Without a Cause, or Marilyn Monroe's in Some Like It Hot. Imagining another actress as Auntie Mame? Blasphemy! Casting, like any other part of the Hollywood system, seems equal parts magic and timing. This actress has just had a baby, and is therefore out of the running. This actor is filming something else in Dubai, and can't make the start date. These two have zero chemistry, and one of them needs to be replaced. (Actually, I wish that last caveat happened more often--I can think of a hundred movies where I would recast for inadequate chemistry.) Choosing the perfect actor for each role is an underappreciated feat, and I think that job is probably one of the trickiest in Hollywood. While I would never claim to be an expert, from time to time, I do like to entertain myself by recasting certain roles, if only in my head. If there are any producers reading who would like me to rewrite the following films in order to better suit my suggestions, I'm all ears.
There are some recasting choices that are automatic--Idris Elba could play any role that George Clooney has ever played, for example, and the cast of televison's Parenthood should remake the film version, and Judy Greer should be in every movie ever made. Here are some other choices that I think are just as good:
Emma Straub is the author of Laura Lamont's Life in Pictures [Riverhead, $26.95]
7 Classic Movies Recasted
Billie Jean, played by Helen Slater, is all about doing what's right. You know who else has an excellent moral compass, likes to call out dirtbags for being mean, and would look great driving around Texas? Taylor Swift. No one could pull off being wronged with more aplomb. I can see it so vividly--Taylor putting sexist, disgusting criminals in their place, perhaps with a guitar at the ready. I for one would be there on opening night. Fair's fair!

This classic, starring Cary Grant and Rosalind Russell, is about a fast-talking pair of exes at a newspaper. The ex-wife just wants to move on with her life, and the ex-husband just won't let her. They are, of course, perfect for each other. I would love to see Veronica Mars-star Kristen Bell zip her way through this kind of dialogue. As her paramour, I'm imagining Chris Rock, who would bring a whole different kind of edge to the part. Will they or won't they? They will! Extra points if the remake includes the person hiding in the roll-top desk.

Paul Newman was a dreamy, dreamy, dreamboat, and this (along with Butch Cassidy and the Sundance Kid) was one of his defining roles. I hereby apologize to all those for whom this film is sacred, but hear me out. Patrick Wilson (Little Children) looks more like Paul Newman than anyone has a right to, and I think a remake of Cool Hand Luke would garner him an Academy Award. So there. I said it. Go make millions of dollars.

There aren't many actresses who can match Grace Kelly's mixture of poise and smarts, but Brit Marling is one of them. I would love to see Marling take on this. And yes, I know, I keep recasting Cary Grant roles. If you want to play this game at home, it's easy--just as Idris Elba could play every one of Clooney's parts, Clooney could play every single one of Cary Grant's. (Yes, this means that Idris Elba could also work, though I might need more proof that he has a sense of humor.) Flirtatious, confident, teasing, funny--the only thing Clooney is missing is the cleft in his chin, and I think Clooney's early gray hair makes up for that. I might move the setting, but then again, I might not. That's the producer's job, isn't it? I'm only doing the casting.

I love Taylor Kitsch, the actor who played the much put-upon and misunderstood Timmy Riggins on Friday Night Lights. Much to my dismay, Kitsch has yet to really find the perfect film role that will catapult him into the hunky stratosphere. I have some ideas. My first and best: Point Break! There could not be a more perfect Johnny Utah! Kitsch can run with a gun AND flex his muscles on a surfboard. The only real tragedy is that the actor who would be Kitsch's perfect foil, the Swayze to his Reeves, is the late Heath Ledger. Really, take a minute to think about how perfect that would have been. Other roles I would like to see Kitsch remake: Brad Pitt's star-making appearance in Thelma and Louise, and a sexy rehash of Gus Van Sant's My Own Private Idaho.

It occurs to me that two things may be true: 1) there are no good film actors in their twenties/early thirties, and 2) I watch too much television. Regardless, the only actor who I think could properly take Anthony Perkins' creepy mantle is Vincent Kartheiser, who plays Pete Campbell on AMC's Mad Men. Kartheiser is so good at playing a non-psychotic creepazoid, I can't imagine how truly magnificent he would be if he went at it full throttle. I know that Gus Van Sant remade Pyscho with Vince Vaughan a decade ago, but I think (as much as I adore both of them) that we'd all like to pretend that never happened. Vinnie, the part is yours! Take it away!

I've got the three lead roles all sorted out here--Emma Stone could play the bookish ingénue, Patricia Clarkson could play the Vreeland-esque editrix, and Ed Norton could play the Avedon-like photographer. They can all twirl and dance and sing (yes, I've seen "Everyone Says I Love You," Ed, and I think you can do it). As in the original, the only worry is that Clarkson might overshadow Stone, but I think it's a risk worth taking. Think pink! Think Paris! Think love! If I owned a studio, I would greenlight this five minutes ago.