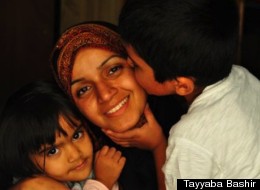 Images play a powerful role in shaping our perceptions. Contemplate the American Muslim woman, for instance or Muslim women more generally. She is commonly portrayed by the media and in popular culture as a victim, terrorist or seductress. This Mother's Day, through the personal images of and reflections by and about real American Muslim woman scattered throughout the U.S., we glimpse a truer understanding of her -- her struggles, aspirations, values -- and are reminded once again of our common humanity.
A Snapshot of American Muslim Motherhood
Dr. Khalil Marrar is a university political science professor who describes his late mother, Aysheh Marrar, as a "beautiful soul" who worked hard to put him and his siblings through school. "She taught me that parenthood is a divine devotion," he explains. "That even despite the lot you are given in life, with perseverance you could create for yourself and your loved ones a heaven on earth." Dr. Marrar remembers his mother fondly and holds her in the highest regard, "My mom only had roughly a fourth grade education. Yet she was the most educated person I've ever encountered in matters of life, faith, family, people..." Aysheh passed away in an Illinois hospital in 2007.

Evita Byrd is the mother of two toddlers and an adopted step-daughter who reside in Oregon. "Motherhood means charity," believes Evita. "It means giving to those you love, sometimes before yourself. I would do anything to keep my girls healthy and happy." Motherhood was, in fact, a life altering event -- a near universal experience for most mothers. "My capacity to love, empathize with and feel compassion for others grew significantly with motherhood," explained Evita. "The birth of my daughters seems to have added a whole other heart, full of love just for them."

Hadayai Majeed resides in Georgia and is a veteran mom to a 34-year-old son. "Motherhood was not easy, however, I do not regret one day of it," Hadayai surmises. "I was a single mom for 10 years. We are black and my son experienced racial discrimination in some of the schools he attended. As he got older we had to have the 'How not to get shot by police, etc.' talk." Hadayai's comments were particularly poignant given the tragic circumstances surrounding Trayvon Martin's shooting and murder, not too distant from our collective minds.

Rukhsana Latifi is a Maryland mother of two accomplished adult children. Her son, Yasir Latifi, credits her for his academic successes. "She has always encouraged [my sister and I] to pursue our dreams, regardless of where they may take us," he reflects. "As long as we are happy with our career choices, so is she." Yasir presently attends the University of North Carolina School of Law and his sister is Columbia University alum.

Sabiha Ansari is a stay-at-home New Jersey mom of two young boys. "I learn from her every day," says her husband Faisal Masood. "However, one thing which I have learned from her about parenting is to be patient."

Sara Hussin chooses to homeschool her children in Northern Virginia. "I try to influence my boys in such a way that they value people, nature and everything around them," she reflects. "Recently, as we were driving along the beltway, Zayn got excited and pointed out 'an amazing castle' to me. He was referring to the Mormon Temple in Maryland. That was a good starting point in our discussion of how there are countless places of worship of God, and how different people pray differently but that God hears us all. We have Mormon friends and I told the boys, this is where those friends come to pray. I strongly believe in teaching my kids to respect all creations, whether it's people, animals or the earth. We treat everyone equally, I tell them." She hopes, one day, her boys will look back and think, "I am who I am because of my mother."

Tayyaba Bashir is a New York mom to three young children. "She is an amazing mother, loving wife, a compassionate and caring Oncologist," describes husband Mehdi. "She is someone faithful in her beliefs, strong-willed -- and just like most mothers out there, overtaxed and overburdened with balancing family and work. But, somehow she does it."

Wesam Al-Badry is a photojournalist who contributed this photo of his mother, Aeda Razaq Al-Khafagi, who is an Iraqi refugee living in Nebraska. He recalls, "We left Iraq during the Gulf War in 1991. Initially, all the men left after the heavy fighting leaving the women and children behind. So, the women had to fight for their and their children's lives. My mom had four boys at that time and an infant who was only 14 days old. She raised six children on her own after coming to the U.S." Regarding this particular photo, he explains, "I wanted to show her resilience and toughness in overcoming atrocities that one can only imagine. ... This photo highlights all the pain, emotion and courage it took to survive; however, even with such an arduous past, she smiles with optimism and hope."