So many great books are released regularly, it's hard to keep up at times.In this article I will share 10 books that I feel every entrepreneur and business professional should consider adding to their reading list.
2016 had many great books that help shape me as an entrepreneur and person. I will share 9 of my favorites and 1 that I feel deserves to be on this Best Business Books of 2016 list regardless of me not reading it yet.
My 10 Favorite Business Books of 2016
I'm a huge fan of Grant Cardone, I even started a facebook mastermind group for fans of this book. Grant is someone who is taking massive action and achieving massive success. He is on every social media site you can think of, and is posting content on a very regular schedule. It's no doubt that Grant's social media domination has put him and his books in the spotlight. Love him or hate him, if you're in the "entrepreneurial world" you know who he is! If you don't, you will soon enough.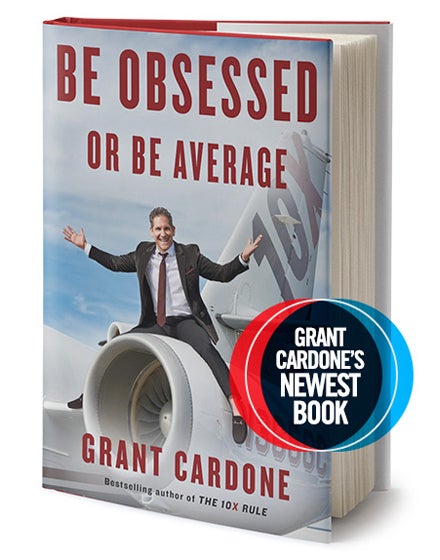 "Before Grant Cardone built five successful companies (and counting), became a multimillionaire, and wrote bestselling books... he was broke, jobless, and drug-addicted.
Grant had grown up with big dreams, but friends and family told him to be more reasonable and less demanding. If he played by the  rules, they said, he could enjoy everyone else's version of middle class success. But when he tried it their way, he hit rock bottom.
Then he tried the opposite approach. He said NO to the haters and naysayers and said YES to his burning, outrageous, animal obsession. He reclaimed his obsession with wanting to be a business rock star, a super salesman, a huge philanthropist. He wanted to live in a mansion and even own an airplane. 
Obsession made all of his wildest dreams come true. And it can help you achieve massive success too. As Grant says, we're in the middle of an epidemic of average. The conventional wisdom is to seek balance and take it easy. But that has really just given us an excuse to be unexceptional. 
If you want real success, you have to know how to harness your obsession to rocket to the top. This book will give you the inspiration and tools to break out of your cocoon of mediocrity and achieve your craziest dreams. Grant will teach you how to:
 Set crazy goals—and reach them, every single day.
Feed the beast: when you value money and spend it on the right things, you get more of it.
Shut down the doubters—and use your haters as fuel.
Whether you're a sales person, small business owner, or 9-to-5 working stiff, your path to happiness runs through your obsessions. It's a simple choice: be obsessed or be average."
As a business owner you NEED to look to the future. I have no doubt in my mind that along with Virtual Reality and Augmented reality, the "Internet of Things" is poised to shape and change the entire world around us. As more devices come "online" you will most likely encounter or need to use the internet of things in your business life.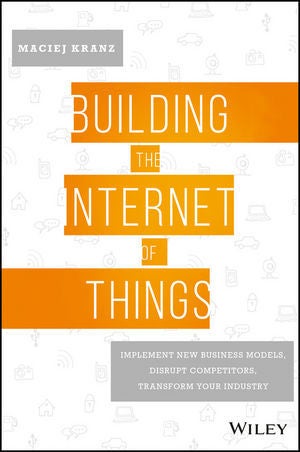 "Building Internet of Things provides front-line business decision makers with a practical handbook for capitalizing on this latest transformation. Focusing on the business implications of Internet of Things (IoT), this book describes the sheer impact, spread, and opportunities arising every day, and how business leaders can implement IoT today to realize tangible business advantages. The discussion delves into IoT from a business, strategy and organizational standpoint, and includes use-cases that illustrate the ripple effect that this latest disruption brings; you'll learn how to fashion a viable IoT plan that works with your organization's strategy and direction, and how to implement that strategy successfully by integrating IoT into your organization tomorrow.
For business managers, the biggest question surrounding the Internet of Things is what to do with it. This book examines the way IoT is being used today—and will be used in the future—to help you craft a robust plan for your organization.
Grasp the depth and breadth of the Internet of Things
Create a secure IoT recipe that aligns with your company's strategy
Capitalize on advances while avoiding disruption from others
Leverage the technical, organizational, and social impact of IoT
In the past five years, the Internet of Things has become the new frontier of technology that has everyone talking. It seems that almost every week a major vendor announces a new IoT strategy or division; is your company missing the boat? Learn where IoT fits into your organization, and how to turn disruption into profit with the expert guidance in Building the Internet of Things."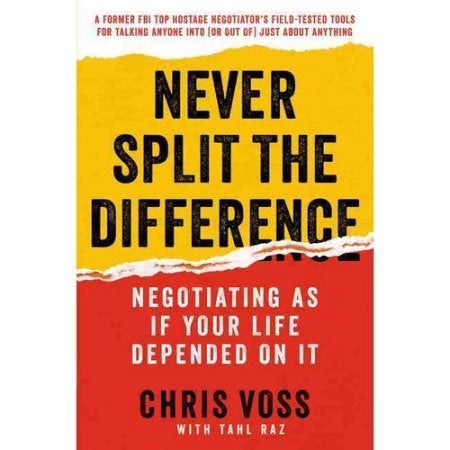 This may just be my personal favorite of the year. This is an incredible look into sales from the perspective of a former FBI agent and hostage negotiator. Everyone must sell at some point, add some alternate and nontraditional techniques to your sales process. This book is full of actionable nuggets of information that you can work into your life immediately.
"After a stint policing the rough streets of Kansas City, Missouri, Chris Voss joined the FBI, where his career as a hostage negotiator brought him face-to-face with a range of criminals, including bank robbers and terrorists. Reaching the pinnacle of his profession, he became the FBI's lead international kidnapping negotiator. Never Split the Difference takes you inside the world of high-stakes negotiations and into Voss's head, revealing the skills that helped him and his colleagues succeed where it mattered most: saving lives. In this practical guide, he shares the nine effective principles—counterintuitive tactics and strategies—you too can use to become more persuasive in both your professional and personal life.
Life is a series of negotiations you should be prepared for: buying a car, negotiating a salary, buying a home, renegotiating rent, deliberating with your partner. Taking emotional intelligence and intuition to the next level, Never Split the Difference gives you the competitive edge in any discussion."
Something I truly believe is that all entrepreneurs do not want to live in the "traditional world" they may have been raised in. I talk about this on the Elizabeth Arden episode of my Fail Forward Podcast, She was told by her father to get a husband and live like a "normal woman", she did not, now her company has been in existence for over 100 years.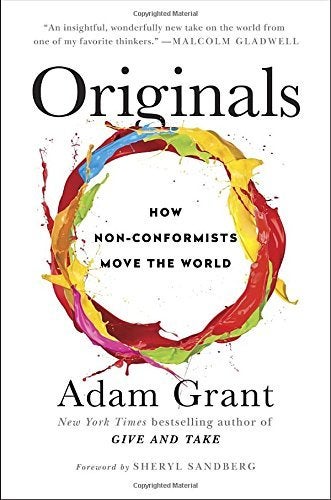 "The #1 New York Times bestseller that examines how people can champion new ideas—and how leaders can fight groupthink, from the author of Give and Take
"Reading Originals made me feel like I was seated across from Adam Grant at a dinner party, as one of my favorite thinkers thrilled me with his insights and his wonderfully new take on the world." —Malcolm Gladwell, author of Outliers and The Tipping Point
"Originals is one of the most important and captivating books I have ever read, full of surprising and powerful ideas. It will not only change the way you see the world; it might just change the way you live your life. And it could very well inspire you to change your world." —Sheryl Sandberg, COO of Facebook and author of Lean In
With Give and Take, Adam Grant not only introduced a landmark new paradigm for success but also established himself as one of his generation's most compelling and provocative thought leaders. In Originals he again addresses the challenge of improving the world, but now from the perspective of becoming original: choosing to champion novel ideas and values that go against the grain, battle conformity, and buck outdated traditions. How can we originate new ideas, policies, and practices without risking it all? Using surprising studies and stories spanning business, politics, sports, and entertainment, Grant explores how to recognize a good idea, speak up without getting silenced, build a coalition of allies, choose the right time to act, and manage fear and doubt; how parents and teachers can nurture originality in children; and how leaders can build cultures that welcome dissent. Learn from an entrepreneur who pitches his start-ups by highlighting the reasons not to invest, a woman at Apple who challenged Steve Jobs from three levels below, an analyst who overturned the rule of secrecy at the CIA, a billionaire financial wizard who fires employees for failing to criticize him, and a TV executive who didn't even work in comedy but saved Seinfeld from the cutting-room floor. The payoff is a set of groundbreaking insights about rejecting conformity and improving the status quo."
A must read memoir. It is no doubt that Nike is much more than a shoe company but a lifestyle and a brand that truly resonates with its audience. Learn from this entrepreneurial great and his journey to "Just Do It" and build one of the greatest sports companies of our time.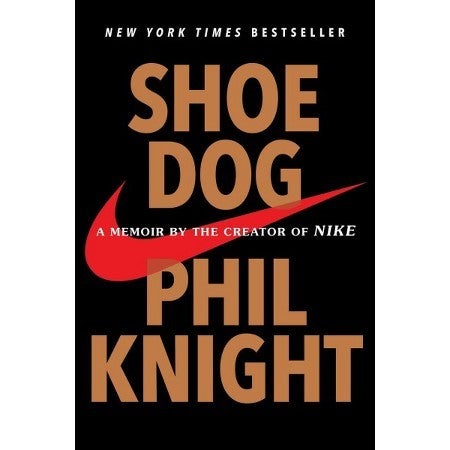 "In this candid and riveting memoir, for the first time ever, Nike founder and board chairman Phil Knight shares the inside story of the company's early days as an intrepid start-up and its evolution into one of the world's most iconic, game-changing, and profitable brands.
Young, searching, fresh out of business school, Phil Knight borrowed fifty dollars from his father and launched a company with one simple mission: import high-quality, low-cost running shoes from Japan. Selling the shoes from the trunk of his Plymouth Valiant, Knight grossed eight thousand dollars that first year, 1963. Today, Nike's annual sales top $30 billion. In this age of start-ups, Knight's Nike is the gold standard, and its swoosh is more than a logo. A symbol of grace and greatness, it's one of the few icons instantly recognized in every corner of the world.
But Knight, the man behind the swoosh, has always been a mystery. Now, in a memoir that's surprising, humble, unfiltered, funny, and beautifully crafted, he tells his story at last. It all begins with a classic crossroads moment. Twenty-four years old, backpacking through Asia and Europe and Africa, wrestling with life's Great Questions, Knight decides the unconventional path is the only one for him. Rather than work for a big corporation, he will create something all his own, something new, dynamic, different. Knight details the many terrifying risks he encountered along the way, the crushing setbacks, the ruthless competitors, the countless doubters and haters and hostile bankers—as well as his many thrilling triumphs and narrow escapes. Above all, he recalls the foundational relationships that formed the heart and soul of Nike, with his former track coach, the irascible and charismatic Bill Bowerman, and with his first employees, a ragtag group of misfits and savants who quickly became a band of swoosh-crazed brothers.
Together, harnessing the electrifying power of a bold vision and a shared belief in the redemptive, transformative power of sports, they created a brand, and a culture, that changed everything."
The art of the presentation and the pitch is something every entrepreneur and business professional must master. What better person to learn from than Chris Anderson, The head of Ted, the most iconic public speaking community of our time.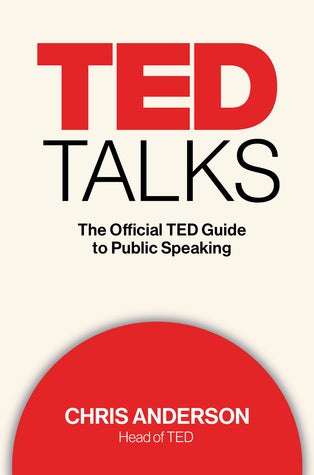 "...this is an insider's guide to creating talks that are unforgettable. Since taking over TED in the early 2000s, Chris Anderson has shown how carefully crafted short talks can be the key to unlocking empathy, stirring excitement, spreading knowledge, and promoting a shared dream. Done right, a talk can electrify a room and transform an audience's worldview. Done right, a talk is more powerful than anything in written form.         This book explains how the miracle of powerful public speaking is achieved, and equips you to give it your best shot. There is no set formula; no two talks should be the same. The goal is for you to give the talk that only you can give. But don't be intimidated. You may find it more natural than you think. Chris Anderson has worked behind the scenes with all the TED speakers who have inspired us the most, and here he shares insights from such favorites as Sir Ken Robinson, Amy Cuddy, Bill Gates, Elizabeth Gilbert, Salman Khan, Dan Gilbert, Mary Roach, Matt Ridley, and dozens more — everything from how to craft your talk's content to how you can be most effective on stage. This is the 21st-century's new manual for truly effective communication and it is a must-read for anyone who is ready to create impact with their ideas."
This one was just released, I still haven't read it but I feel very confident adding this to the list with the iconic status that "The 4 Hour Work Week" attained. I'm excited to dive into this book and learn more from this internet marketing legend. Just look at the size of the book - it's not a book, but an encyclopedia LOL.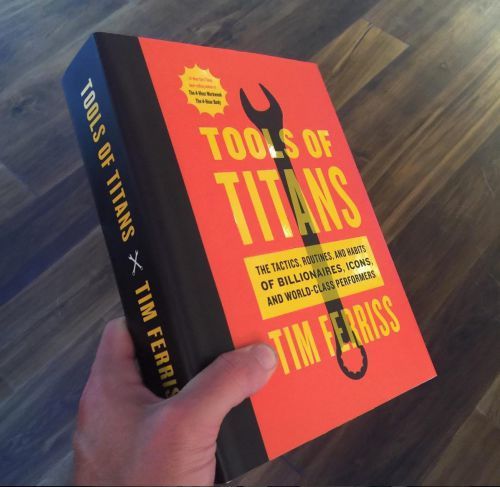 "The latest groundbreaking tome from Tim Ferriss, the #1 New York Times best-selling author ofThe 4-Hour Workweek. From the author: "For the last two years, I've interviewed more than 200 world-class performers for my podcast, The Tim Ferriss Show. The guests range from super celebs (Jamie Foxx, Arnold Schwarzenegger, etc.) and athletes (icons of powerlifting, gymnastics, surfing, etc.) to legendary Special Operations commanders and black-market biochemists. For most of my guests, it's the first time they've agreed to a two-to-three-hour interview. This unusual depth has helped make The Tim Ferriss Show the first business/interview podcast to pass 100 million downloads. "This book contains the distilled tools, tactics, and 'inside baseball' you won't find anywhere else. It also includes new tips from past guests, and life lessons from new 'guests' you haven't met. "What makes the show different is a relentless focus on actionable details. This is reflected in the questions. For example: What do these people do in the first sixty minutes of each morning? What do their workout routines look like, and why? What books have they gifted most to other people? What are the biggest wastes of time for novices in their field? What supplements do they take on a daily basis? "I don't view myself as an interviewer. I view myself as an experimenter. If I can't test something and replicate results in the messy reality of everyday life, I'm not interested. "Everything within these pages has been vetted, explored, and applied to my own life in some fashion. I've used dozens of the tactics and philosophies in high-stakes negotiations, high-risk environments, or large business dealings. The lessons have made me millions of dollars and saved me years of wasted effort and frustration. "I created this book, my ultimate notebook of high-leverage tools, for myself. It's changed my life, and I hope the same for you."
On the first episode of the Fail Forward Podcast, I looked into some of the failure and success of Steve Jobs. After being fired from Apple, the company he started, he moved on to create massive success for a little graphic art company called Pixar before returning to Apple in 1997. This book looks into the journey of Pixar's journey to creating some of the greatest and best-selling animated films like Toy Story.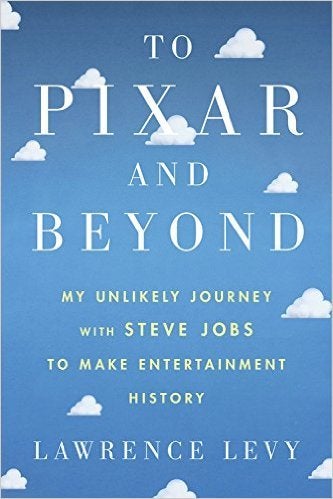 "An Amazon best book of 2016 in BUSINESS & LEADERSHIP
The never-before-told story of Pixar's improbable success.
"Hi, Lawrence?" the caller asked. "This is Steve Jobs. I saw your picture in a magazine a few years ago and thought we'd work together someday." 
After Steve Jobs was unceremoniously dismissed from Apple, he turned his attention to a little-known graphics art company that he owned called Pixar. 
One day, out of the blue, Jobs called Lawrence Levy, a Harvard-trained lawyer and Silicon Valley executive to whom he had never spoken before, in the hope of persuading Levy to help him get Pixar on the right track.
What Levy found in Pixar was a company on the verge of failure. To Pixar and Beyond is the extraordinary story of what happened next: How Levy, working closely with Jobs and the Pixar team, produced and implemented a highly improbable roadmap that transformed the sleepy graphics art studio into one of Hollywood's greatest success stories. 
Set in the worlds of Silicon Valley and Hollywood, the book takes readers inside Pixar, Disney, law firms, and investment banks. It provides an up-close, first-hand account of Pixar's stunning ascent, how it took risks, Levy's enduring collaboration and friendship with Jobs, and how Levy came to see in Pixar deeper parallels that apply to all aspects of our lives. "
You know him and love him from Shark Tank, now you can take a look into the journey of Daymond John as he created a global clothing brand called FUBU. As an entrepreneur or business owner, you may be faced with cash crunches and shortages of funds, Daymond shows you how to embrace the Power of Broke and succeed, even when your back is up against the wall.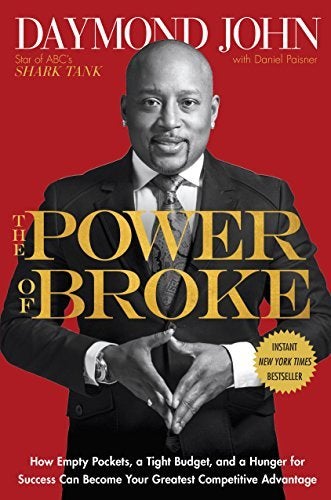 "Daymond John has been practicing the power of broke ever since he started selling his home-sewn t-shirts on the streets of Queens. With no funding and a $40 budget, Daymond had to come up with out-of-the box ways to promote his products. Luckily, desperation breeds innovation, and so he hatched an idea for a creative campaign that eventually launched the FUBU brand into a $6 billion dollar global phenomenon.  But it might not have happened if he hadn't started out broke - with nothing but a heart full of hope and a ferocious drive to succeed by any means possible.
Here, the FUBU founder and star of ABC's Shark Tank shows that, far from being a liability, broke can actually be your greatest competitive advantage as an entrepreneur. Why?  Because starting a business from broke forces you to think more creatively.  It forces you to use your resources more efficiently. It forces you to connect with your customers more authentically, and market your ideas more imaginatively. It forces you to be true to yourself, stay laser focused on your goals, and come up with those innovative solutions required to make a meaningful mark. Drawing his own experiences as an entrepreneur and branding consultant, peeks behind-the scenes from the set of Shark Tank, and stories of dozens of other entrepreneurs who have hustled their way to wealth, John shows how we can all leverage the power of broke to phenomenal success. You'll meet:
Steve Aoki, the electronic dance music (EDM) deejay who managed to parlay a series of $100 gigs into becoming a global superstar who has redefined the music industry
Gigi Butler, a cleaning lady from Nashville who built cupcake empire on the back of a family  recipe, her maxed out credit cards, and a heaping dose of faith
11-year old Shark Tank guest Mo Bridges who stitched together a winning clothing line with just his grandma's sewing machine, a stash of loose fabric, and his unique sartorial flair
When your back is up against the wall, your bank account is empty, and creativity and passion are the only resources you can afford, success is your only option.  Here you'll learn how to tap into that Power of Broke to scrape, hustle, and dream your way to the top."
When one of the pioneers of the internet lays down his vision for the future, you listen! This is a fantastic book for all my fellow forward thinkers and futurists. A must read and a book that will help you think differently about the way you conduct business as we move into the Third Wave of the Internet and into a new industrial age.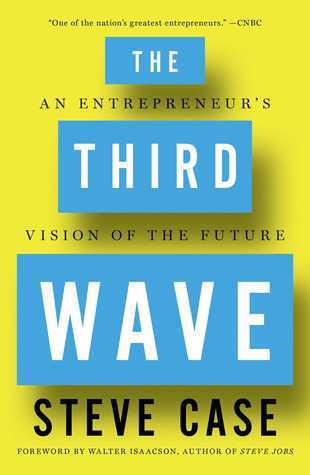 "One of America's most accomplished entrepreneurs—a pioneer who made the Internet part of everyday life and orchestrated the largest merger in the history of business—shares a roadmap for how anyone can succeed in a world of rapidly changing technology.
Steve Case's career began when he cofounded America Online (AOL) in 1985. At the time, only three percent of Americans were online. It took a decade for AOL to achieve mainstream success, and there were many near-death experiences and back-to-the-wall pivots. AOL became the top performing company of the 1990s, and at its peak more than half of all consumer Internet traffic in the United States ran through the service. After Case engineered AOL's merger with Time Warner and he became Chairman of the combined business, Case oversaw the biggest media and communications empire in the world.
In The Third Wave, which pays homage to the work of the futurist Alvin Toffler (from whom Case has borrowed the title, and whose work inspired him as a young man), Case takes us behind the scenes of some of the most consequential and riveting business decisions of our time while offering illuminating insights from decades of working as an entrepreneur, an investor, a philanthropist, and an advocate for sensible bipartisan policies.
We are entering, as Case explains, a new paradigm called the "Third Wave" of the Internet. The first wave saw AOL and other companies lay the foundation for consumers to connect to the Internet. The second wave saw companies like Google and Facebook build on top of the Internet to create search and social networking capabilities, while apps like Snapchat and Instagram leverage the smartphone revolution. Now, Case argues, we're entering the Third Wave: a period in which entrepreneurs will vastly transform major "real world" sectors like health, education, transportation, energy, and food—and in the process change the way we live our daily lives. But success in the Third Wave will require a different skill set, and Case outlines the path forward.
The Third Wave is part memoir, part manifesto, and part playbook for the future. With passion and clarity, Case explains the ways in which newly emerging technology companies (a growing number of which, he argues, will not be based in Silicon Valley) will have to rethink their relationships with customers, with competitors, and with governments; and offers advice for how entrepreneurs can make winning business decisions and strategies—and how all of us can make sense of this changing digital age."
Thank you for taking the time to read my list of the best business books of 2016. Hopefully you were able to add a few to your "to read" list.
It was hard to narrow it down to just 10, there were many great books this year. Feel free to share you favorite business books of 2016 in the comment section below.
This post is hosted on the Huffington Post's Contributor platform. Contributors control their own work and post freely to our site. If you need to flag this entry as abusive,
send us an email
.
SUBSCRIBE TO & FOLLOW THE MORNING EMAIL
Start your workday the right way with the news that matters most. Learn more