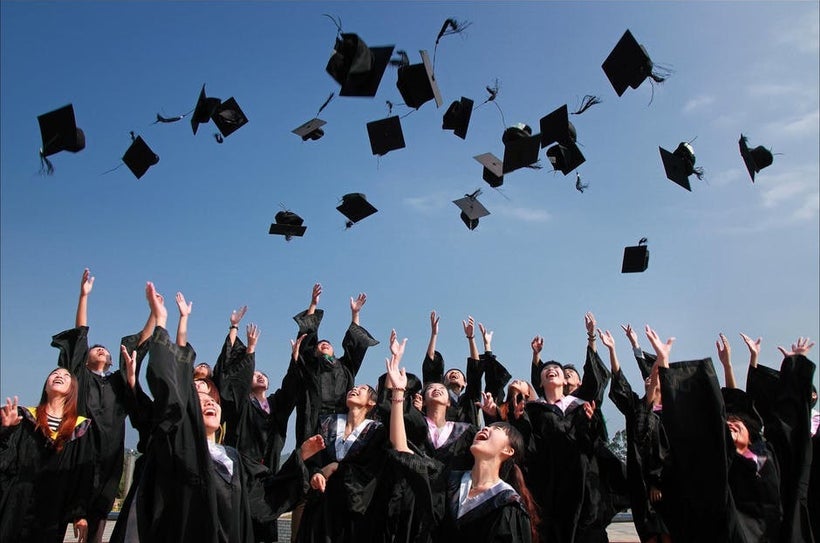 It's the end of spring and nearly two million young Americans will attend commencement ceremonies, receive their baccalaureate degrees and cheerfully toss their tassels to the sky. Most will also enter a competitive labor force and face the shock of unexpected, new realities. In his new book available on Amazon, Rutgers professor and PR veteran Mark Beal gives graduates practical advice gleaned from decades of business experience on how to transition from a backpack-wearing student to a working professional who's dressed in business attire.
"Being a great student is different from being a great employee, therefore recent grads need to make big adjustments," says Beal in a recent interview. "The real world wants you to impact the bottom line, in contrast to the ivory tower's expectation of studiousness and reflection. Your new employer will likely seek an optimal process or solution whereas in the classroom there's inclusive debate of theory and multiple perspectives."
In 101 Lessons They Never Taught You In College, Beal advises degree holders to be transformative at the office — one example of how you can drive results. He writes, "You are not the first employee to get projects that aren't sexy and you won't be the last. But the quicker you embrace them … the sooner you will be moved onto more meaningful opportunities."
Here are some advice for soon-to-be full-time employees. Many of these career tips are found in Mark Beal's 101 Lessons They Never Taught You In College.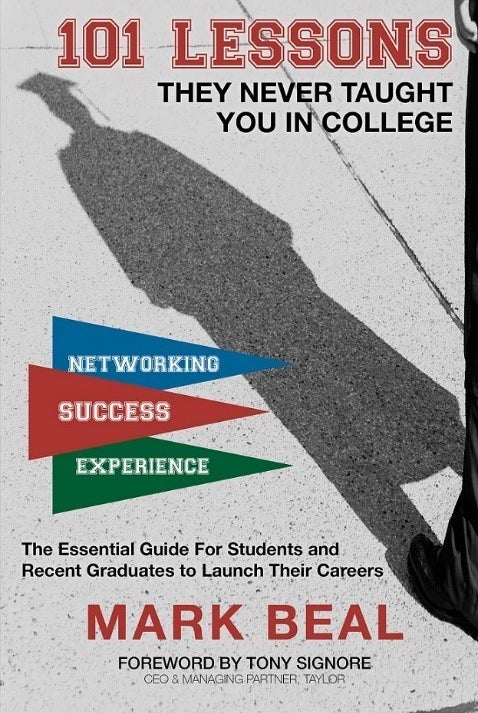 1. Be positive and enjoy the journey.
Shake off that gray cloud hanging over your head because it'll only distract you and sap your energy. And besides, you don't ever want to be that guy or gal who never gets invited to lunch or happy hour.
"Have a positive mindset as you take the journey from college to a career," says Beal. "You are only going to make this major transition once in your life so embrace it to the fullest and celebrate the small and big victories along the way."
2. Work with the best to be the best.
The real world is a 24/7 race and you always need to bring your "A" game. If you work with the best, it'll improve your discipline, outlook and performance.
"Put your ego on the shelf, seek out the big brains, and put yourself in a position to question everything — every day — and learn something new," says Beal.
(The story continues below.)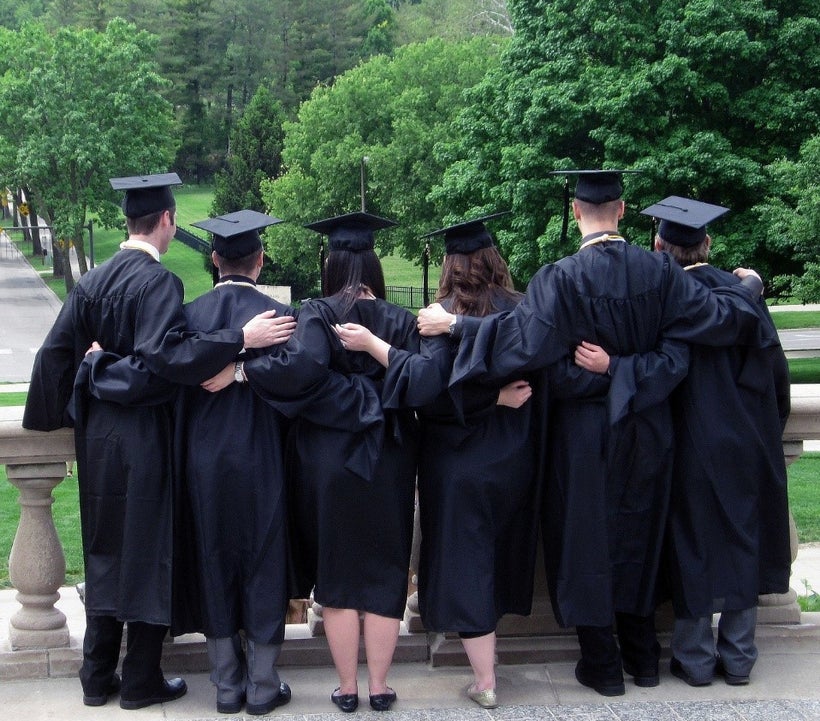 In the 2016-2017 academic year, the annual cost of in-state and private universities were nearly $25,000 and $50,000 respectively, according to College Board. Photo credit: Flickr (comm use & mods allowed)
3. Turn in error-free work all the time.
Become so good at what you do that people begin to count on you. Part of being a skilled professional is to always review your slideshow, spreadsheet, memo or report and eliminate any mistakes. People tend to remember their colleagues' errors and it leaves a bad taste. Find a way to be the best version of yourself day in and day out.
"Commit to a zero-tolerance policy when it comes to errors in your writing," says Beal. "Before you submit any correspondence, have someone with a fresh set of eyes proofread your document."
4. View reality accurately.
"Listening is the most challenging —and underrated — skill in business," says Beal. "It takes a lot of discipline to fight the urge to constantly show what you know, but if you can commit to listening … you will deliver more thoughtful, effective answers."
Recent grads who are new to the business world often have a distorted view of their abilities, in part because their college classes gave them a bird's eye view of corporate decision making that executives face in the real world. But new hires lack experience and work-related savvy, and they won't face high level tasks right out of school. A boss will test you with monotonous tasks until you can prove that you're dependable enough to handle more responsibility. Grind it out but keep a healthy perspective. View reality as it is and get rid of illusory biases that may unnecessarily frustrate you or hold you back.
For many, college is a six-figure investment. But going forward, it's essential that you understand how the real world operates. In your new environment, there are no so-called "safe zones," "trigger warnings" or remedial classes in case you fail an exam. When you start your first real job, it's important to align with your company culture; find out what your boss expects from you; and avoid certain pitfalls such as showing up to work late because you haven't left your partying days behind.
If you're graduating this spring, carpe diem and best of luck in your future endeavors.
This post is hosted on the Huffington Post's Contributor platform. Contributors control their own work and post freely to our site. If you need to flag this entry as abusive,
send us an email
.