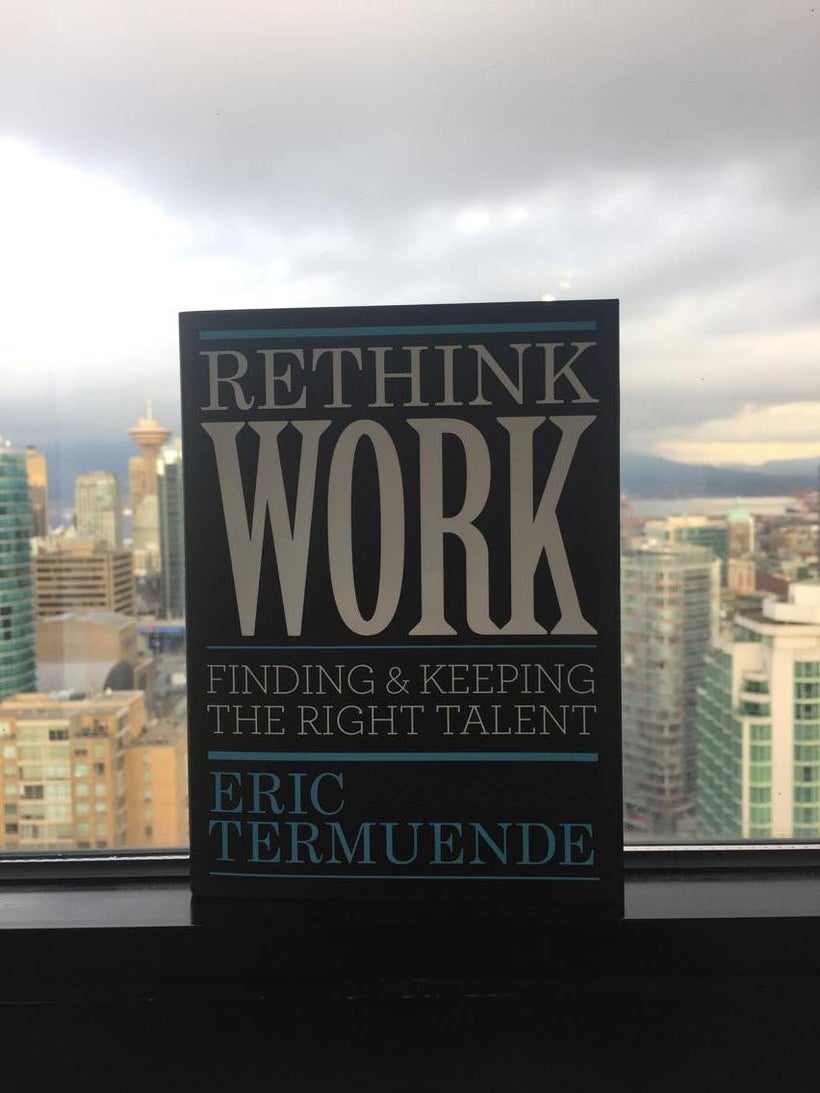 Last Wednesday, I had the opportunity to attend the well received launch of Eric Termuende's new book, Rethink Work, in downtown Calgary, Alberta.
Rethink Work talks about removing the negative connotation associated with work and re-humanizing the work experience by attracting and retaining talent based on fit as opposed to just skills and requirements to do the job. Eric talks about how work and technology are evolving faster than we can keep up with, and why more and more people are unhappy at work. Rethink Work stands out from other books in this category because the author is one of those young people: 24-year-old Eric Termuende, a rising star on the international speakers circuit. Instead of relying on the well-tread, but often misguided notions that emerge from surveys, Termuende writes about the actual experiences of young people on the job. The result is a refreshing look at the workplace today. To keep the best employees, companies need to focus not on what they do, but how they do it, with whom they do it, and why.
I took the time to ask Eric a few questions about how he came with the concept and some of the challenges/lessons that he experienced throughout the writing process.
1. Where do you get your ideas? What was your spark? 
A good friend of mine told me that one of the greatest traits we can have is empathetic curiosity. I've found that a lot of people will read the headlines just to relay what it said without understanding the context as to what it means. The content in the book and the work that we do at DRYVER largely comes from understanding out clients and the environments surrounding us and making connections and observations that can only be made if we take the time to understand as much of the problem or opportunity as possible. 
2. What is your writing process like? How did publishing your first book change your process of writing? 
The writing process started with 50 ideas that were developed into 50 articles. The articles were then organized into 'themes' or 'chapters' and then re-written into something that flowed a little better. From there, the entire book was written two more times, each getting more clear and focused when it came to the message and takeaways. Too, I had the help of a ghostwriter on the final draft to ensure my message was well received. Speaking has always come much more naturally than writing so having the help of a professional really ensured that I could preserve my voice and ideas and have them delivered in a way that was easily digestible for the reader.
3. What kind of research do you do, and how long did you spend researching before beginning the book?
The research for the book was unofficially a 5 year process. I took a lot of the experiences I had as a student and paired that with the work we have been doing with DRYVER to come up with the content for Rethink Work. In addition, there have been hundreds of meetings over the past years that all have contributed to the article. Often, when I thought something should be added or focused on in the book, I would see what research had proven that thought and added it to the book. All in all, the book took quite some time to complete, but was worth every minute. 
For more information about the book, please check it out on Amazon, and for more information on the DRYVER Group, please check out their site here.
About Eric: Eric Termuende is founder of the DRYVER Group., a consultancy focused on the the attraction and retention of top talent. Eric has been featured in Forbes and the Huffington Post, and In 2015, Eric was recognized as a Top 100 Emerging Innovators under 35 globally by American Express. He sat as Community Integration Chair for Global Shapers Calgary, a community that functions under the World Economic Forum. Eric is a former Canadian G20 YEA Delegate, representing Canada in Sydney in 2014. In 2016, Eric spoke at TEDxBCIT in Vancouver giving his presentation entitled 'Bigger than Work'. Eric has worked and spoken with clients across the world. His new book, Rethink Work is now available on Amazon.
This post is hosted on the Huffington Post's Contributor platform. Contributors control their own work and post freely to our site. If you need to flag this entry as abusive,
send us an email
.
SUBSCRIBE TO & FOLLOW THE MORNING EMAIL
The Morning Email helps you start your workday with everything you need to know: breaking news, entertainment and a dash of fun. Learn more