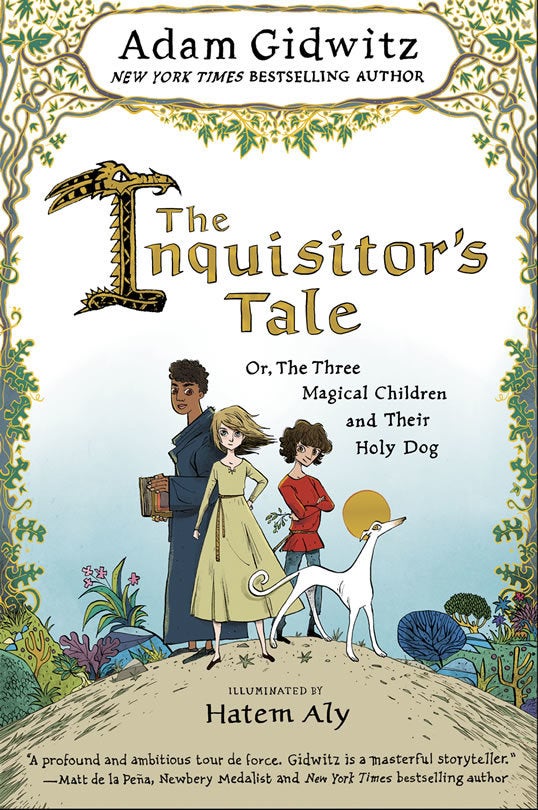 With "Inquisitor's Tale, or The Three Magical Children and Their Holy Dog," Adam Gidwitz has again created a story that will be read over and over and over. It's surely destined to become a classic, just as "The Canterbury Tales," the medieval tale upon which it is loosely (very loosely) based is.
The story is told, in first person narrative, by many different characters. In this respect, the book requires a fairly sophisticated reader, or it should probably be read in a group in a classroom where the unusual narrative will be discussed. The book jacket explains, "On a dark night in 1242, travelers gather at a small French inn. It is a perfect night for a story, and everyone in the kingdom is consumed by the tale of three children: Jeanne, a peasant girl who has visions of the future; William, a young monk with supernatural strength; and Jacob, a Jewish boy who can heal any wound. Together, their powers will be tested by demons and dragons, cruel knights and cunning monks."
Chapter 1 is "The Brewster's Tale," related, of course, by the brewster. "The Nun's Tale" follows. To further complicate matters (or make the story even more interesting and layered), interspersed in each character's telling of the tale (in present tense) the narrative also shifts to the inn and the characters within the inn who comment on the story that is being told — also in present tense but in bold print.
The story is wonderful and diverse, filled with magic, bravery, friendship, and danger. The book demands that readers question their beliefs and prejudices. In today's climate, with the fear-mongering and open discrimination toward others, books that encourage discussion about these topics are more important than ever. Gidwitz manages to write a book that is not only fantastic — in all the meanings of that word — but also fabulously current in its theme. Ironic, really, in a book set in medieval times and written in a kind of pseudo- style of medieval stories.
Gidwitz's research when writing the novel was impeccable. He visited Mont-Saint-Michel and walked on the quicksand there (an important part of the story). He learned from a local how to escape the quicksand without being swallowed. In the Author's Note, he explains, "Before we went on our walk in the bay, my wife told an elderly friend of hers about our plans. The woman began to cry. She begged us not to go. She had grown up, as it turned out, very near Mont-Saint-Michel, and had owned a horse as a girl. She had ridden the horse out into the bay — straight into quicksand. She managed to get off the horse in time, but the horse completely disappeared into the quicksand, and she never saw it again." The story also includes stories based on medieval stories from manuscripts ("I stole just a few for this book," he explains.)
No review of this book would be complete without a mention of its illustrations in the book. Hatem Aly, the illustrator, shared his thoughts on the process of illustrating this story. He said,
The first thing you do to illustrate a book is to read it, feel the story, and have an impression how things and characters should look like and then tell it in pictures. The Inquisitor's Tale is a special book because besides my internal frame of visual reference, there was the factor of it being inspired and told with medieval illuminated scripts in mind. So I combined all these inputs together, did my research, and had great insights and guidance from Adam and the creative team.That was an important part since Adam spent a lot of time researching this book so he helped me to stay on the right track.
On my part I looked at many books at the public library and took pictures to inspire me, I used an old style traditional nib and ink to draw the line art of the illuminations and listened to a great deal of medieval French music while working to set the mood! I always like to think of illustrating this book like creating a soundtrack to a movie yet in a visual way. Hopefully, it gets to you and makes your reading experience richer.
He shared his thoughts about the story in a recent interview,: "Wonderful story, great relatable characters, important subjects, and interesting, intense plot and plot twists. Basically, a fascinating book. I was intrigued by the storytelling, beautifully-written."
A Jew from Brooklyn and an Egyptian-born illustrator. Who better to collaborate on a story about a Christian peasant, a Jewish boy, and the illegitimate son of a Muslim mother and a Crusader father? Not to mention, of course, the holy dog.
This book would be a wonderful read-aloud for fifth grade through middle school. It's witty, exciting, tender, funny and outrageous all at the same time. It's a book that will be enjoyed by young and old alike — it's unique.
Please note: This review is based on the final, hardcover book provided by Dutton, the publisher, for review purposes.
Additional note: When questioned about his bio on his website, specifically about the line "more pets than people," Aly responded, "Well, we (me, my wife and son) have 3 cats and 2 dogs." Apparently, they had two cats and two dogs until the day they found a kitten meowing pitifully outside their door on a cold day. They took her in, no one claimed her, so she is the latest addition to their family. Not only a fabulous illustrator, but a kind heart. He and Adam Gidwitz are truly kindred spirits.
This post is hosted on the Huffington Post's Contributor platform. Contributors control their own work and post freely to our site. If you need to flag this entry as abusive,
send us an email
.
SUBSCRIBE TO & FOLLOW THE MORNING EMAIL
The Morning Email helps you start your workday with everything you need to know: breaking news, entertainment and a dash of fun. Learn more