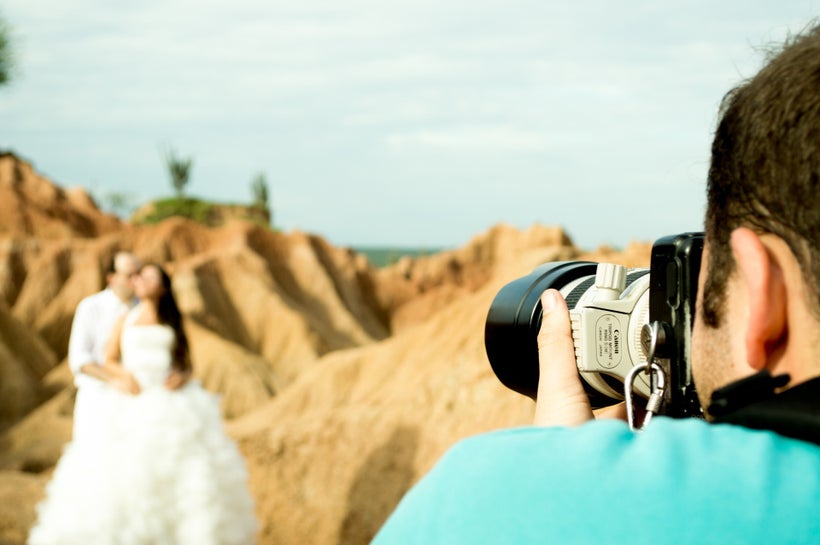 How Digital Photography Disrupted the Wedding Photography and Wedding Album Industry?
Photographers know that shooting a wedding is a lot of work!
The day begins early. Sometimes incredibly early to get those ever important "getting ready" shots.
The final pictures are often taken late in the night after the reception is finally over. But that is not the end of it. Next comes combing through thousands of images and choosing the best ones to deliver to the client. Finally, it takes hours and hours of editing the images before they are ready to present to the bride and groom.
With digital photography there is a lot more work involved than back in the old days!
Now, photographers generally deliver a DVD or a memory stick with the treasured memories of the day.
A designed wedding album can also be ordered but why is this even needed anymore in the days of the iPad?
Wedding album sales are certainty down, but the industry is seeing a bit of resurgence. Flipping through hundreds of photos on an iPad does not make for the optimal experience.
Many brides and grooms are choosing to have a real wedding album made so they can leave the album out on their coffee table and their guests are tempted to open and flip through it.
Today's wedding albums are nothing like albums of the past. The introduction of "Flush Mount Albums" has disrupted the whole wedding album industry.
Wedding albums are designed pages that, if done right, gracefully tell the story of the wedding day as you flip through the pages. The demand for these designed layouts has created a brand new job title – the Wedding Album Designer.
The art of the wedding album design is almost as important as the art of photography. In fact, a good wedding album designer can make bad photos look great in a wedding album. If it is important to hire a good photographer, it is even more important to find an excellent album designer.
The album design process is usually an interactive one. The client generally chooses a design style that they prefer. Design styles range from traditional classic designs to more modern designs that include special effects. Some great examples of wedding album design styles can be found at Wedding Album Studio.
After the design style is chose then the details of the album need to be determined. Wedding albums can be made in many different sizes. 12x12 and 10x10 square album formats are very popular, but horizontal and vertical albums are also options. Some wedding album designs are even made to open like a calendar.
The album design process generally takes some time. If everything goes well the first draft of the album design will be right on track with expectations. There will likely be some back and forth with the designer to make adjustments or add some photos.
If the bride and groom are not clear on what they want or if they are not in sync with the album designer the album design process will likely take much longer. In some cases the album design is not approved until after 10 revisions or more. Other times the whole project is scrapped because the client's expectations cannot be met.
Imagine the frustration of spending so much time working with an album designer until you get to the point that you have to throw in the towel. This is actually the worst-case scenario. Most reputable album design companies have worked with many clients and have refined the process to the point that there is nothing to worry about.
Digital photography has certainly disrupted wedding photography as well as the wedding album industry. It is perhaps more than ever it to find a good photographer.
For those who prefer to have a real wedding album is it also important to find a wedding album designer who can live up to your expectations.
When it is all over set your wedding album out on your coffee table and relive the magic of your special day every time a guest comes over and picks it up.
This post is hosted on the Huffington Post's Contributor platform. Contributors control their own work and post freely to our site. If you need to flag this entry as abusive,
send us an email
.
SUBSCRIBE TO & FOLLOW THE MORNING EMAIL
The Morning Email helps you start your workday with everything you need to know: breaking news, entertainment and a dash of fun. Learn more