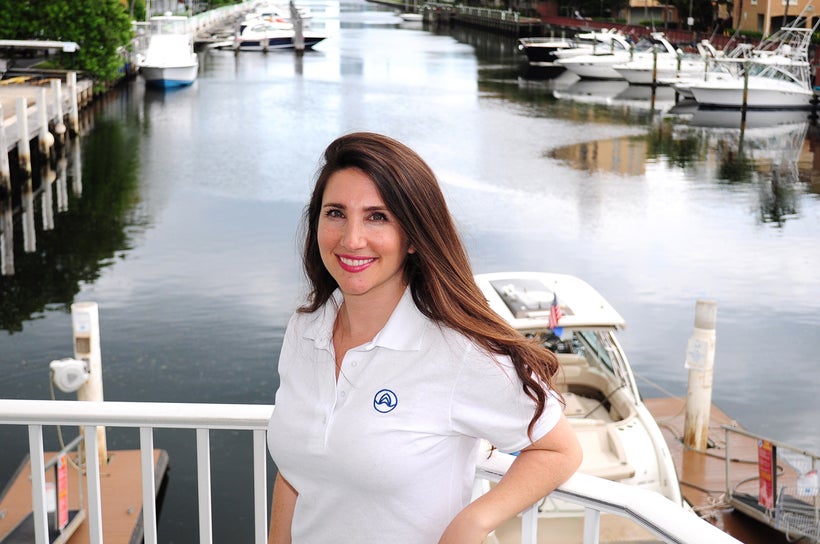 As Co-Founder and CEO of Boatsetter, Jaclyn Baumgarten captains the leading boat sharing startup "ship" with a focus on tactical strategy and clear leadership. Her vision, strategy and talent acquisition and development have led the company to 1661% inventory growth and 177% GMV growth since the merger of Cruzin and Boatsetter in late 2015.
She founded Cruzin in 2012, leading the creation of a new industry poised to disrupt the multi-billion dollar marine industry. At Cruzin, Jaclyn compiled and led the team of industry experts that crafted the very first peer-to-peer insurance policy that paved the way for the entire boat sharing industry. In 2014, Jaclyn was selected by Boating Industry as one of the boating industry's Top Movers and Shakers.
The following year, Jaclyn strategically led a game-changing merger with top competitor, Boatsetter, creating a powerhouse startup in the boat sharing category. Jaclyn along with co-founder, Andrew Sturner put their combined leadership talents to work creating strong industry alliances in the marine industry. As a result, Boatsetter has grown to include the largest network of marina partnerships, the largest network of certified captains, the best in class insurance as well as a fleet of boats worldwide. Inside Boatsetter, Jaclyn put her management expertise to work to create a talented team that is empowered, data driven and focused on execution.
Closing in on two decades of experience as a startup expert, seasoned leader, change agent, founding member of new industries, new divisions, Jaclyn is always leading the charge for scalable growth.
Her stellar professional track record also includes creating new divisions in Fortune 500 corporations to growing startups into $1B entities to spearheading the largest commercial real estate development in the City of Los Angeles, including PwC, IBM, and Westfield Corp.
Jaclyn holds a Bachelor of Arts Degree from Wellesley College (Cum Laude) and an MBA from the Stanford Graduate School of Business.
How has your life experience made you the leader you are today?
I had always dreamed of becoming a business leader, even as a very small child.   My grandparents, my father and my uncle were all entrepreneurs and were my heroes and role models. I saw their pride, their satisfaction, and their fulfillment in their work and always wanted that experience in my life.  
Watching them, I became inculcated in the fundamental belief  that hard work by motivated, well-run teams can make any dream into a reality.  My entire life, I've been driven by the desire to build and lead motivated, empowered, collaborative teams. This has been my chief motivator and passion through school, competitive sports, and my career.
How has your previous employment experience aided your tenure at Boatsetter?
Before launching my own company, I spent a decade working in Fortune 500 corporations ranging from commercial real estate to finance.  I found these large companies great places to learn real business skills and to experience both the best and the worst in terms of leadership styles and culture-building - to learn what I did and did not want to bring to my own businesses when I launched them.
Probably because of my inherent entrepreneurial personality, I was repeatedly given "pioneering" initiatives to run within these corporations - launching new divisions of these companies, building new infrastructures, moving the companies into new communities.  This was an amazing entrepreneurial training ground for me.  I got to launch new businesses under the leadership of some extremely experienced professionals with the resources of big companies at my disposal.  What a luxury!
I came out of my "corporate entrepreneur" career knowing exactly what I wanted in my own company.  Boatsetter is built with serious A-team players who have a collaborative, and even playful "Get Sh*t Done" attitude.  It is all about tackling challenges and reaching goals together.  Our company culture is centered around the idea that the whole is WAY bigger than the sum of the parts.  At Boatsetter, every employee's chief goal is to make sure that their work makes their co-workers, and the whole team, more effective in providing our customers the best possible experiences.
What have the highlights and challenges been during your tenure at Boatsetter?
The foundation of the industry:  When I set out to bring the peer-to-peer model to boating, I knew I was in uncharted waters.  At that time, it was not possible for one individual to safely rent his or her boat to another individual.  There simply was no insurance to cover such a use.  One of the accomplishments I am most proud of is collaborating with the world's leading marine insurer to create a new class of peer-to-peer boat sharing insurance. Together, we developed what is now considered the "gold-standard" for coverage in the boat sharing market. Securing that insurance deal was the pivotal factor that launched the peer-to-peer boating, and not just for my company, but for the entire industry.
Making bold moves to shore up the leadership position: In September 2015, the company I founded, Cruzin merged with its closest competitor to become Boatsetter as we know it today. This was our first big merger and my goal was to create the best combined team possible while bringing together an incredible group of funding partners as well as strategic alliances.  
Closing our $13 Million Series A round: On December 13, 2016, we announced the closing of our $13 million Series A funding round with a consortium of investors including well-respected venture capital firms such as Great Oaks Venture Capital, Stanford University DAPER Fund, ZG Ventures and Peninsula Ventures, as well as a number of high impact angel investors.  With this funding, we are poised to further strengthen Boatsetter's position as the global leader for on-demand boating with further expansion throughout the US and worldwide.
What advice can you offer to women who want a career in your industry?
Know your stuff inside and out:  Boating is a very specialized sector and the people who work in the field respect those who really understand the industry.  As for launching any start-up, you're probably going to be pitching investors and partners constantly.  For that, you have to know your industry, your operations, and your numbers inside and out - people want to know they are taking a risk with someone who is at the very top of their game.
Invest the effort to collaborate with the established players:  The marine industry is centuries old, tightly networked, and very traditional.  Things are done certain ways because they have long kept sailors and companies from perishing in real and metaphorical storms.  There is a great need in the industry for innovation, as we've shown through Boatsetter, and we could not have done it without working with the industry leaders - the marinas, the manufacturers and the dealers.
Be ready to work twice as hard as everyone else:  The boating industry is very traditional and cautious about change.  If you want to innovate in any established industry you're going to have to work twice as hard to affect that change.  That said, it is precisely in such established and more traditional industries that there are tremendous opportunities for powerful and profitable innovation.
What is the most important lesson you've learned in your career to date?
I know that when I began to feel happiest in my career – and perhaps even perform better – is when I stopped asking myself, "What can I do to fit in?" and instead asked, "How can I be myself but still kick ass in this environment?" I have also learned you have to be extra resourceful and extra savvy and often need to work twice as hard as anyone else in the room. I've definitely had to overcome some biases, but I've also learned how to turn that into my competitive advantage and make it work.
How do you maintain a work/life balance?
I've found that the key for me is to set specific rituals and commit to them with at least one other person.  I swim in the mornings with my husband, have a picnic dinner with him Wednesday nights and a 100% offline breakfast on Saturdays.  Of course, these rituals regularly get knocked off the rails by travel, or work or other obligations, but we make them appointments that are on par in importance with our other appointments which helps prevent us from going weeks without taking care of ourselves and each other.
What do you think is the biggest issue for women in the workplace?
I believe the biggest challenges people face generally lie within. There are always difficulties in life - and particularly in business - but whether those difficulties transform into issues often lie with our choices of approach. The less you dwell on the fact that you are a woman in a "male-dominated" field the better. Just go out there and do your best work and never let up!
How has mentorship made a difference in your professional and personal life?
Without the guidance of mentors I would not be where I am today.  I believe finding strong mentors is one of the most important elements of building a successful business career.  In addition to finding the right mentors, you have to work hard to profit from their guidance.  You have to welcome feedback, the good as well as the the bad, be capable of extracting the useful guidance and then implement effectively.
Which other female leaders do you admire and why?
Eleanor Roosevelt - As the first lady, Eleanor Roosevelt quickly became an assertive leader in a time when women weren't fashionably assertive leaders. She used her position to teach, lead and change the way we would think of the President's wife forever. She was a true trailblazer.
Sheryl Sandberg - I love the quote from COO of Facebook, Sheryl Sandberg, "I want every little girl who's told she is bossy, to be told instead she has leadership skills." I admire the extreme strides she has made in her career at Facebook and her honesty on what it takes to be a female leader.
Liesl Capper - Although she may not be as widely known, Capper has made huge strides and contributions in the tech world. She was most recently the CEO of Cognea, which was acquired by IBM, and is now part of Watson. As she states in her own words, "She plays best into massive trends - things that shake the ground under us - and tends to get into them well ahead."
What do you want Boatsetter to accomplish in the next year?
2016 was an amazing year for us and with the team I've put together along with the the foundation we've worked tirelessly to create, we are poised to shatter our 2017 goals. Exponential growth is within our grasp!
This post is hosted on the Huffington Post's Contributor platform. Contributors control their own work and post freely to our site. If you need to flag this entry as abusive,
send us an email
.
SUBSCRIBE TO & FOLLOW THE MORNING EMAIL
The Morning Email helps you start your workday with everything you need to know: breaking news, entertainment and a dash of fun. Learn more