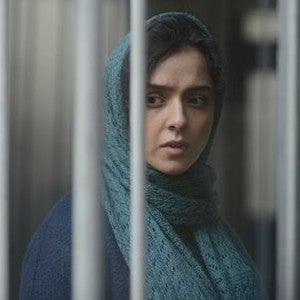 Without warning, the building in which Rana and Emad Etesami live begins to collapse. Walls crack, windows break, plaster falls. Emad (Shahab Hasseini – "A Separation", "About Elly") rescues his neighbor. Rana (Taraneh Alidoosh – "Fireworks Wednesday", "About Elly") helps herd friends out to the safety of the street.
Accident. Tension. Stress. Collapse. Relationships wracked by random reality. Arsghar Farhadi's new film "The Salesman" is a seductive, painful dissection of the ways in which men and women, friends and neighbors interact. The movie is bracketed by the principals' collapsing apartment building and loosely hung over the themes of their theatrical revival of Arthur Miller's "Death of a Salesman."
Farhadi is masterful in examining the fault lines in relationships. Slowly, with great care, the film maker builds his nuanced interactions on substructure of class, culture, gender roles, tradition. Can the fragility of humans – friends or lovers – survive when random, even violent acts upset their carefully constructed charrettes.
Because of their old home's collapse, the Etesamis move into another apartment. The previous tenant, the mysterious Ahoo, has left behind a huge backlog of her possessions. She has also left behind her clients, eager for her company. When Rana carelessly unlocks the door, a man looking for Ahoo enters and assaults Rana as she takes a shower.
Rana assures Emad that despite the assault which has wounded her, "nothing happened." Rana's extreme fears say otherwise: she can't be left alone, but is also afraid to leave the building. She will not get back in the shower where she was accosted. She can no longer act in their play. Emad is as much tortured by his own sense of violation as he is of his wife's slow healing mental and physical scars.
Emad becomes obsessed with finding the culprit. Because of Iranian law, the police are not a resource. Women are generally judged as culpable even when they are clearly victimized by such crimes, even when they are violated. Emad's preoccupation gradually shifts the locus of outrage from Rana to him. He loses the focus on her pain for his own. And the underpinning of love's forgiveness is slowly washed from their relationship.
Farhadi has plowed some of this ground before in the Academy Award winning "A Separation." In "Firecracker Wednesday" he assayed the effects of male self destructive behavior; in "The Past" the effects of misunderstandings and meddling; and in "About Elly" thoughtless unintended consequences.
He uses a strong, well developed narrative line to slowly roll out complex, self aware characters that allow us to understand the parameters of human interaction . . . understandings that don't help us or the characters to avoid the pain and sometimes disaster of these interactions.
At Cannes, "The Salesman" won Best Actor (Shahab Hosseini) and Best Screenplay (Asghar Farhadi) and was nominated for Palme d'Or. In the U.S., it has already won the National Board of Review's Best Foreign Film and was nominated for both the Academy Award and Golden Globe for Best Foreign Language Motion Picture.
This post is hosted on the Huffington Post's Contributor platform. Contributors control their own work and post freely to our site. If you need to flag this entry as abusive,
send us an email
.
SUBSCRIBE TO & FOLLOW THE MORNING EMAIL
The Morning Email helps you start your workday with everything you need to know: breaking news, entertainment and a dash of fun. Learn more