"Gilmore Girls: A Year in the Life" has swept fans up in a frenzy after it debuted on Netflix last Friday, nearly 10 years after the original show said goodbye. Well now, Alexis Bledel, who plays Rory Gilmore on the beloved series, is considering rebooting another one of her early aughts classics.
During an appearance on "The Tonight Show" Monday night, Bledel confirmed to Jimmy Fallon that she and her "Sisterhood of the Traveling Pants" co-stars, America Ferrera, Blake Lively and Amber Tamblyn, are "working" on a reunion of sorts.
"We would all love to do it. I think it would be so much fun, and we talk about it," the 35-year-old actress said of a third installment to the franchise, adding, "I think we should absolutely do it. We're working on it, so we'll see if it happens."
Fallon then suggested they do a "Brotherhood of the Traveling Pants," starring himself, Kevin Hart, Paul Rudd and Mark-Paul Gosselaar, before giving Bledel and co. some ideas for a storyline.
"Maybe someone's kid is wearing the pants? Maybe someone's mom is wearing the pants?" he said.
"But then we figure it out, clearly," Bledel asserted.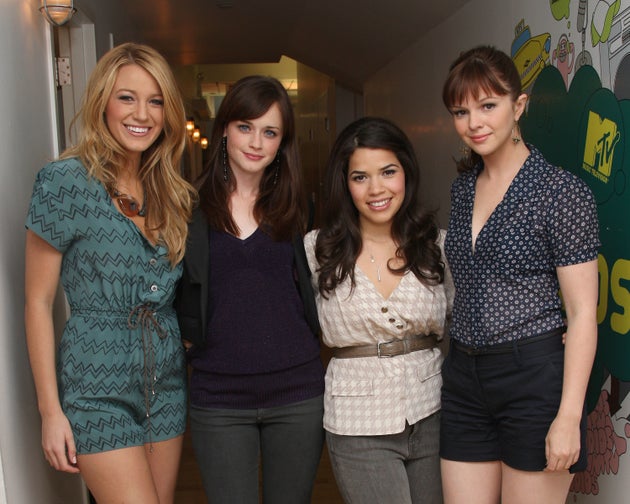 Although the "Sisterhood" has stayed intact over the years (Bledel, Ferrera, Lively and Tamblyn are real-life besties), there hasn't been another movie since the sequel in 2008. Last year, though, Ferrera told Meredith Vieira that a screenplay for a third film was "in the works."
"There's no green light, but it's definitely in the works," she teased. "There is a script being written. They're my girls, three of my best friends to this day."
As Fallon suggested, the movie should definitely have the gals searching for the pants after they go missing. Now that would be entertaining, right?
Also on HuffPost
Best Comedy Sequels Of All Time
SUBSCRIBE TO & FOLLOW ENTERTAINMENT
Get top stories and blog posts emailed to me each day. Newsletters may offer personalized content or advertisements. Learn more